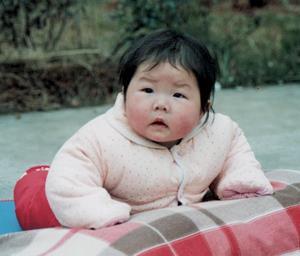 'We wanted to give another child a home'
When Gina Hall and her husband Tom decided to adopt a Chinese baby, it led to an adventure for all the family
I just love being 'mum'! It is filled with ups and downs, laughter and tears, challenges and achievements, and just sheer joy. So, having two lovely birth daughters – Marcia, then 12 and Aurelia, seven – it seemed like a great idea to have a third child. My husband Tom, the girls and I decided we would like to explore adoption to add to our family. I had recently returned from a trip to China and because we had always had an interest in the country and things Chinese, China came to the fore in our thinking on adoption. We decided to take a few steps, see what happened and let God lead us on, if it was the right way for us to go.
The first step was to contact our local social services adoption department for an informal chat, and later to begin the home study. This was a demanding process – the same study anyone adopting in the UK would go through. Being assessed on your parenting when you already have children is somewhat daunting. Our social worker explored our family life, our marriage, our strengths and weaknesses, and our reasons for adopting. She talked to our daughters and our friends, and saw us together and separately.
At the end of it all, there was a huge pile of paperwork and a meeting with the adoption panel to approve us as potential parents. We had made a really big step forward in the process. We also knew more about ourselves and our motivation to adopt. We met other families adopting from China – something of a relief to find other 'ordinary' people doing this extraordinary thing. We supported each other through the difficult times and learned from each other about the process and preparing to go to China – what to take and what to expect.
The huge pile of paperwork made its way to China, together with photographs, financial statements, references, medical reports and copies of every document we had ever had in our lives! There it sat in the China Centre for Adoption Affairs. Over a year had passed since we started the process, then another six months with our paperwork waiting its turn in the 'matching' room, where staff in China 'match' children in orphanages with families all over the world. The process now takes a lot longer, with families waiting years to be matched with a child, so we were fortunate.
Finally the red letter day! On 28th May 2006, our referral came, with information about our new daughter and some tiny photos – all in an ordinary, plain brown envelope. We all gathered round together and looked at the little face in the photos. For a few seconds she was 'just' a little Chinese girl, in a few more seconds she was our daughter, our girls' sister, and love was reaching its way from us to China. She was 15 months old, from an orphanage in Hunan, and absolutely lovely!
It would be about six weeks before we could travel to China to meet our daughter. Six busy weeks preparing for the trip, e-mailing our guide in China, getting our visas, organising the house for our return, having inoculations, packing, unpacking and repacking the huge amount of baby things that we thought we might need. And finally all four of us were off, flying to Beijing on one of life's great adventures. We were met at Beijing airport and given our tickets for the internal flight to Changsha, a huge city that no one has heard of, which in July was hot and humid and, for us, very exciting.
The following day, we met our daughter. We had gone with our guide and several other families to the local civil affairs office. It was full of babies and nannies, and families waiting to meet their children. And, in among it all, a woman came forward and put my daughter in my arms. A tiny girl with thick, dark hair and inquiring eyes. She looked at me, and we must have spent hours over the first few days looking at each other. We called her Qian Qian, a diminutive form of her full name, but started to introduce 'Sylvia', her English name. A name we had all chosen, which, hopefully, will save her a lifetime of having her Chinese name mispronounced. The adoption process was completed later that day and Sylvia was ours!
I had told my older girls that it might be weeks before their sister smiled or laughed. Adoption this way is traumatic, and we were so different to anyone she had known, with our big noses and blond hair.
The next days were spent getting to know Sylvia; holding her, making her feel secure, playing with her, and trying to find out what she would eat. Rice and noodles were, and still are, favourites. She looked at the toys we had brought, but had no idea what to do with them, mostly just dropping them. This in itself made it a game – she would drop the toy and all four of us would reach to pick it up. Sylvia thought it was incredibly funny and she smiled, surprising us all. She could sit, but not stand or walk. But with helping hands to support her standing and her first steps she began to make rapid progress.
We chose not to use a pushchair. Instead, I carried her everywhere, held high in my arms so we looked at each other eye to eye. At meal times she sat on my knee and ate from my chopsticks, at bath time she came in with me. We started building the bond which is so vitally important to the parent/child relationship. Two days after we met her, she laughed, actually laughed, and we were thrilled!
We spent about ten days in China, seeing the sights and completing documentation for Sylvia. It was a special time, busy and exciting, but also full of 'together' moments. Love grew and I was reminded of the many references to God adopting us as his children. That concept became very real to me because I could feel love growing almost as a physical thing, and I knew I loved Sylvia with an equal depth to the love I had for my birth children. It was an amazing and very humbling insight into how God loves us.
Sylvia is seven now. She is bright and funny, talented in many ways, confident, happy, very caring and a total joy! She is pragmatic about her history. She says she would like to go back to visit China one day and she copes very well with the odd, thoughtless comment about her Chinese looks. Mostly, we have a lot of fun together in our loving, elastic family – there is always room for one more!