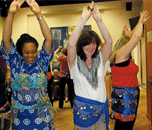 Share your passion
Joining a group is a great way to make new friends or deepen existing friendships. Tracey Spiers meets three women, who are also finding it's a good way to connect with the wider community
Mother of two Liz Ellis is one of five women from St Mary's Church in Upton on The Wirral who run Oasis, a "time out zone" for women of all ages, which set up four years ago. This takes place at The Bank, a building owned by the church and so named because it was a former bank, now converted and used as a community youth facility, which organises clubs including rock-climbing, canoeing and an after school drop-in café.
Getting started
"The church was trying to think of new ways of being church out in the community. One idea was to have an interest group which linked women in the church with women in the community, who were interested in the same thing. Women all need a time to chill out, so we came up with the idea of having an oasis, hence the name," explains Liz.
"The idea was to run something once a month on a Monday, predominantly for women in the community. Our aim was to provide single or married women somewhere to meet other people in a non-threatening environment and provide something enjoyable to help them relax - a Women's Institute if you like, without being a WI!"
How it works

For a small fee, guests are provided with home-made food and a drink, and treated to a whole feast of events including: quiz nights, film nights complete with large tubs of popcorn and ice-cream sundaes, curry nights, chocolate and wine tasting evenings, as well as pamper parties.
"For the pamper parties we make the building look like a spa and give the ladies chance to have their nails done, enjoy a head massage and a foot spa. Hairdressers from a local salon also come along," Liz explains.
As well as hosting its own Generation Game involving icing cakes, putting on saris and first aid bandages, the Oasis team – which consists of Liz, Heidi Hughes, Anita Mitchell, Gaynor Kydd and Sally Dowell – has organised scrap booking nights, Colour Me Beautiful evenings, crafts and jewellery making parties, Christmas party nights and an old-fashioned beetle drive.
"The atmosphere is very relaxed. We generally have candles, soft music and all the girly comforts we love. We do enjoy it ourselves. Every June, to celebrate Oasis' birthday, we have a Chinese banquet. We simply run across the road to the local takeaway, put in a huge order and bring it back to The Bank," laughs Liz.
"Oasis is as an opportunity to get to know people. We are upfront about who we are, but there's no pressure. It's very important that there are no cringey bits," stresses Liz.
At Easter and Christmas, special goody bags are made up – involving lots of chocolate and a small message – which every woman takes home. On these occasions the vicar sometimes gives an epilogue or there's a sketch or DVD clip. Invitations to Easter and Christmas services and other church events are also given, including The Start course. Eight women have completed the course and four of them have started their own journey of faith as a result, and are now actively involved in St Mary's.
Recommended because . . .
"I think it's really important that there's a link between church and community," says Liz. "It's friendship evangelism and that's the best way forward. People are less likely to open up if they go into a church building, which often speaks a different language and is a different culture to what they're used to. They're more used to going to the cinema or something they're interested in and they'll start to talk to others there.
"If they see you making an effort, it helps build the bridge between the two – church and community."

In the picturesque Cotswold market town of Tetbury, the country home of HRH The Prince of Wales, three women: Anne Geers, Carol Mannheim and Mandy Scott have set up a craft group. They meet regularly on Friday mornings in one of their homes and are joined by 8-12 local mums and neighbours.

Getting started

Part of Tetbury Community Church, the women, who all enjoy being creative, started the interest group about a year ago, with a view to getting to know other women in the community.

"The men were having men's evenings and we wanted to do something for the women. Personally I look forward to the craft mornings and we're finding the other women do too because they've started bringing their friends along. Some are very good at crafts, while others aren't so creative but are thrilled when they go home with something they've made which is good enough to give to someone as a present," acknowledges Anne.

How it works

So far the craft group has made paper bag books, necklaces, bracelets and other jewellery, cards in the shape of a handbag, Christmas tree decorations, intricate 3-dimensional snowflakes and wire and tissue paper butterflies.

Anne admits due to the popularity of the group – and no doubt the array of home-made cakes on offer - there is a danger it could get too big, which makes it harder for conversation to flow as freely. But she says they're already planning to introduce a mid-week morning and possibly an evening craft group too.

Recommended because . . .

"It was important for us to provide something enjoyable and relaxing. We wanted to do something in the community that anybody could come along. Also for those moving into the area, it gives them a chance to meet others. What we're finding now is that friendships are forming in the group and some of the women are meeting up during the week," explains Anne.

Her craft colleague Carol, who inspires the group with ideas from America, is thrilled with how the group's developed and can't recommend interest groups strongly enough.

"Making friendships is a powerful thing. Interest groups are a way of deepening relationships and building up a sense of community," she says.

"I've found it wonderful to get to know so many new people I would not necessarily have met otherwise."

In Dartford, Barbara Maynard has an interest group with a difference. Since becoming a Christian almost three years ago, she has been running FaithScrappers UK, an on-line Christian Scrapbooking community. An avid fan of scrapbooking, a hobby growing in popularity, which preserves memories in a unique and creative way; Barbara has even got a Cyber Home Group, made up of members of all-church denominations.

Getting started

"FaithScrappers UK (www.faithscrappersuk.com) started up because I wanted to combine my interest in scrapbooking with my faith. It began as an online forum and as membership numbers built up, we started swapping ideas on scrapbooking layouts as well as developing the fellowship side," states Barbara, a former paramedic who's married to Ian and has two sons Joe (8) and James (5).

How it works
"The cyber home group is an on-line small group. We have some teaching, go through scriptures and sit and talk about it in the chat room.

"It's a bit surreal to do it that way when you can't see the person you're communicating with, but we have some interesting discussions," declares Barbara, who believes modern technology does have its advantages.

"Sometimes it's easier talking to people through a computer rather than face to face," says Barbara, who became a Christian through an Alpha course and is a member of Bexleyheath Community Church, a New Frontiers Church.

But members of FaithScrappers UK do meet up physically. Together with friend Jeannette Hewes, Barbara leads weekend retreats in cottages around England where scrapbookers can come and enjoy learning new techniques, receive good Christian teaching, swap stories and build friendships. There's also a FaithScrappers UK club, which physically meets up regularly in Stafford and Barbara's hoping to set one up in Dartford.

Recommended because . . .

"FaithScrapping is a great way to leave the legacy of our faith to future generations. The most important way is by journaling, not only the good times in our lives, but also the struggles we go through and how God has helped us through," explains Barbara, who suffers from Behcets Syndrome, a condition which has similar symptoms to Lupus and ME.

She believes being part of an interest group can prove very supportive.

"I think they're very important because there's a bond and that tie pulls everybody closer together. Being involved in such groups where people are there through a common interest is what helps develops friendships. I've certainly found the friends I have met through doing this encourage me when I need it."