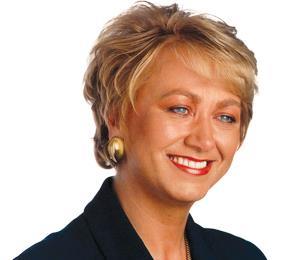 The entrepreneur behind Virgin Vie and Temple Spa beauty products, Liz Warom, talks to Catherine Larner about being a Christian in the world of business, empowering women and the importance of encouragement

After hours driving along motorways in the rain, I had just five minutes before my appointment with Liz Warom, but there was no sign of the offices for her multi-million pound business Temple Spa in this rural residential area just outside Littlehampton in Sussex.

Anxious not to be late, I phoned for further directions and, not a moment too soon, found the blue-green wooden gates, recessed in a high, red brick wall. Having parked up in the tiny cobbled courtyard, and stepping out of the persistent drizzle, I pushed the glass door of what looked like a converted stable block and was instantly enveloped in an almost tangible sense of warm, golden, calm.

The meeting was to take place in 'the cottage' next door and, with my heart rate slowing, I took my seat in the light, airy room. A huge slab of glass resting on two tree trunks formed the table and a beam provided a high shelf to display gift boxes for the brand. Aromatherapy oils were being gently but insistently pumped into the air.

Within a couple of minutes I was joined by Liz Warom, radiant, immaculate and welcoming. She explained why the offices were so difficult to find. "This is our home," she said. "We want to protect it."

Liz and her husband Mark have lived in the 500-year-old property for more than 20 years. It was their base when they led Anita Roddick's team at The Body Shop and as they embarked on the Virgin Vie brand with Sir Richard Branson. It was when they decided to create their own range of beauty and relaxation products that they decided to convert the cottage in the garden into an office.

"We started with just the two of us so we used to play games with each other," says Liz with a smile. "The phone would ring and we'd say 'what shall we be today?' So I'd answer 'Marketing!' or 'Design!' or 'Finance!' We were pretending we were bigger than we were."

That was 16 years ago. There are now 50 staff and 1,500 self-employed consultants selling products one-to-one or through skincare classes held at a host's home. The company trades in 10 countries, is stocked in Harrods and Selfridges as well as prestigious hotels and airlines, and in the next five years plans to have a Temple Spa destination in every county in Britain as well as break into the American market.

But why did Liz and Mark want to go it alone after an already high-achieving career working with the biggest names in business? "We had seen three parents die in a year and we decided to take time out," Liz says. "We chose to travel round the Mediterranean and it was such a blessing. We realised we were there for a reason – it gave us the inspiration for a new brand concept."

Liz and Mark felt that after creating so many brands for other people, they wanted to build something which would reflect their own personalities and prove their best work and, despite it being a crowded marketplace, they felt they had key distinguishing factors to succeed.

It would be a British brand, with products created and manufactured largely in Suffolk, and they would turn away from the cool, eastern influence typical in spas and look instead to the warmth, colour and ingredients of the Mediterranean.

"Just the word Mediterranean makes people feel happy," says Liz. "And, as a couple, we're noisy, we're chatty, we're warm, we're friendly. Why can't we have a brand which reflects that?"

Temple Spa was born boasting skincare, bodycare, aromatherapy and spa treatments that would "replenish, revive, renew, and love to treat people very well".

The name came from the concept of the body as a sacred place, a precious house, and a spa being a space for health, beauty and relaxation. Liz likes to think of the brand as being affirming and enabling.

"Self-esteem is the main theme of our business," she says. "For most of us, our self-esteem is on the edge. It only takes a comment from a husband or a boss, or a look in the mirror to push us over. Our business is to make people feel better about themselves.

"We want to be non-judgemental and say 'you're fine', 'you're wonderful', 'let's help you enhance what you've already got'". "It's not hope in a bottle or believing that life's problems can disappear at the mere whiff of an essential oil," reads the brand brochure, but Temple Spa offers "a range of divine preparations and treatments aimed at busy people, the overstressed and those that love the very best in skincare."

It's about taking time for yourself each day, Liz explains, and if all you can manage is a five-minute bath, then make it special with a candle, soothing music, a beautiful aroma. "It can be a bath that makes you thankful, where you can count your blessings."

Contentment in the moment is something that Liz acknowledges in her daily life, both personally and professionally.
"People speak a lot about mindfulness at the moment. But there is an amazing verse I constantly refer to which is 'Sufficient unto the day is the grace thereof'," she says, quoting an interpretation of Matthew 6:34. "It's an old-fashioned way of saying today is what we've been given, and the future is a hope. We have grace for what we need in the moment."

References to Bible verses, insight gained from sermons, and lessons learned from Christian mentors infuse Liz's conversations and are used liberally in the engaging and inspiring motivational talks she gives at conventions, highlighting the decisions she makes in business.

"I don't pretend to be perfect but I also don't hide the fact that I do have a faith," she says. "The minute that people know you are a Christian, there will be an expectation that you live and behave in a certain way. Hopefully people will have faith in my faith. I am happy that I may be a stepping stone for someone who may never go to church, but who might watch what Mark and I have set out to stand for as a business – our integrity, our honesty, our transparency, our fairness, our kindness, our mercy. I think it's those values that people look at and that is far more powerful than sitting down and trying to indoctrinate someone with your faith."

Yet it hasn't been easy standing up for what she believes, she says. Companies such as The Body Shop attracted people who were fascinated by alternative religions. "That's why they were there," she says. "Because they were explorers." But while there was tolerance and interest if you said you were a Buddhist or Hindu, it was more of a challenge being a Christian. "But that didn't stop me standing my ground."

Liz certainly appears forthright, driven, confident and passionate, and from an early age knew her own mind and worked hard to get along.

She married Mark when she was just 17 and took on a job first as a dental nurse, then in sales for a cosmetic company where she quickly became sales director. Her determination and inventiveness led to her taking on the role with an own-brand cosmetics manufacturer and being tasked with winning a contract with The Body Shop.
In the interview for the post, Liz was asked if she knew Anita Roddick and, as the week before she had attended a business lunch where Anita was speaking, Liz said "Oh yes! I had lunch with her the other day." She subsequently did win the contract, and friendship with Anita Roddick followed as the entrepreneur recognised Liz's talent and invited her to join The Body Shop. Mark followed and, as general managers, the couple saw the company's turnover increase from £3m to £124m in four years.

Creatively this wasn't enough, though. Liz and Mark had identified that older women wanted a beauty product which The Body Shop wasn't providing, but they knew that they needed a 'power brand' for the concept to succeed. Liz approached Sir Richard Branson and her single-mindedness and vision won him over. Together they created Virgin Vie.

Today Liz hopes that she is able to encourage others to follow her example. "I am a naturally positive person," she says. "So when I am with people I don't find it difficult to see the best in them and their potential. I see what they can't see, so I will lead people to a place of belief and then do everything I can to teach them to starve the negative and feed the positive.

"I love that I can empower women," Liz says. "We are enabling them to have their own business and to juggle family and career. It can be everything from pin money to a very lucrative income. My message to them is always the same – believe in yourself. Don't dream too small. Make bigger goals for yourself because you can live a bigger life; you can be a better person."

Liz was herself encouraged by a maiden aunt, whom she remembers with great fondness. "She was a headteacher, a great communicator who taught me as a little girl how powerful encouragement is. She was an amazing woman of God.

"It says in the Bible that without a vision the people perish. I know a lot of people look to Mark and me for vision for the business," she continues. "I suppose while I have got a strong sense of purpose and a strong sense that we're meant to be here, I don't question being in the business. My job is reinvention and being relevant."

While Temple Spa is undoubtedly a luxury brand, Liz believes it makes a valuable contribution to the lives of the people who choose to use it. "We all have priorities on how we choose to spend our money. Some people might buy value brands in the supermarket so that they can buy a designer handbag. I hope with Temple Spa we can give our franchisees the opportunity to earn their own living, and for our customers I hope we can give them welcome self-esteem."

Liz and Mark make a formidable team. "I love developing people and products whereas Mark makes it happen. I'm a good starter and he's a good finisher, so it works brilliantly." And their faith is the bedrock to their business.

"Prayer to us is like breathing. We wouldn't even consider making strategic moves, even tactical moves, without checking out that we are on track. We have very specific times to pray together, but sometimes we'll be on a walk, in and out of conversation, and meandering right through that we are in and out of prayer."

They worship at a church-plant by Holy Trinity Brompton in Brighton 19 miles away and will receive ministry there for the company. "We often say we need health in our business, not just health in our bodies, minds and spirits. So we will bring the health of the business to God."

Business is about being on a journey, she says, and involves planning for the long term, but also being able to respond to opportunities and challenges as they arrive.

"My faith means I am God's servant, so if he were to say that's it, I'd listen. But he's not saying that. My ear is attentive and all I'm hearing is 'do what you're doing, do it well, do it with excellence, do it with purpose'."

+ Catherine Larner is a freelance writer based in Suffolk.
To see the full range of Temple Spa products, visit www.templespa.com or call 01903 719429