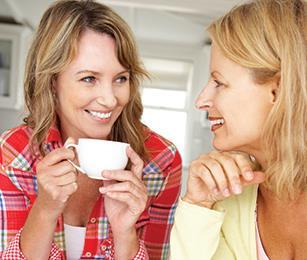 It's the simplest of invitations, but it can make a big difference to someone. Sharon Barnard discovers there are many ways to practise hospitality

There are some people who are particularly gifted on the hospitality front. They are the ones who can joyfully accommodate the visiting speaker at a moment's notice or invite a neighbour in for a coffee when yesterday's washing up is still sitting in the sink.

However, practising hospitality, which the Bible makes clear is part of what it means to live as a Christian, can be daunting for those who aren't very outgoing, feel their homes aren't quite up to scratch or worry their cakes are perhaps closer to Bakelite than Bake Off!
But the good news is that while hospitality often does involve sharing food and drink with others, God doesn't require us to be exuberant hosts, fastidious housekeepers or brilliant cooks. Hospitality is all about having an open heart and a love for the stranger. It is about being Christ's representatives – and welcoming others as we would welcome Jesus himself. All that is needed is a willing spirit and perhaps a little inventiveness. God will do the rest.
Share your toast and make a friend!

Mandy Catto, the director of Activate Your Life, a charity which encourages women to be involved in friendship evangelism, says sharing food is a natural way to connect with others.

Sometimes a simple cup of coffee is the starting point to a new friendship and a deeper conversation. A local coffee shop can be the safest neutral ground to begin. But a deeper friendship usually involves an invitation to my home and it is a more relaxed visit if the house is not looking perfect.

Lunch is a good third step. Cheese, toast and some fruit never seem to go wrong. Then the conversation can last longer.

If someone asks you back to their house, make sure you are able to say 'yes'. Accepting and receiving are a very important part of a genuine friendship. Be wary of always being the hostess.

+ Find out more about Activate Your Life and their weekend conference this month at www.activateyourlife.org.uk
Invite the neighbours over

Claire Light lives in Wimborne, Dorset with her husband Gary and teenage sons Freddie and Felix, and is part of her church's women's outreach team, Girls' Night Out.

Claire loves using her home to welcome others, but says it's important to find your own style and be comfortable with it.

"Don't worry if it is different to what others are doing. If you are a fantastic cook and want to prepare a formal dinner party with linen napkins then great, go for it; but if you prefer to order a takeaway and open a bottle of wine, that's great too! I guess most of us are somewhere in the middle, but I have always found that it's the invitation, the warm welcome and the fact that you have bothered to get folk together that is appreciated.

"It's easy to feel as if there isn't enough time to be hospitable, but I sometimes say to people, 'We're having this for dinner today, would you like to come and share it?' That takes the pressure off."

She adds: "It's often over something as simple as a cup of tea and a biscuit that the opportunity arises to offer to pray for a non-Christian friend or simply share something of what I believe."

Every Christmas the Light family have an open house for their street. (She buys, not makes the mince pies!) Claire finds it's a great way to get to know her neighbours better and an opportunity to share her faith.

"I make sure the leaflets advertising the church Christmas services are dotted around the house. Lots of good conversations about Christmas can be had over a glass of mulled wine."

Now her 15-year-old son Felix, who has grown up in a home used to welcoming others, is practising hospitality in his own special way. "He has a ministry through chocolate brownies which he delivers to friends when he feels they are needed!" says Claire.
Serve tea at a hospice

Our hospitals and hospices have their roots in Christian hospitality. They began as places of refuge for weary pilgrims in early Christian times and later religious orders extended their welcome to those in need of medical attention and charity.

Jane Byrne and Antonia Rolls are continuing this tradition of Christian hospitality in a hospice setting. Both have lost loved ones themselves and have benefited from the care that extends to patients and their families, and so now want to give something back. Jane makes tea and chats to patients and visitors at St Barnabas House Hospice in Worthing, West Sussex, while Antonia helps out further across the county at St Wilfred's Hospice in Chichester.

"I work on reception every Tuesday morning and I also work in the coffee shop twice a month on a Friday, serving tea, coffee and light refreshments, hopefully with a sense of humour or a listening ear, whichever is appropriate," explains Jane. "Visitors and staff also use the coffee shop, and sometimes if a patient is well enough it is good for them to have a change of scene too.

"On Friday afternoons there's a service in the chapel. Relatives like to attend and always stop for tea and cake or come early and have soup and sandwiches. It has become a social event for them and they get comfort from each other.

"You become friends with those who regularly attend the chapel. They may want to talk – it's a release. I listen and never say, 'I know how you feel', even though I do. It's not about me.

"The hospice makes such a huge difference in how relatives and friends feel about their loved one's last weeks or days and it's a privilege being part of that experience."

Antonia Rolls says she feels her main tasks are "to make tea, watch and listen" when she volunteers. "Tea can lead to talking, so I do a lot of that!

"I do all the usual things like changing water jugs, removing meal trays, getting newspapers, keeping the kitchen tidy, but all of those things are done with a sense of being in the right place at the right time. Sometimes, I am a very long time changing 14 water jugs because one or more patients want to talk.

"In the kitchen, while clearing up, relatives come in and, if I can, I ask if they are OK today. Sometimes they don't want to talk. Sometimes they want to tell someone how badly they are feeling, and sometimes they cry. My job is not to make them better, it is to be present, to give them all my attention, to love them and to hear their sorrow. I offer teas and coffees to new patients, and to any visitors I find, in case they need an anchor and some comfort.

"I have learned that I can really make a difference with the smallest of actions."

+ To find out how to volunteer at a hospice, contact the voluntary services manager at your nearest hospice or visit www.helpthehospices.org.uk
What could you do to 'welcome the stranger'?

Inspired by Mandy's and Claire's ideas? Here are a few more of their suggestions along with some of ours:

+ Host a 'bring and share' meal where everyone you invite contributes something and no one has to be responsible for all the cooking.

+ Get together for a themed meal such as a fondue night, baked potatoes and exotic fillings, a Chinese takeaway or Mexican buffet.

+ Have an open door policy at home. For example, if another parent is dropping off one of your kids, ask them in for a cuppa.

+ Share your lunch hour (and perhaps your sandwich) with the new girl at work.

+ Host an asylum seeker (details from The No Accommodation Network)

+ Provide a welcome and a meal for an international student who is a long way from home (contact Host UK)