My latest album 'God's Heart Explodes' was produced last year and comes out on 30 October. Unlike with previous albums which were strategically timed for a targeted release date, I always felt that with this one, I just needed to be very relaxed with the timelines and trust God for His leading on it.
This year has been – and still is – a really uncertain season for artists but because I hadn't set an official album release date, I feel as though God has been preparing me for it. I had planned to release one song a month and the first song was released one weekend in March, and then lockdown happened in the UK. When the realisation that we were in a serious pandemic started to filter down through news outlets, I didn't freak out. I just thought, okay, well, I'm just going to take this as it comes and I'm just going to release songs when I'm ready, when I feel like I'm strong enough to do it. And I say "strong enough" because the pandemic zapped a lot of energy. Ironically, not planning ahead gave me more flexibility – and ultimately less stress – with the release plan.
When I was writing, I had a real revelation about how far God is willing to go in His love for us. The name 'God's Heart Explodes' is a true expression of that. I had this sense of how important it is that we take note of the physical death of Jesus and how brutal, how vicious, how extreme and messy it was.
When I say God's heart explodes, I'm effectively saying God loves you, God loves you so much. But the word "explodes" is deliberate because it indicates power and force, excess and abundance. I remember listening to one of my favourite preachers one day, and he was talking about the physical death of Jesus and he said, in medical terms, Jesus died of a broken heart. And he went into all the medical details of the water coming out of his side and that everything that happened to Jesus on the cross points to the fact that his heart literally broke. And that was for us.
This isn't a new message, it's the message of salvation. But that never gets old and we need to remember how powerful it is, how life-changing and affirming for who we are as the body of Christ.
I knew I didn't just want a picture me on the front of this album. I really felt like it was a lot bigger than that. I was drawn to old iconography in old stained glass windows and read about how it was used in churches to teach people about the Bible and the gospel. It's often this very simple image that has a much more hidden and deep truth behind it. So with every single I wanted there to be a unique image that spoke to the deeper message of the song. The album cover itself is a montage of the individual single covers to convey all these elements of faith and different expressions of our individual experiences of faith.
This album is my small way of saying thank you to God for his unending abundance towards us. I've been so aware of His extravagance. I am a worship pastor at a church two days a week and this has helped on a practical level with income but also with stability and being part of a team. Being a freelance creative is lonely and can be quite challenging and this opportunity to be amongst God's people - even if it's only over digital platforms - means I'm reminded I am part of something much bigger than myself.
I really hope that this album allows people to connect with joy and beauty, to enjoy some really good music, and to have an honest conversation with God that leads to a deeper understanding of His love for them and for the world.
Lucy Grimble has been writing songs for the church and leading worship for many years, both as a solo artist and with her talented band of musicians. Lucy's desire in worship and songwriting is to create a space for anyone to encounter the love of God. She has led worship across the UK and Europe including David's Tent, Big Church Day Out, Open Skies in Ireland and Prom Praise at the Royal Albert Hall. Lucy's own worship flows from a place of personal intimacy and consecration to God, out of which she writes songs that carry a message of freedom, hope and identity in Christ. God's Heart Explodes was produced by Will Weeks and is published by Integrity Music. Click here to listen to the album on Soundcloud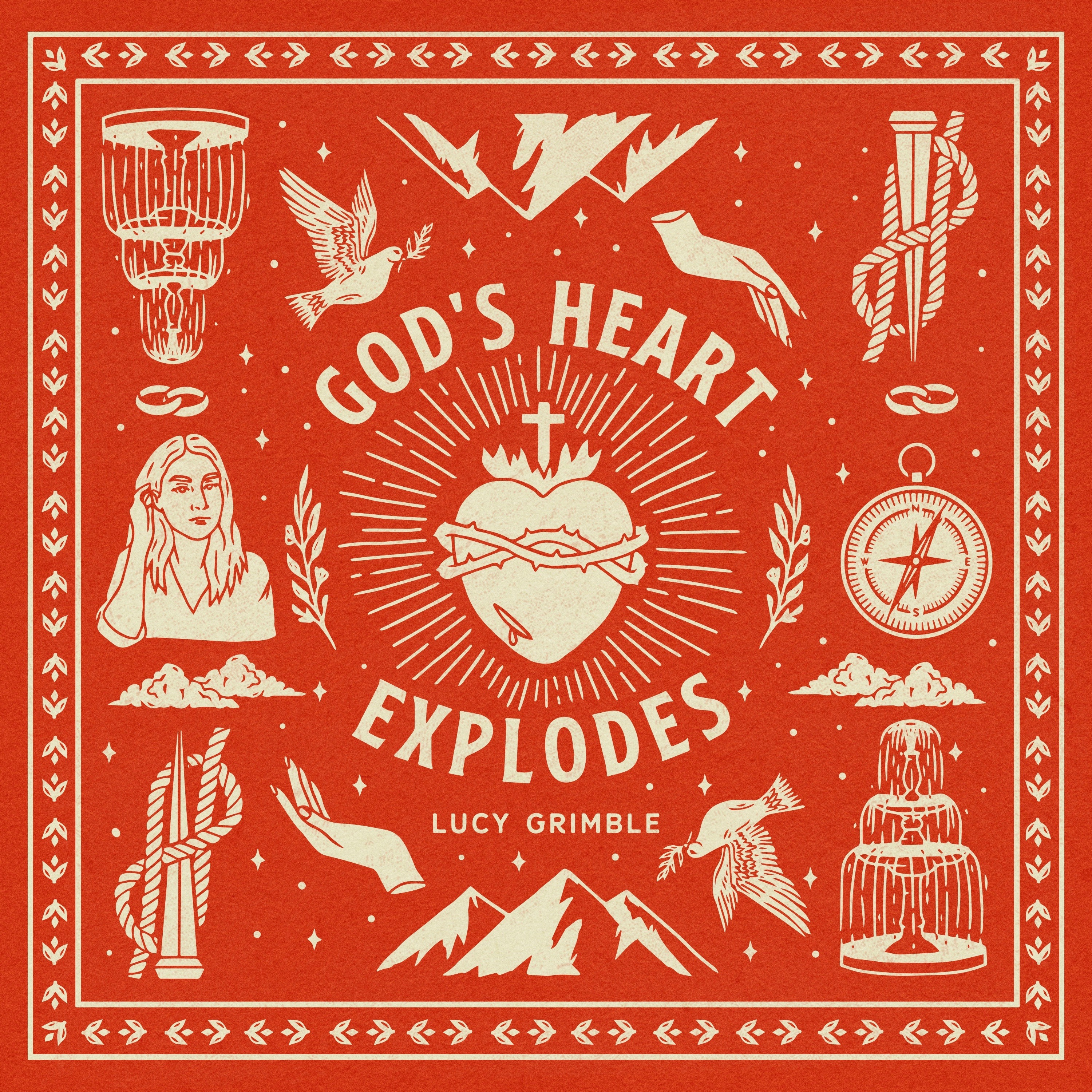 Image: Corina Straub
Album cover art: Andrew Lennon