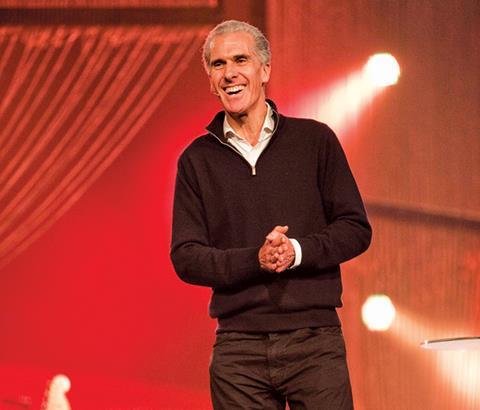 Nicky Gumbel
Vicar of Holy Trinity Brompton (HTB) church since 2005, Nicky Gumbel is the man credited with turning the Alpha course into a globally-successful evangelistic tool, with over 8,000 courses running in the UK alone. Nicky has written several books including Why Jesus? and Questions of Life. He is married to Pippa and they have three children and an expected first grandchild. He talks to Ali Herbert about his life and continuing excitement with Alpha
What is your background and were you brought up as a Christian?
My father was a German Jew brought up in Stuttgart and was a lawyer there, but was disbarred in Germany in 1934. He had sensed the anti-Semitic rise and when he was disbarred he came over to England, which is where he met my mother. She was a barrister too and they met working on a case together – they were on opposite sides of the case and met over lunch! But my mother was not a churchgoer at that time, so I didn't have a Christian upbringing in that sense. None of my family were churchgoers on either side, and I don't recall any godparents or friends who were Christian.
Where did you live as you grew up?
Funnily enough we lived in this parish (Holy Trinity Brompton). I went to school on the site that is now the church hall, so this was my parish church. I came once to midnight mass at HTB, probably having had a little bit too much to drink in my pre-Christian days!
So what was it that brought you towards faith?
The turning point was in the first year of university at Trinity College, Cambridge. I had been vociferously anti-Christian in terms of debates with people we called the God-Squad, who we argued against. But my close friends Nicky and Sila Lee [who devised and run the Marriage Course at HTB] came back one evening and said they had become Christians. That was a total shock. My response was, "Something so awful has happened to you, how can I help you? I must investigate."
That was the night I started reading the New Testament. I started with Matthew's Gospel, then Mark, Luke, got a third of the way through John at 3 o' clock in the morning and fell asleep! Then the rest of that week I just carried on reading through the New Testament – being a student I didn't have anything else to do!
And that was basically it. I still had the intellectual objections I'd always had to Christianity. But at the same time I was confronted with the truth of Jesus and the ring of truth of the New Testament, and I knew that I had to make a decision. It was a very intense 48 hours – I was completely gripped. Jesus' words seemed to be such an extraordinary description of the world and I could see what Jesus described taking place around me. I didn't want to be on the wrong side of that.
What did your friends think of the sudden change in you?
I think they thought it was a crazy phase and it would just pass. Actually there were seven of us who were great friends, who all became Christians within a year. Five of us were called Nicky – and the other two were honorary 'Nickys'! But others just thought we were completely crazy.
So how did your journey take you on to begin Alpha?
The next few years were the law years and hopefully my faith was growing at the time. I did a law degree, did my bar exams and practised as a barrister. In 1983 I went off to Theological College in Oxford, was ordained in 1986 and came back to HTB as a curate. Alpha was running at the time, but it was aimed at new Christians. In 1990 I was asked to take it on and I was very reluctant because I was interested in evangelism and this was not thought to be evangelistic.
But on the second course I ran we had a whole group of people in our small group who were from outside the church and all of them came to faith. In fact, all of them are now leaders. And I suddenly realised, "Wow, this could be used for people outside of the church." So we started to change the emphasis, and the order of the talks – for instance the first talk used to be How can I be sure of my faith? which is no good for people who don't yet have a faith, so instead we made the first talk Who is Jesus? And the small groups became discussion groups rather than Bible study groups.
From that point, it started to snowball. Then other churches got interested, so we put on a conference in 1993 and a thousand church leaders turned up. I took on the running of Alpha in 1990 and this is my 64th course in a row!
Had you felt a sense of calling to evangelism?
From the moment I experienced a relationship with Jesus, I had a strong sense of call to communicate that to other people. And that's why I did ten years of law. I couldn't string two words together! I was a shy person – in our family the men never spoke, we just kept our heads down! So I wanted to learn to communicate what I had experienced. And the means has turned out to be Alpha, but I never had an inkling of that.
Are the people coming to the Alpha course different now from when you began? Are they more hostile to the Gospel?
I don't know if there's more hostility, but people certainly have less knowledge. The questions are different. I think Jesus is a stumbling block more now than 20 years ago because the culture is very against exclusivity. People are happier to believe in God and the Holy Spirit, but not I think in Jesus as a unique, universal Saviour.
As Father Raniero Cantalamessa [Preacher to the Papal household] says, the battle of the 21st century is the same as the battle of the 1st century – it's about the King. Which is interesting because that is something that all Christians are united about. We are all united in Jesus being the universal Saviour: Catholics, Anglican, Orthodox, Pentecostal, Baptist, Methodist …
Do you still enjoy leading Alpha?
Absolutely. Our Alpha course starts tonight and Pippa, my wife, is over there right now doing morning Alpha. I think we'll have about a thousand people on this course – they'll be lining up, snaking around the church – queuing to find out about Jesus! You can't get bored with that.
Your life and work seem so successful, is there anything you struggle with?
I don't think anybody's life is successful all the time. If we pretend it is, then we're deceiving ourselves and everybody else. People sometimes complain about Alpha News, that it's full of success stories. Sandy [Millar, previous vicar of HTB] used to say that if we published the failures there just wouldn't be enough paper in the world! There are lots of things we do that don't work; we have plans that come to nothing, every day is full of problems. The job of being a pastor is a series of problem-solving. Some of the problems we solve badly, some of them we mess up, some of them we fail, but that's life.
Do you have to work on your life balance and your priorities?
I try and have my priorities clear. My relationship with God I try and make number one. I do this thing called the One Year Bible [Bible notes written daily on the internet], and at the start of the day that's like drinking, absorbing spiritual food, it's like sustenance for me.
Then, secondly, my relationship with my wife – we're very blessed that we can work together and I don't think that I could do it without her. The third thing is the children – though things have changed as they have grown and left home – we're at the stage of expecting our first grandchild very soon, so that's a high priority.
And then the fourth thing I try and prioritise is HTB, the local church. All the stuff we do outside means nothing if it's not working here. If our Alpha course, or leadership course, or caring for ex-offenders isn't working, then we've got nothing to say to anyone else.
You were described in an article in The Guardian newspaper as "the most influential person in modern Christianity". How do you respond to that?
[Nicky roars with laughter] Complete nonsense! Absolute nonsense! Has he heard of John Stott or Billy Graham, or Rick Warren or the Archbishop of Canterbury? Let alone all the others!
How do you unwind?
For me, that's sport and I play squash regularly. I'm fairly disciplined about the day and time I go off – and I'm off-air for a bit. It's also a community outside of the church who are not churchgoers, but are very good friends. I find that a great balance.
Do you feel that as HTB and Alpha are so well-known that you are restricted at all? Do you feel unable to make mistakes?
No, because I don't think we've started. Seven million people live in London and only a small proportion of those go to church, so we're not affecting 90% of the population. We've got to take lots of risks if we're going to grow and find ways in which we can communicate with people. How are we going to reach those people? That's the challenge.
Do you believe the oft-cited news that the Church is in serious trouble and decline?
The Church has been in decline, but there's also a huge amount of vibrancy on the ground and that's true, right across the country. Soul Survivor had 32,000 young people come to their event and New Wine had thousands. Pastor Agu's church, Jesus House, have planted 500 churches since 1992 in the UK – they have 40,000 people at their prayer meetings in the ExCel Centre in London. Gary Clarke with Hillsong have 10,000 people in one local church and they only started fairly recently.
There is also a new vibrancy in terms of social action. People are working alongside the homeless, in areas of poverty, anti-trafficking, and global justice. I see young people with a huge amount of vision and passion to do something about the desperate needs in our society. I found it absolutely tragic when Amy Winehouse died – it made me weep – because it represents thousands of other young people who have so much pain and can't process it other than with drugs or alcohol, or promiscuity that ultimately is going to be pretty meaningless. So I think there's an urgency about the message.