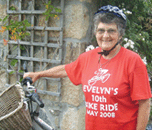 What an experience!

Holidays can be lifechanging. They can be opportunities to learn new skills, have an adventure or simply take some time out to reassess your priorities. Lisa Phillips meets three women who chose to do something a little different . . .

Cycling and trekking in Israel, Malawi and the Himalayas

Evelyn Cook is a feisty 70-year old woman who this year will complete her 10th bike ride for the charity Emmanuel Healthcare (EMMS International)

Over the last decade, Evelyn has done seven bike rides in Israel, two in Malawi, and one Himalayan trek in Nepal. And we're not talking a stroll in the park. One trip totals around 250 miles of cycling – that's 50 miles each day.

Born and bred in Scotland, first as a farmer's daughter, and later a farmer's wife, Evelyn believes her hardy upbringing has been significant in her choice of holiday. "I think maybe that hard beginning is standing me in good stead for the stamina I now have in doing bike rides and treks abroad!" she says.

That stamina not only equips Evelyn for each year's trip, it also helps her to raise the necessary sponsorship to fund it. She holds her own annual bike ride in Scotland, attracting between 20 and 70 cyclists, who donate their sponsorship money to Evelyn's EMMS fund. For each trip, she has to raise over £2,000. Although this money covers her travelling costs, the lion's share goes to EMMS developing world healthcare projects.

"That first bike ride was a big challenge," says Evelyn, who went by herself. "But if anyone wasn't able to continue, we had a back-up team with a truck for the bikes, and a bus for us. In Nepal, though, there was no bus following us. Once you were on the mountain, you had to stay there.

The second day is always the hardest – on the mountain it was uphill all the way. But you're given the strength to do it. There are morning and evening prayers, wonderful fellowship, and a sense of God's presence because we're all of like mind. This is especially true in Israel, where we're following in the footsteps of Christ. The Bible really comes alive."

Evelyn recalls one trip when the cyclists were given the chance to sail across the Sea of Galilee. "Halfway across, the engines were switched off and all 84 of us sat in silence for about five minutes. I was thinking of all Christ did there when someone started singing 'Be still for the presence of the Lord is moving in this place'. Wow! Of course we all joined in."

The inspiration for the trips came after Evelyn spotted a small ad in her Scottish church magazine and later heard someone speaking about her own experiences of the bike rides. Having undergone treatment for bowel cancer just a few years earlier, Evelyn had a new outlook on life.

"I felt like life was for living, and I had to give something back. I was given a reprieve and there are so many who are not. You don't get unless you give. Seeing what that money is going to, I do feel that I have grown spiritually."

In August 2007, Evelyn lost her husband Lindsay to cancer, but decided she would still take part in the Nepal trek six months later. "I felt very emotional on the trek. It would have been his 77th birthday while I was away, and it's amazing how the group supported me. The Sherpas were wonderful, supportive people, and one of them carried my bag."

The group produced a birthday cake for her husband. "The next morning we had to get up early to start trekking in the dark in order to see the sun rise over the Himalayas," she says. "I just thanked God for allowing me to be there."

At 70, Evelyn is nowhere near ready to retire from her adventures. Last year, she was cycling again in Israel, and this year she's off to Malawi. It's hard to imagine her willingly trading in the hard slog of the EMMS trips for a tame week on the beach.

* EMMS is involved in primary healthcare programmes in India, Nepal, Malawi and Israel, as well as supporting students with grants, and providing medicines to mission hospitals in many countries throughout the world. It organises regular treks and bike rides to raise money for these ventures. For more information contact EMMS on Tel: 0131 313 3828, or visit the website at: www.emms.org.


Novel plotting in Spain

Barbara Wren, 44, decided to take a break from her demanding job as an NHS psychologist, and indulge her love of writing. . .

Barbara booked a week away in Spain, in a 16th century stone house, complete with swimming pool and beautiful Catalan countryside. The theme was Plot your novel. And the holiday organisers, 7DayWonder, brought in author and publisher Maggie Hamand to teach the group (12 in total) every morning. Guests were free to explore, swim, write or simply relax during the afternoons, and met again for home-cooked food on the terrace in the evenings.

"It had been a while since I'd gone on holiday without a partner," says Barbara. "I'd forgotten how much fun it could be to meet people and enjoy it." The structure of the week, she says, made it very easy to make new friends and feel part of the group immediately. "The writing stretched me as well, and I think just going away to a new country gave me a focus."

Each day Barbara was given homework and a writing exercise to complete by the following morning. In addition to the group tuition, one-to-one tutorials were arranged with the course tutor, and guests were invited to share extracts from their books in progress. All the classes and meals were held outside beneath the covered verandah. "The mix of excellent teaching and downtime was very good," says Barbara, who recommends the holiday to any wannabe writers.

Since returning home, she has attended another London-based creative writing course, and hopes to return to Spain in the future. Just like it said on the label, she came home from Spain armed with a plot for her first book. "I've started my novel," she says, "but I haven't finished it yet. It's quite a challenge when you're working full time!"

* 7DayWonder is small company based in Catalunya, Spain that specialises in creative special interest holidays in Europe. This year's holidays include Writing Stand-up Comedy, A Book Group Week, the Salvador Dali tour, Singing & Songwriting and Creative Writing. Prices start at around £499 per person. For more information contact 7DayWonder on Tel: 0161 408 7017, or visit the website at: www.7daywonder.com.



Spiritual retreat in Devon

Maureen Hemmett's love of Devon's Lee Abbey began 40 years ago when she attended many of the community's retreats as a young woman. Its effects have been long-lasting.

"They were very significant times with God," says Maureen. "On one of the holidays, we spent the whole week on the Word of God – memorising, singing, meditating . . . It has given me an absolute love for the Word of God that has never left me."

Last year, at the age of 68, Maureen made a spur of the moment decision to return to Lee Abbey. Widowed eight years ago, the adjustment to life on her own has been long and painful. It is only now, she says, that she has begun to feel "normal" again. One of the big hurdles along the way has been the whole issue of holidays. Where should she go, and with whom should she travel?

"I was playing about on the internet, and I had a look at the Lee Abbey website," she said. "It was so inviting. I hadn't considered it because it's quite expensive and usually very full, but when I looked carefully, I saw that the following week was discounted with spaces left. The subjects were Psalms for Life and English Poets and their encounters with God." Maureen phoned up and booked two places on the Poetry week – one for herself, and one for her sister.

The experience, she says, was fantastic. "I took away a tremendous amount. Having time to myself was wonderful, the complete change of people and place did me a tremendous amount of good, and I thoroughly enjoyed the poetry."

The man leading the course was a priest from Oxford. His church used to be attended by CS Lewis, who is now buried in the churchyard "This priest had a great love of poetry and just wanted us to enjoy it," says Maureen.

Two teaching sessions each morning were followed by free time in the afternoon with the option for various workshops and walks. The Abbey's position in a spectacular valley overlooking its private beach, and set in a 280-acre estate made it an ideal place to get away from it all and simply spend time with God and his people.

* Lee Abbey is a Christian community that hosts conferences, retreats and holidays, and is set in spacious farm and woodland on the dramatic Exmoor coast. Its vision is for guests to experience a new or renewed encounter with Jesus Christ. Recent topics have included a dads and lads weekend, the Bible's Big Picture, Eyes Fixed on Jesus (based on the book of Hebrews) and Everyday God. Guests can attend as many or as few sessions as they wish. For more information, contact Lee Abbey on Tel: 0800 389 1189 or 01598 752621, or visit the website at: www.leeabbey.org.uk.