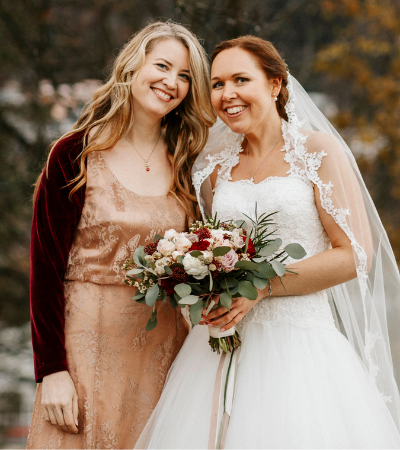 Amy's story
When I was 20 I was at a Christian Conference, and during a worship time I felt the Lord say: "If I asked you to never marry, would you do it?" I tried to answer immediately with a yes, but knew I needed to dig a little deeper into my heart, because it had to be the truth.
I sat for two hours, crying at the cost and praying for God to move my heart so I could say yes with honesty. Eventually I did say yes, and felt such relief. Later, I saw a vision of Jesus. He came to me, full of joy, dancing like he was at a wedding. He took my right hand and put a ring on it. I understood that he was leaving my left hand free for a husband. From then on, I believed God had a husband for me.
Holding fast through the pain
The years went by, but no man pursued me or asked me out.
In my late 30s I entered a phase of deep grief about my singleness. I knew God had given a promise, but I could not see how it would happen.
I have three sisters and a brother and one after the other they got married and had children. The hardest was when Annie, my youngest sister, got married.
When I was 38 I fell in love deeply, but in the end he decided I was not the one for him. My brother-in-law, Peter saw the pain I was in and called a family fast. For an entire week my family fasted, and Maria, my housemate, joined in.
During the fast Maria and I would get on our knees every night and pray for our future husbands. We prayed specifically, as we were prompted by the Holy Spirit.
We continued praying every night for seven months until Maria moved back to Norway. A year later she met a man name Stian and I felt such victory, as it confirmed God had heard and was answering our prayers!
I had tried internet dating, but it had never worked for me. When I was 41 I logged on to eHarmony, but for four years I didn't meet anyone.
In September 2019, my new roommate, Abi, who was 19 years younger than me, got married. I felt deep grief again. I asked God when I was going to meet my husband, and into my heart popped "October", but I didn't tell anyone.
God on the move
I had given up on eHarmony, but God prompted me to check it, and the profile of a guy called Tim from Seattle popped up. I clicked on his profile, which said: "I am living life intentionally for Jesus." He seemed earnest, sincere and was two years older than me.
I didn't message him, but within the hour he messaged me, as he saw I had seen his profile. We messaged back and forth all evening, and I had such peace.
We skyped the next day, and on 31 October he flew to Kansas City to visit me. After getting to know him, I found out that while Maria and I were praying for all those months five years previously, God was doing some deep work in his life to get him ready for marriage. The first was to set him free from an alcohol addiction.
Tim's parents had divorced when he was a child, and he suddenly felt prompted to pray for his mother. At 70, she fell in love and remarried. Tim realized it wasn't too late for him, joined eHarmony but couldn't find a strong Christian girl. He was going to give up, but one day his mentor told him: "She does exist! Try again!" Tim listened, and that day we matched!
Tim proposed on 25 September 2020 and we got married on 28 November 2020. He is more than I could have asked or imagined. The wait was very painful at times, but God was in it. He has shown me that he is sovereign, he writes the best stories – and he hears our prayers!
Maria's story
In 2013, I started to see the numbers '11.11' everywhere, and the Lord told me to pray for my husband every time I saw those numbers.
A year later, I was working as a worship leader and artist in Norway, and I felt the Lord leading me to move to the International House of Prayer in Kansas City, USA. I ended up living with Amy and we became very good friends.
I joined in with Amy's family to pray for her husband and we continued doing so every night. Two years had passed since I moved to Kansas and one night I remember sitting on my bed crying because I was so disappointed nothing had happened yet. "Lord how long are we supposed to wait? Amy and I have prayed every night for many months. I'm growing weary, Lord!" I cried out.
Holding on to God's words
That spring I moved back to Norway. In November 2016, a prophetic pastor friend said: "Maria, now is the time for you to have your husband and build a home!" I just smiled, knowing God was confirming his word.
On 22 January 2017 I decided to fast and pray for my husband. I said to God: "You've said now is the time to meet my husband. That means not in a week, not in a month or next year. When you say now, it means now, so I will fast until he comes!"
Minutes later I checked my phone, and saw an email from a guy named Stian Tjelle. We had emailed a little bit back and forth in 2013 because he had ordered some of the postcards I had designed and sold online, but I hadn't heard from him since then. If it weren't for the timing, I wouldn't have thought much of it. But from that day we started to email back and forth until we met face-to-face in February.
God's timing
In 2013 Stian had been given one of my postcards and when he saw my name as the artist, the Lord said to him: "She is your wife." He was surprised, as for all he knew I was an old lady! He emailed me to tell me how much he liked my art, and ordered some postcards. In October 2016 – at the same time the pastor told me now is the time for you to meet your husband – the Lord brought my name into Stian's mind. He decided to contact me again, but felt he should wait.
Then, on the same day I decided to fast and pray, Stian sensed it was time to email me. He rushed to his computer and wrote that email to me – just at the right time for my heart to be completely open to him.
In June 2017 Stian asked me to be his wife and I joyfully said yes! I was reminded of the numbers 11.11, and checked if 11 November was a Saturday that year. To my amazement, it was! We married on 11/11/2017, nine months after we met for the first time.
Stian really is the man of my dreams. I had a list of what I wanted in my husband, God knew all the details and he fulfilled all of them and so much more.