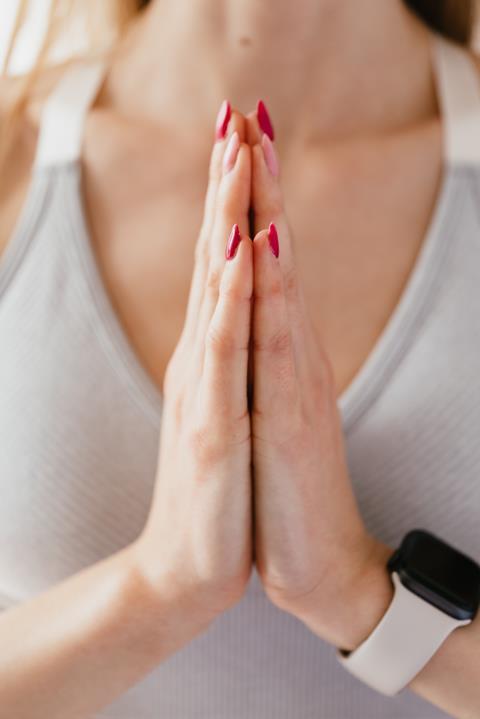 MR: When you headed off to university, was finding a church on your 'to do' list?
CH: Actually, it was. I came across the church I'm still a member of now, called Revelation Family Church. It's a small family church in Chichester on the south coast of England. Something about the way they leaned into faith, pursued Jesus and lived out what they believed really appealed to me. I didn't know what was in store for me when I joined though, or how it would affect my faith.
MR: One of the things the church was doing, among other things, was hosting a 24/7 prayer room. For anyone who's not familiar with it, what is one of those, Carla?
CH: At the time, none of us were familiar with what it was because it was the first ever 24/7 prayer room - now they're quite common! Maybe your church might have prayed 24/7, where (in pre-pandemic times!) a room in your church building or another building is decorated with creative and interactive or inspiring ways to talk to and listen to God. It is broken down each day, week or month into our slots, and people sign up to pray in a chain night and day, creative, dynamic prayer. When I joined that church in 1999, I had never heard of it. I thought night and day prayer was something that happened with our brothers and sisters in East Asia or Africa, not in the UK, not in a little sleepy place on the south coast. I joined the church right as they were beginning this prayer experiment, because the church was bad at praying. The church found prayer really difficult as a community, so instead of calling a meeting, they called it a month of non-stop prayer to learn to pray by praying, which probably says a lot about the personality of our church.
MR: Initially, how did you feel about this idea of such intense prayer for a month?
CH: I hated it. I didn't want anything to do with it. I was a Christian, Maria, when I arrived in Chichester at university, but and one thing I felt was particularly difficult for me and my faith, was personal prayer. I'm an extrovert: I love singing in worship and corporate worship, I can even pray out loud in a group -that wasn't hard for me- but the discipline of spending daily time alone with God and building that relationship that's at the heart of our faith, that was a huge challenge to me for a number of reasons. I struggled with focus, I struggled with how to pray, what to pray about, and I had questions about what God was like. All these things added together to make prayer something I found really hard, but because it's private, no-one really knew about the struggle. I could keep it secret that I struggled with prayer, but when I showed up at my church family and on there was a notice where someone was standing up and saying, "Who's gonna pray from 3 to 4am tonight?", I thought they were insane. I was like, "Oh, no, I'm going to be found out, everyone's gonna realise that I can't pray. I can't possibly sign up. I'll break the chain of prayer. I do it so badly." So I avoided it like the plague for weeks. Eventually, a dear friend whom I'm very grateful for invited me to join her hour in the prayer room. I could stay for 10 minutes and then leave, and she would cover the rest. I felt this was the lowest bar I could do.
MR: Had your friend chosen one of those 3am slots or a more civilised time of day?
CH: No, she was very kind to me. It was an afternoon slot. I do feel like she gave me the easiest entry into the programme, I have to say, and it was amazing. People had been praying night and day for weeks by this point in this room, and I was going thinking that I was doing my duty as a Christian. I was showing up to tick the box and try to pray for 10 minutes and then scoot off, but actually when I entered the room, two things hit me. The first was the colour of the space and the creativity. I associated prayer with difficulty, dullness and solitude, which can be a beautiful aspect of prayer but was something I struggled with at the time. Instead, I walked into this room that was full of activity and colour, inspiration and creativity and I was just blown away. And then more importantly the second thing that hit me as I walked into the room was the presence of God. I thought I was showing up to do my duty, but instead of showing up to meet with God, and He was there, to turn that prayer in into my classroom, and to begin a journey where I could learn to pray the way he made me to pray.
To find out about the many resources 24/7 Prayer have available to help you grow in prayer visit www.24-7prayer.com
Photo by Karolina Grabowska from Pexels