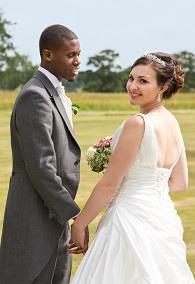 I was born and brought up in Hackney, London. Before having our daughters, I was a youth and children's pastor working at a Baptist church in London. Leon and I met 13 years ago – I was 17 and my youth group joined his youth group to go on a mission trip to Albania. There were definitely sparks in the beginning, but it just wasn't the right timing. Leon was in a relationship with someone else so it wouldn't have been right to pursue things further. In the end I deleted his number and we severed all contact with one another.
In 2011 I was starting to find my identity in God again after a string of bad relationships. I finally felt confident and content. One night I had a dream, in which I had started work as a youth pastor in Ilford. It was the first Sunday, and I was being introduced to everyone in the church. At the end of the service, someone tapped me on my shoulder – it was Leon. He told me it was his church. In the dream I thought: "Oh no! This is my church now too; this is going to be hard." In the dream we went for a walk and cleared everything up from when we first met and made peace. It was really beautiful. And then I woke up.
Not long after the dream I was applying for real jobs. I decided I should change my teenage email address: "Katie_rocks_my_world" for something more professional! I was going to close my account, but I had about 1,000 unopened emails, mostly spam, so I went through them. I got all the way down to 2007, and there was an unopened email from Leon. It said something like: "Hi, I can't get hold of you, hope you are OK."
Because of the dream, I decided to respond, but thought the email would probably just bounce. I wrote: "I am not expecting to hear back, but I just came across your email, and hope you are doing good and still walking with God.
Half an hour later I got a reply! He gave me his number, and told me to call as we had a lot to catch up on. A few days later we met up and we went for a walk – it was almost exactly the same as the walk I saw in my dream. We talked about the past and said sorry to each other. It felt freeing and liberating for me because, even though it was lovely to see him, and I was finally in a good place in myself, I didn't have any intention to pursue a relationship. I just thought it was closure on the past.
We were friends for a few months, and then Leon asked if he could take me out. In January 2012 we officially got together – he did it properly and asked my parents if he could date me. In 2014 we got engaged, and married in the June. I know if we had got together when I was 17 it wouldn't have worked, as I would have relied on Leon and not God. God did a work in us both over the years we were apart, and in his providence bought us back together.
Leon's mum is Jamaican, and his dad is from Guyana. Both their sets of parents came over to Britain in the Windrush generation. Leon was born and brought up in England so we are both British, which has helped make the cultural differences not feel massive. Growing up in a diverse area such as Hackney, I've always been around other cultures and foods and have always had black friends. I really enjoy being with Leon's family and love celebrating other cultures and differences.
Leon has experienced a lot of racism. With all that has been going on recently with the George Floyd murder, some people have been saying racism is more an American problem, and not so much in the UK. I put a post on Facebook about Leon's experiences, and it went viral as friends started sharing it. Leon works as a barrister. He is a good, godly man but, because of the colour of his skin, he has been unlawfully arrested and held at gunpoint for 30 minutes and utterly humiliated. He has also been stopped and searched seven times. In the early days of our relationship some people made the assumption that he was only with me as I'm white and that it might help him get a foot in the door as a barrister. That obviously was never the case. He has always worked very hard to get to where he is. He has earned his seat at the table; it was nothing to do with me.
Katie's FB post
Leon's journey to the bar was a long and gruelling one. It took him 12 years to finally become a tenant at his chambers. He studied law at university where he was told he wasn't good enough to be a barrister. He left and worked for a year round the clock to raise enough money to pay for his law school. You may or may not know that at the Bar it's a very privileged white middle class profession. After he qualified as a barrister he worked for 5 years doing low paid legal jobs to gain experience to get a foot in the door. He was rejected from many jobs and pupilage opportunities and watched as white counterparts with less experience and skill were offered those very same jobs. But he didn't give up. Eventually he was finally offered a pupilage (an essential training process which you have to have in order to become a barrister) and worked around the clock to prove himself more than capable. People often assume that he is the defendant (despite being in a suit) purely because he is a young black man and this mistake is even made by counsel. He has had to defend clients who are charged with racially aggravated assault offences and does so with grace, humility and integrity. Regardless of the offence, he does his best to represent all his clients to the best of his ability.
When we are out as a couple in London, I don't think people react much. I am aware of security guards glancing at Leon sometimes. When we go and visit my grandparents in Norfolk, where the community is mostly white, people look at us a little bit more.
Both our families embraced us straight away and have been really supportive. But I have wider family that we aren't close to who are BNP supporters. We invited them to our wedding, but they didn't come – or even respond to the invitation. So there is some tension there.
I have family members who have been racist completely unintentionally, out of ignorance. For example, we were playing a game with an older relative, and you had to give a category to a colour. She got the letter N, so said "N****r brown". I explained to her later that it wasn't a good word to use, and she was mortified. She said that when they were younger you could buy shoes in that colour, so she thought it was normal.
What has been going on recently has uncovered more differences than I was aware of. I am understanding more about white privilege, systematic racism and unconscious bias. I had no idea of black British history and want to understand more so I can educate my daughters.
I believe God brought Leon and I together. He sees us as one, and of equal value, and I am praying for a world that one day sees the same.
Words by journalist and author Jemimah Wright. Jemimah writes real life features for women's magazines and has ghost-written several faith-building missionary biographies.