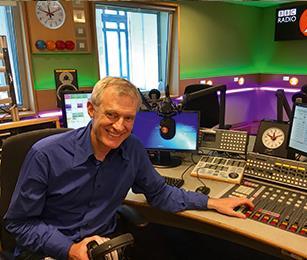 Jeremy Vine has a formidable and diverse CV. After leaving the Coventry Evening Telegraph to join the BBC as a trainee in 1987, Jeremy was reputedly the youngest person ever to present the Today programme, and went on to become a political commentator, Africa correspondent, Newsnight and Panorama presenter, Eggheads quiz show host, Strictly Come Dancing contestant, and of course the BBC Radio Two lunchtime presenter since 2003.

He's been shot at, robbed, stalked, threatened with a bombing, mortared, driven off the road in Croatia, bitten by Sudanese mosquitoes, attacked with a plank of wood by a neo-Nazi shopkeeper, had chewing gum placed on his chair by one of Robert Mugabe's aides, and talked tea and faith with Tony Blair.

He's written two comic novels set around the Church of England, published a memoir called It's All News to Me charting his career in journalism and, in September 2017, released another book entitled What I Learnt: What My Listeners Say and Why We Should Take Notice, musing on the 25,000 calls he has taken while hosting his daily programme on Radio Two.
'Interviewing is a contact sport'

There was plenty to talk about, but I had only 20 minutes down a phone line. A quote from Jeremy's book, which I had devoured some weeks previously, came to mind: "Interviewing is a contact sport and doing it down the line is like fencing by telephone."

As he answered my call and explained that he would be making his way down a corridor to his office while we spoke, I asked him to elaborate on this comment.

"I think interviewing needs to be done, ideally, with the person opposite you because you're reading their body language," he said. "You're trying to work out when they shift in their seat, whether that's because they've just told you a big fat fib."

While Jeremy had to be on the move while speaking to me, I nevertheless felt he was giving me his undivided attention, and, as you would expect, he contributed thoughtful, articulate, and very quick answers to my questions. Hearing that distinctive, familiar voice, too, I could picture him from his television appearances. But how does he feel about fielding so many calls on the radio from people he has never met?

"Naturally you do tend to picture the person to whom you're speaking," he said. "I have no way of knowing if it is even slightly accurate, but that's the joy of it – radio plays with your imagination."
No-one is listening to the supposed experts

In this new book, Jeremy has taken the opportunity to explore, and celebrate, the glorious mix of personalities among his audience of seven million.

He reveals the extraordinary response to questions on air such as 'Have you ever been pecked in the eye by a gannet?' or 'Who has put superglue in their eye instead of contact lens solution?'

He invites us into the studio with him to enjoy the shorthand of the 'witch's post' where a stray remark by a caller, not part of the central story, can completely overwhelm the rest of the sentence. For example, the distinguished professor who came on the programme to talk about water quality in Aviemore and said, without warning: "I like to swim in hot springs myself, but I eat a lot of rhubarb," eclipsing the rest of the item.

While What I Learnt is a hilarious, genuinely 'laugh out loud' account of the strange things people say and do, and recounts Jeremy's career where his previous memoir left off, it also ponders the changing face of news and information gathering, the role of experts and the power of the individual.

"Listeners have always assumed that no-one hears their voice," he says. But Brexit and Donald Trump have shown that the situation has been turned about. Today no-one is listening to the supposed experts, and callers expect their views to be noted.

"When I arrived at the BBC in 1987, I thought I'd gather the news and tell people what it is. Technology has changed all that. I'm the listener now, the audience tells me the news."
'Water cooler radio'

Think about astronomers and astronauts, he says. We trust astronomers to tell us about space because they have telescopes. But the astronauts have actually been there.

"The astronauts are my listeners," Jeremy says. "They may not always have perspective, expertise, a telescope or textbook, but they've been to the moon."

So, although Radio Two is not the traditional source for news and information, Jeremy argues that his programme presents a far more contemporary model, which perhaps echoes the role of social media today in opening up the conversation.

"If my show were a news programme, it would be the number one in the country," he says. "It regularly beats Radio 4's Today programme. The problem is that we aren't really news. They announce stuff; we discuss it. And it's more than a phone-in. Perhaps we could just call it 'water cooler radio'.

"I think programmes like Newsnight are the old model of news where we get terribly clever people in a room and they tell you what's happening. Now I'm the guy with the microphone and I don't know what's going on – but you're going to tell me. It's very exciting, in a way," he says.
'We have to enlighten ourselves'

If we are all part of the process, though, where should we go for information?
"We have to enlighten ourselves," he says. "We have depended for too long on people in lab coats and goggles. Personally I love experts, but we need to understand that they do make mistakes."

And another symptom of the conversation today, is that there is so much anger expressed through social media.

"I think instead of people sitting in the pub with their friends agreeing on stuff, they go on Twitter and find people who don't agree, and they shout at them. That's their hobby now.

"I think we are a very verbal nation," he continues. "We've got 63 million people on a tiny island and we are basically shouting at each other instead of fighting, as far as I can tell. I think there's anger but there's also a lot of love and tenderness. People are able to speak very poignantly sometimes."

Jeremy has experienced both expressions of emotion from his own posts on Facebook and Twitter. There was the road rage incident which unleashed intense vitriol – not against the driver who had cut him up on the road, but against Jeremy for cycling. And when he answered a criticism about his perceived ineptitude on Strictly Come Dancing by explaining how persevering set a good example to his two young daughters, he received a huge amount of support.

Jeremy is certainly identifying with his audience in all sorts of ways – he confesses that once he even wanted to ring in to his own programme.

"I never really listen to it when I'm off because I get too jealous of not being on it," he says, "but I was painting the house or something and there was an item where I got really irate and was going to call up. It was the craziest moment. It made me realise that the most engaging thing is not the person you agree with, but the person you disagree with."
'The amount of stuff that isn't true is amazing'

So where should the listeners, the nation, direct their concerns, their anger, their bewilderment at the incidents in today's society? And who can they trust?

"The amount of stuff that isn't true is amazing. So I think brands are becoming more important. Thankfully the BBC is a very strong brand for truth," he says. "But if you see a photo of, say, a missile strike on the White House, you don't straightway say 'Oh, that's terrible', you ask 'Who sent this to me?'

"We are all obviously troubled by terrorism. We are all troubled by these spontaneous flashes of violence we see around us. But I am basically an optimist. I think things always get better. At the time they don't feel like they are and I think we are afflicted by temporary pessimisms. We are going through one at the moment.
'The human heart doesn't change'

"We forget, though, that two generations ago they had to go through two world wars on the trot. Jews were being forced into trains to mass slaughter. When I was a teenager in the 70s I genuinely feared a nuclear strike on Cheam by Moscow – we know that wasn't so far-fetched because in 2017 the death was announced of the Russian who decided an alarm system detecting an American attack 30 years ago had gone off in error. What we have now is awful, but less troubling.

"And I'm 52 – that was the life expectancy for a bloke in 1900. So with all of that, things are getting better. But I think the human heart doesn't change. I suppose that's the key."

Writing about his career has given Jeremy an opportunity to pause and look back, and he can identify individuals who helped shape him professionally and personally into who he is now. What does he hope presenters of the future will see in his contribution?

"I hope a sense of humour," he ponders. "And I think the other thing is key: I think for a presenter these days it is understanding your audience. You are maybe not living exactly as they live – we're all living different lives, but understanding where they're coming from is the crucial thing."

Jeremy was born in Cheam, Surrey, the oldest of three. His sister is an actress, his brother is the comedian Tim Vine – known for his quickfire one-liners and play on words.
'My parents have certainty. I have doubt'

Life was centred around church and Jeremy writes with warmth and tenderness about his parents, acknowledging their kindness, generosity and support. He remains a 'practising Anglican', but does not speak widely about his faith. Is this because it's tough for people in the public eye to do so?

"I don't agree that it's tough," he says. "In fact I think the opposite. People are open now about all kinds of personal things in a way they never were before – mental health being the best example. I just don't talk a lot about my personal views and faith simply because I think that's not what licence fee-payers are spending their money for!"

Jeremy is also aware that he doesn't have all the answers. In a short exchange with the former prime minister Tony Blair, he described himself as a 'struggling' Christian.

"My parents have certainty. I have doubt. Over time I realised that we are not so far apart. They are just better at filling the gaps in with God, whereas I fill them in with question marks. I guess that's the journalist in me."

And as a journalist and a presenter, we hope he'll continue to ask questions and share what he has learnt after a further 25,000 callers.

+ Catherine Larner is a freelance writer and journalist based in Suffolk