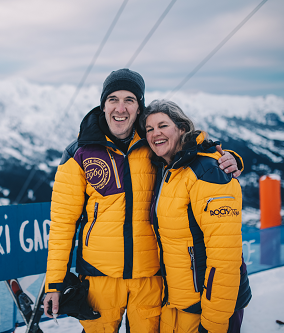 "You're going to have to share a room; I hope you don't mind but we've got eight extra guests tonight and they have nowhere else to stay." These were the words I was greeted with as I arrived at Chalet Altitude. I was welcomed to the chalet by Lara Sussman, the mother figure of Altitude Mission working alongside her husband Will.
In the beginning
Lara was brought up in a Catholic home and says: "I definitely believed in God but had no idea I wasn't a Christian." Her mum died when Lara was 30 – her mum was just 60 – and this loss gave Lara the strong sense that she wanted her own four children to be brought up with a faith. She says: "I just wanted them to be able to light a candle in church – like I did for my mum – and to get married in church and really enjoy it!"
Harry, their third child, was born with autism and severe learning difficulties. This affected where Lara could take him for playdates. As a result, she found her friendship groups changed and she began to feel isolated. When Harry was six, Lara met two women her age who invited her to a parent and toddler group. "Harry was too old, really", says Lara, "but they showed him a lot of love and we felt welcomed and accepted." As the friendship grew, she was invited to what she thought was a coffee and cake morning. Lara was shocked to turn up to find everyone with a Bible in their lap. She never did get any cake! But what she did get was an incredible support network of Christian women ranging in age from 25 to 70. This was the beginning of Lara's journey to discover a God she realised she had never truly known.
Will was born into a Jewish family and his parents are still practicing. Growing up, he says being Jewish was never really about God for him. "We had Friday night dinners and I did my Bar Mitzvah at 13 but I never saw it more than just what Jewish kids did. Although we lived in a Jewish area, we were not an Orthodox family and went to mainstream schools and things." So, when he met Lara, Will's parents weren't fazed. He says: "They just loved her for who she was. My brother also married a non-Jewish girl and neither of us felt any pressure not to."
Lara became a Christian before Will did, but at that point their relationship was not at its strongest so although he was vaguely aware of her conversion, it wasn't something they discussed, and Lara didn't try to evangelise to him. "It was probably for the best" Will admits, "I think I would have run a mile if I had felt pressured into it!" But he noticed that she had a newfound sense of peace around her. The vicar from the church Lara was attending would go to the house for what he called "Grill the Vicar" sessions every Tuesday. He let Will, Lara and their four children ask whatever they wanted. Someone gave Will a condensed Bible to read and he was shocked to realise that, as a Jew, he already knew so much of the Old Testament. When it came to the New Testament he just felt: "It was all about Jewish men meeting Jesus and that really resonated with me." He said a prayer of belief one day while on a walk with the vicar, James. But he didn't really feel that he was fully behind it. When he returned from a family trip away which had involved several encounters with God, he went back to James. Will remembers: "I told him I wasn't sure if I was actually a Christian, even though I had said the prayer! I wasn't sure if it had any conviction behind it at the time." James asked him how he would feel if he took his Bible away and Will realised that he would quite miss it! Having that realisation gave him the sense of freedom to call himself a Christian.
The prayer of a child
Lara credits the birth of Altitude Mission with the prayer of their youngest son Sammy. In 2018, a close family friend lost her daughter and the verdict given was death by suicide. Her daughter had two young children and the Sussman's son Sammy, ten, was shaken that something so horrific could happen with a supposedly loving God watching on. Recognising that their child was experiencing a crisis of faith, Lara and Will got the family together to pray. Afterwards, Sammy said, "If I can talk to Lindz West (a popular Christian singer from a band called LZ7), then I'll believe what he says!"
At this point, the Sussman family split their time between living in the French Alps during the ski season and in the UK the rest of the year – with their children going back and forth for school and university. They had only ever seen Lindz' band perform on stage at events like Big Church Day Out. But during the ski season, they were working closely with Christian Outreach in the Alps (CORA) and had some contact with the chaplains sent out by CORA to preach in the small church in Meribel. Lara remembered that the chaplain she had met the week before – Gordon Hickson – had mentioned that he knew Lindz West's family. So she sent him a message explaining that her son really wanted to speak with Lindz. The chaplain sent Lindz a message that said simply: "There's a ten-year-old boy in Meribel who needs you." Lindz received the message just as he was looking online for ski holidays – in Meribel.
Lara sent her message to Gordon one Sunday, Gordon messaged Lindz later the same day, Lindz called Lara on the Monday and by the Tuesday he was with the Sussman family in Meribel with his six-year-old son. No one could have anticipated the swift response of God to such a specific prayer and over the course of his trip, Lindz skied with Sammy most days as they prayed and talked together.
Greatly encouraged, while Lindz was staying with them, Lara and Will felt a strong sense that God was calling them to give him (God) space to minister to other people in Meribel and it was from this that Altitude Mission was born.
Time to 'go bigger'
Lara and Will already had three chalets that they managed and rented out during the ski season but they felt they needed a chalet specifically for Altitude Mission. They began looking for ten-bed chalets but the doors kept closing on any opportunity to obtain one. Lara explains: "I felt God say, 'go bigger' and I sensed a ten-bed chalet wouldn't be enough for what God wanted to do so I felt we had to be obedient to that."
They came across a chalet advertised as sleeping up to 26 people and when they went to view it, realised that Lara had visited for evening worship and Bible study as a new Christian when it was run by Richmond Christian Holidays. As they were shown around it quickly became clear that it was much too expensive and needed a lot of repairs, so they moved on and continued looking. Lara says they had forgotten about it when they were contacted by the estate agent who offered to reduce the price by 50,000 euro and to include a refurbishment plan costing 25,000 euro!
Angels on the slopes
Initially, the plan was to host young Christians who were on GAP years doing ski instructor courses. Lara recalls: "It was very expensive and only one person showed any interest, so we decided we had better get guests in instead!"
As the Sussman family hosted guests and skied with them, they found themselves frequently helping other skiers who had fallen on the slopes. They identified a specific area of need just outside the popular bars at the tops of ski runs. When the lifts closed, the only way to get down was via the slopes and, as they witnessed first-hand, excessive drinking and skiing (or snowboarding) do not make a good mix. It was from this simple observation that Ski Angels was born.
Most of the guests at Altitude are very competent skiers and the Sussman family have been skiing for years so they took it in turns to do shifts as 'Ski Angels'. This involves simply waiting outside the party central that is Folie Douce just before closing in order to direct people to the green (easier) runs, help them to catch the last lift or even ski home with them if necessary.
It wasn't long before they caught the attention of the organisers at Folie Douce. Toby, one of the fondly named 'Altituders' who is living in community at Chalet Altitude this season, says they were called into a meeting in December 2019 without any idea why. "We thought they were going to tell us to stop", he says, "but we really prayed about it beforehand because we believed in what we were doing." They soon discovered that the organisers were so thrilled with how they were helping – and couldn't understand why they would do it unpaid – that they offered to sponsor them with the previous year's officially branded ski suits, forming an important relationship between them.
Although open to both men and women, this season, there are five young men aged between 18 and 23 living and working at Chalet Altitude. Their work involves helping with cleaning and supporting the Chalet Cook, Cat Midgley, and working alongside the Mission Coordinator, Harry Anderson. Six days a week they put on the bright yellow Ski Angel suits in the afternoon and go out to meet with and support skiers and snowboarders. It's humbling to witness such young people giving up their time and energy for the work of God. And in a society where women in the Church vastly outnumber men, it seems incredibly important to have Christian men visible to those outside of it.
WHAT IS ALTITUDE?
WHAT Altitude Mission is about growing a church, building a community and being a light on the hill. It's a radical opportunity to do something for God, to get closer to God and to know his will for your life. And while we're here, we want to ski, ski some more and enjoy the stunning beauty of God's creation.
WHO Altitude Mission is for anyone who loves skiing, has a heart to serve God in the mountains and can spare anything from a week to a season. You may already be a great skier or snowboarder, or you can be a beginner or non-skier. We just want people to join us in the mountains, ready to serve, get closer to God and have a lot of fun.
WHY We believe God has put us in Meribel for a reason. We want to challenge people's perceptions of who God is and what church is like. We want to live out our faith by helping where the need is. We want people in Meribel to meet us – whether it be on the slopes, in a bar, on a chairlift – and say: "Wow, I didn't think Christians were like this…" And there's nothing like worshipping in the mountains!
A chalet for community
The Altitude team operate several initiatives to further their vision to share the love of God in their community. One night a week, they open the chalet to host a free 'Beer and Burgers' evening for often cash-strapped and homesick seasonnaires. In the week I was there, I met someone who had been invited by one of the guests. He told me he used to be a Christian but hadn't been in church for more than ten years and admitted he had half expected to have a Bible thrust at him as he walked in the door. As he glanced around at the 40-odd people – most of whom were not Christians – eating and drinking together, he said thoughtfully, "Now this is church."
On Wednesday mornings the Altitude team put some money behind one of the cafés on the mountain for people to enjoy free coffee and croissants. The Altituders are there if anyone just wants a chat and this has helped build good relationships with the staff and locals. In the week I was there, this developed further with the owners sponsoring the coffee and croissants, and offering to hold a fundraiser afternoon for them – they really believe in the work they do.
On Sunday afternoons they take a guitar up to a picnic spot and worship God up on the mountains. Anyone is welcome to join and I saw several people stop skiing to watch, intrigued to know what was going on. And when they realised, no one turned away.
Chalet Altitude hosts chaplains for 1-2 weeks, so on Sunday evenings there is an English-speaking church service in the Chapel at Meribel. Much like traditional Church of England church buildings in the UK, it is particularly cold and it's not unusual for people to attend in their ski gear! I'm told the chapel was packed for the Christmas services and they welcome new people every week as holiday makers and residents find out about the chapel.
'We just want people to join us in the mountains, ready to serve, get closer to God and have a lot of fun'
A home for the homeless
Despite my initial misgivings about having to share a room, the initiative I love the most is one they simply call 'Spare beds'. Lara and Will say: "Working a ski season can be highly stressful as young people try and ski hard, party hard and work. We are there to pick up the pieces if it goes wrong, and offer them a safe bed for the night, or longer."
And it's not just seasonnaires they support. When I arrived, there were eight extra guests staying with us. They had been on holiday elsewhere, but their train home had been delayed by a day and they were offered beds for the night at Chalet Altitude.
On my second day, I met three girls who had just been fired from their jobs as chalet hosts and had nowhere else to go. One of the Ski Angels had met them on the mountains and immediately brought them back to Chalet Altitude to stay until they could find new jobs. On my third day, a fourth seasonnaire arrived in the same situation. In my week here I've seen the care and diligence with which Will, Lara and the Altitude team reach out to everyone they know to try and find the seasonnaires new positions. Lara says: "When they're looking for jobs, we do get quite involved. We do it with the same passion as if they were our own children!"
Not once was Cat, the cook, fazed at the highly fluctuating numbers appearing for breakfast or dinner. On a group WhatsApp, people regularly sent messages letting her know that they would be coming with a friend – or five! The response from Cat, Will and Lara was always: "Please bring them. They are absolutely welcome."
Prayer, praise and miracles
Altitude Mission is absolutely rooted in prayer. The team prays together before sending off the Ski Angels, at mealtimes with all the guests and at worship time in the evenings. They also have a designated prayer room that is open at all hours to anyone who might want to use it.
While I was there, one of the bouncers from Folie Douce came to Chalet Altitude for dinner two nights in a row. A practicing Muslim whose initials happened to be 'JC', he had been especially welcoming to the Ski Angels and they had built up a relationship. After dinner, the team set up a temporary bed for him in the prayer room so he could sleep for a few hours prior to heading off for his night shift. Before he slept, Will prayed for him and they said "Amen" together. JC told Will that he had been working in Meribel for eight years and that was the first time he had been invited to someone's home. JC says: "I could see that God is with them and when I entered Chalet Altitude I just knew that it was a house of peace and love." When I asked him what made him come back, he said, "Because I'm at home. It's home."
The Altitude team also gives a lot of space for God to work in worship through music and have a dedicated worship leader working at the chalet for the entire season. Lara tells me one week she felt they had spent extra time in prayer and worship; this was followed by a 24-hour period of miracle healings including one woman suddenly able to walk again after an accident.
When I asked Cat how she manages to feed everyone, especially with so many unexpected guests appearing each day, she told me that it was quite literally a miracle. "I call it the 'feeding the 5,000 principle,'" says Cat. "We only buy enough food for the number of guests we have staying at the chalet, but somehow we always have enough. In fact we pretty much always have leftovers!"
The Sussman children are fully involved in Altitude Mission - with the older two acting as Ski Angels during the university holidays – and their resident dog, Lily, joins in. Lara says, "A lot of people who visit the chalet will have dogs at home so they go to Lily straight away. She also helps start conversations when we are out on the mountains and she loves the snow!"
For Will and Lara, Altitude Mission is about fostering a community built on love and acceptance and that gives them the opportunity to introduce people to Jesus. Lara says: "We are here to do God's work, and for us that means showing the love of Jesus." Will adds: "I turned 50 in 2018 and, although I've had some great jobs over the years, this is the first time in my life that I've felt I'm doing what I'm supposed to do."

To find out more visit altitudemission.com or skiangels.co.uk
Just before we went to print, we heard from Lara that JC recently asked Jesus into his life. Please pray for him as he walks in his newfound faith.