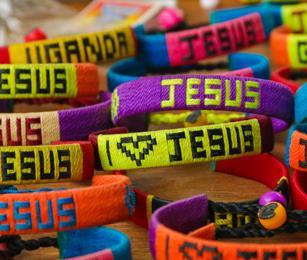 Know your story
I want to reassure you that evangelism does not mean 'knowing absolutely everything about God, Jesus, the Holy Spirit, the Bible and the Church'. It just means loving Jesus, and wanting to share him with others.

While we might have the impression that people are held back by intellectual concerns, I think many don't explore faith simply because they can't see its relevance to them. You might think your story isn't worth sharing, but explaining how Jesus has been at work in your life could be transformative for someone else. Whether you had a challenging background before you followed Jesus or you've known him your whole life, there's so much to tell other people about the ways God has blessed us, provided for us, healed us, and grown us.
Answer your own questions

That said, however, it's still important to make sure we can "give a reason for the hope that we have" (1 Peter 3:15), and we can start doing that by asking God to answer our own questions.

Do you struggle to understand why a family member is ill, or why it seems bad people go unpunished? These are the same sort of questions that non-believers may have, so by grappling with God to find answers, we can help others do the same from a place of honesty, vulnerability, and integrity.
Make distinctive choices

If we want people to ask about our faith, we need to give them something to question.
When our lives look no different to everyone else's, we don't give people the opportunity to ask questions like "why do you do volunteer work?" or "why do you pray before meals?" Rest assured, living distinctively for Jesus in how we spend our time, money, and energy will prove to be a natural conversation starter!
Take every opportunity

One problem with the term 'outreach' is that we think the people we need to 'reach' are all 'out there', but in reality, we encounter people every day whose lives are not yet transformed by Jesus.

You might feel that your stage of life disqualifies you from evangelism, but one of my friends simply invited her postwoman in for tea when she'd finished her round.

Finding people to share Jesus with doesn't always mean joining a club, moving neighbourhood, or finding a whole new social group. Every day God can show us people to share Jesus with – because he wants them to know him far more than we do.
Raise your expectations

As God's people, our heart cry is to see revival in our communities, and across our nation, so I want to challenge us to live like we might even see this happen in our lifetimes. Let's be persistent in prayer for people to know Jesus, let's be obedient when we sense God prompting us to share the Gospel, and let's be expectant to see revival in our towns and cities!

Do it today

Pray! Ultimately, people won't come to know Jesus through perfectly crafted answers, hearing our story, or observing the way we live differently to the world. People will only come to know Jesus through his Spirit at work in their hearts. I find this a huge relief because there are many times I get it wrong or miss opportunities I could have taken, but that's why it's so important to be in daily communion with God, receiving his grace, and praying for those wonderful opportunities to extend it to others …