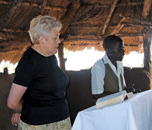 I never thought I would . . .

Sometimes altering one aspect of your life can transform so much more. Four women talk to Tracy Spiers about how taking a step of faith enriched their lives

. . . go to Bible college and become a community worker

Seven years ago, Diane Bennett took a step of faith and applied to go Bible College. Brought up in Bidford-on-Avon in Warwickshire, Diane, then 38, had never lived anywhere other than her home village. She worked as an administrator for the Home Farm Trust, a national charity supporting people with learning disabilities.

"It was certainly a turning point for me. Before I became a Christian, I was always very shy and going out into the unknown, not knowing where I might end up, was not something I would ever have imagined doing. It's amazing how God builds you up and helps you do things.

"To go several hundred miles was quite a scary experience, but not one I would have changed. Sometimes it's good to get out of your comfort zone. It makes you stop and think about what you are doing and why," explains Diane, who spent a year at Kingdom Faith College in Horsham, Sussex.

In 2003, Diane returned to the Home Farm Trust as a carer instead of an administrator. More importantly, she was better equipped for a new position within her church, Vale of Evesham Christian Centre.
"My pastor John King asked me to be the church community worker. He had started putting a box at the back of church so congregation members could put tins in and build up a stock to make up the odd food parcel for anyone who might need it. John handed over the project to see what I could do with it," she recalls.

Caring Hands in the Vale is now a highly regarded organisation and ministry recognised by social services, Citizens Advice Bureau and other leading professional bodies in the town. It helps relieve poverty in Evesham and offers practical support to those on low incomes, in severe debt or with benefit issues, single parent families, ex-offenders, families of offenders, homeless/rough sleepers, people with addiction problems and mental health problems and individual also in crisis situations such as illness, injury, relationship breakdown and bereavement.

Headed up by Diane, the team - made up of 30 volunteers like herself – now makes up to 10 food parcels a week, as well as giving out toiletry packs, bedding, clothing, backpacks, sleeping bags and blankets to individuals in need. Operating through a network of contacts with community organisations and pastoral care from local churches, Caring Hands in the Vale also provides a hot meal twice a week.

"On Mondays we provide a three course meal, often starting with soup, followed by stews, curries, jacket potatoes, cottage pies and puddings are usually crumbles, pies or rice pudding. We try and make it hot and healthy as well as filling, as often this is the only hot meal they've had all week. Wednesday is more of a brunch at mid morning such as bacon sandwiches," explains Diane.

Local schools, churches and other organisations make regular food donations, but Diane is still amazed how Caring Hands has grown.

"Looking back, I had no idea how it would develop. We started doing an occasional food parcel and now we're providing meals twice a week and meeting the needs of so many. When God's hand is in it, something amazing happens. We have not had any recurrent financial funding. It's all donations. To carry on like we have for six years can only be because God is in it," she adds.

"Bible College gave me practical serving skills which prepared me for this. You get far more back than you give. We have some people who come having not eaten for days and wearing the only clothes they possess. It's so rewarding when you can make a practical difference in peoples' lives."

. . . change my career and visit Africa

Originally from London, Cedria Clifton (55) had been working for a well-known building society for 10 years when she felt challenged to volunteer for ACET, Aids Care Education and Training.

"My dad died and left me some money, and I felt God say very clearly that I was to stop working and become a full-time volunteer. So I supported myself for 18 months.

"It was very practical work. I would visit people at home, doing whatever was needed: taking them to hospital for appointments, ironing, cleaning and occasionally stay overnight. After 18 months they started paying me, so I stayed another 18 months. That was enough. I saw so many people I got to know die. But it led me into residential work," admits Cedria, who later moved to Stroud in Gloucestershire where she became a manager of a residential home.

But the heart for supporting people affected by Aids remained strong. Three years ago, she joined a short-term mission trip to Rainbow Africa in Zambia organised by her church, which had forged strong links with the organisation seeking to provide food and homes for grandmothers left caring for their Aids-orphaned grandchildren.

"I already sponsored a little boy and when I was out there I actually got to meet him. He was only five and had just started school, and I was able to sit in on a couple of his lessons. I also got to meet his mother, who was a cleaner on the site. It made it all the more real. Money comes out of your bank account by standing order and you don't see it. But to see the very person and be in his class, and see what he is really like was special," explains Cedria, who was one of nine on the team.

"We tiled a laundry room which was going to be part of the maternity unit. It was the first time I had done any tiling! I am hoping to go back next year, so it will be interesting to see whether they have stayed up! We also helped some of the children who were having problems with reading and we went out into the bush and painted a school building.

Although you see so much on television, when you are actually there with the smells and the noise, it makes it so much more real and it makes you realise how well off we are."

On one Sunday I spoke in a church with an interpreter, which was an interesting experience and when there was an appeal for prayer, the whole congregation responded. It was quite amazing. They don't have the hindrances of material things like we do."

It's been said that faith is spelt RISK, but stepping out and trying new things has certainly been a blessing for Cedria. "I think we underestimate small or big changes we make. When I left my job at the building society, I had no idea where I would end up. It led me into a complete change of career and into another county. If I hadn't moved to Stroud, I wouldn't have gone to Rainbow Africa. We underestimate the ripples the pebble makes. I don't regret making any of the changes. They have given me more confidence and now I wouldn't say no to anything."

. . . adopt three children and become an instant mum

Carol Ricketts from Evesham in Worcestershire was used to making changes. Originally a graphic designer, 20 years ago she decided to retrain as a nurse and took a drastic salary cut as a result.

"I had taken my career as far as I wanted to go. There was a restlessness in my spirit and the feeling that God was going to change something, but I wasn't sure what. I started pushing doors and nursing was the one that opened," recalls Carol.

Now a physiotherapist and occupational therapist assistant, Carol however didn't quite foresee the much larger life adjustment she would make years later. In 2005, Carol and her husband Martyn, then 45 and 49 respectively, adopted three siblings; Leon was five and his twin brother and sister, Jack and Molly, just 11 months younger.

"We had been married about 10 years and no babies had come along. We had various tests, but they showed no reason as to why we couldn't have children. Some good friends of ours had adopted four children and we gave God a deadline; that if nothing had happened by a certain date, we would go and talk to them."

Once the decision to apply for adoption was made, it took a two and half year process – including a house move, before they met Leon, Jack and Molly.

"Not ever having children, we didn't really know what we were supposed to do. What did we cook them? They were used to being in bed by 6.30pm and I found by the time I had cooked tea, bathed them and read stories it was far later than that. I realised then I had to find my own routine.

"It was a huge huge challenge, but God was there. I used to dread Martyn going off to work and being left with three children to look after and wondering how I would cope. But I did with God's help," says Carol.

"I would encourage people who, for whatever reason, can not have children or who are thinking of adopting, to do so. It is wonderful. When you see the children's background (and that's not to criticize their parents in any way) and what the potential of their lives could be with God, and what you can input into their lives and encourage these little people to become, it is so rewarding. All three of them have now made a commitment to Jesus and like to go to church. It's really precious.

"Personally I have really grown in my faith and can understand more clearly the Father-heart of God. Looking back, I can see all the smaller changes in my life have been in preparation towards the bigger goal."

. . . break my poor eating habits and lose weight

Two years ago, Mother-of-two Rachel Yeomans ,from Minchinhampton in Gloucestershire, made a decision to change her eating habits. It's led to increased confidence and a healthier and happier lifestyle, but it took a humiliating moment to act as the catalyst.

"I have been overweight all my life and tried countless times over the years to lose weight, but never got anywhere. As a result, I was getting really very, very big. At Christmas 2007, it was a really cold, grey day and, living in the country, my husband Don, daughter Lydia and I decided to go for a walk.

"We came across a Cotswold stone stile, which was the kind you had to squeeze into rather than climb over. When it came to my turn, I got in, but I couldn't get out and became wedged. The humiliation of getting stuck made me realise that I had to do something," recalls Rachel, who was then almost 19 stone.

With the support of friends who also wanted to lose weight, Rachel joined Slimming World and began to stick to a new eating routine.

"I did pray about it and I was forever asking for God's help. I used to comfort eat, particularly during stressful times and instead I started praying through things," she says.

Since January 2008, Rachel has lost four and a half stone and, as a result, now has more energy and confidence.
"I used to sleep every afternoon because I was so tired from carrying the extra weight. I found it difficult to walk and I never went swimming with the family. Now I feel better, I go swimming and I walk a lot. I managed to do a 10 mile midnight hike for charity and I am now in training for a 23 mile walk.

"When I wore trousers for the first time, my eldest daughter Jess burst into tears, as she had never seen me wearing any before. I can now wear clothes off the peg and buy underwear from Marks & Spencer! I feel better, fitter and healthier."

And she encourages others who are struggling. "When the time is right, it will be right for you. It took something awful to shake me into saying, 'enough is enough'. I don't think I could have done it without God giving me the strength I needed to break a habit of a life-time."

What could you do?

* Try something new? Singing lessons, pottery class, painting and drawing; join a book club, Salsa dancing.
* Tithe your time? Volunteer a few hours a week to the Citizens Advice Bureau, local homeless charity, church outreach project with young mums or elderly.
* Rekindle an old hobby? What did you used to do which has been dormant . . . creative writing, poetry, walking, running?
* Have an adventure? Short-term mission abroad; visit a missionary your church supports; join a church team trip to help build an orphanage;
* Become involved? Sponsor a child in a developing or third-world country; write a letter to local missionaries; help with a soup kitchen.
* Be daring? Do a parachute jump for charity, a sponsored night hike; invite your neighbours round for a coffee morning; offer to lead a Bible study.
* Make a lifestyle change? Get up an hour earlier and go for a walk before work; start swimming, eat more healthily, set a goal such as running a three-mile Race For Life
* Expand your mind? Visit the local college or bible college and see if any courses take your fancy; an evening or Saturday morning class in art appreciation, digital photography, french etc.