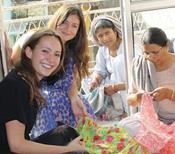 'We want to be part of the solution to slavery'
Ali Herbert meets Lady Natasha Rufus Isaacs who, with her friend Lavinia Brennan, started the luxury fashion brand, Beulah London, in 2009. Their clothes are elegant, beautiful and expensive, and through their brand they are encouraging some of the wealthiest people in the world to support and encourage some of the poorest
Where did you grow up – can you tell us a little about your background?
I grew up in Gloucestershire, in the Cotswolds. Both Lavinia and I were brought up in Christian homes and encouraged to go to church regularly. I was brought up as a Christian, and gave my life to the Lord aged around 13. Then when I was 18, I found my faith in a more radical way. Before, I had just believed because my family believed, but at that point I found my own faith.
Did you enjoy fashion and clothes as a child?
Yes, I always used to dress up with my sister from my mother's dressing-up box. We would do this for hours in the attic.
How did you and Lavinia meet?
We met at Focus, our church holiday in the summer where we've both been going since a young age.
Tell us about visiting India – how did that come about and what did you see there?
We spent two months volunteering in the slums of Delhi, India. We worked in a local slum school in the mornings, and then worked with local slum girls and trafficked girls in the afternoon in a production unit teaching them skills. It was whilst we were there that we had the idea of setting up a business with a vision to employ the women in part of the production. We aim to create an ethical and fairtrade label.
Were you easily able to turn your vision for helping them into a reality?
It was very hard, as we started to support a local charity and found it difficult to get the right quality we needed for a luxury brand. We ended up involving the women in part of the production, making the canvas bags that come with every purchase. From next season the women will be embroidering on to the dresses.
How did you choose the name 'Beulah'?
It is a biblical word, from Isaiah, where it talks of coming into the New Jerusalem, out of a place of darkness and into a life of freedom. We also both loved the name!
So tell us about what Beulah is now doing in India?
We are supporting a project called Freeset, in Kolkata, India who are making up canvas bags that come with every Beulah purchase. The project is based just outside the largest area of prostitution called Sonagachi. The women are given a bank account, health insurance and a chance to build a new life, free from abuse.
Is it difficult negotiating both the world of luxury fashion and the very different world of sex-trafficking in India? How do you deal with that?
First and foremost we are a luxury fashion brand. People then discover the story behind our brand, about helping anti-trafficking initiatives. We hope that Beulah is a positive solution to the issue of slavery.
Can you tell us a specific encouraging story from your workshops?
We met a lady in Kolkata, through Freeset, who had been in the sex trade for 25 years. She said that through businesses supporting the project, women like her could be given an alternative, sustainable livelihood, free from prostitution. It is in giving her the choice that she has found a new confidence and self-worth.
The Duchess of Cambridge, Kate Moss and Sienna Miller (among others) have worn your designs – how do you feel about that?
We are very proud that we have a lot of ambassadors who love our dresses and the cause behind it.
Who would you most like to design clothes for? Or do you have someone in mind as you design?
Queen Rania – her style is effortless glamour and timeless.
What was the first piece of clothing you designed for Beulah?
Our 'Sarai' dress, a long jersey dress with silk chiffon sleeves, which feels beautiful to wear. It was our best seller and our favourite dress from our first collection Amazing Grace.
Do you feel your Christian faith is part of what you do, aside from the social justice aspect?
It was the reason why we set up Beulah, as we both felt called into it. It is the foundation of the business and we try and pray every day and before every meeting, so yes it's very central to our everyday lives!
Do you always dress very glamorously?
Not at all! I love dressing up in Beulah for special events, but usually in the office I'll be just wearing jeans, nothing particularly glamorous!
You've recently married – who designed your dress?
I designed my dress. It was a strapless lace dress with a lace bolero. It was a beautiful day, with family and friends and the sun shone all day. It went far too quickly!
What do you enjoy most about running Beulah?
I love sitting down with our designer and trying on the samples. The creative part is what we both love.
What is your vision for where it could go? Or do you have new dreams for it?
We want to be a global fashion brand sold internationally. Only when we are a large label will we really be able to make a big impact on the women's lives.
What do you both do to relax and unwind?
Go home, and have a glass of rosé with my husband!
+ For more information about Beulah London go to www.beulahlondon.com