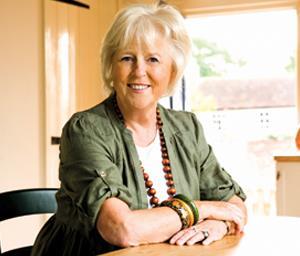 "I think I've been very lucky"
Actress Angela Piper talks to Catherine Larner about her new cookery book, celebrating Christmas and her alter ego Jennifer Aldridge from The Archers
For most people, news that they are to spend Christmas in the sunshine and seclusion of the Maldives would not go down badly, but it wasn't what actress Angela Piper wanted to hear from the BBC scriptwriters last year. If her character, Jennifer Aldridge, was away from Ambridge, it meant she wouldn't be featuring in any of The Archers Christmas storylines, and "Jennifer likes nothing better at Christmas than to be at home with all her family."
After a phenomenal 50 years playing the role, it's only to be expected that Angela might know what would, or would not, appeal to the daughter of Jack and Peggy Archer. This year, waiting to hear the fate of her alter ego over the festive season, Angela has further blurred the line between fact and fiction by releasing a box set of cookery books which she has written as Jennifer Aldridge.
"I know how much the programme means to its listeners and I felt they would enjoy reading about the recipes the different characters would cook," says Angela. "They can recreate the smells of The Archers in their own kitchen. It's adding another sense of the characters."
Presented rather like scrapbooks with torn pages from notebooks, sheets from old calendars, and snippets from comics and magazines, the recipes are interwoven with beautiful, watercolour illustrations and comments from Jennifer.
"The little introductions Jennifer adds to each of the recipes are quite fun and some are quite acerbic, quite sharp, because I am proud to say – and it doesn't say that much – that Jennifer is the brightest of all the children at the local school," says Angela. "She won an award for writing a novel when she was at college (so it was hundreds of years ago!) but since then she has always fancied herself as a bit of a writer."
There are no photographs in the books because listeners create their own images of characters and settings. In fact, when people meet the petite, blonde Angela they cry in dismay, "but you are tall and dark". "My voice sounds as though it comes out of the mouth of a tall, dark woman," she explains. "I tell them 'please forget what you have just seen. The pictures in your head are going to be much better.'
"When you listen to the radio, you are adding to your enjoyment by picturing the people, picturing the village, picturing the homes," she goes on. "With these books I want you to add to your imagination, to be able to cook something and think, 'I am in Linda Snell's kitchen, it smells like this' or 'this is just how Jill Archer's scones would smell'. It's a scratch and sniff book of Ambridge on a rather grand scale, and great fun."
Angela's energy and enthusiasm for her projects are infectious and she expresses a delight for life and a gratitude for being a part of the nation's favourite radio programme.
"I can't say what life would have been like without Jennifer because I haven't known anything different," she says. "The magic of it is that I have fitted in other work – I was a presenter on Play School and in a comedy series with Derek Nimmo. I fitted in having three children and now have eight grandchildren which is wonderful. I have been incredibly lucky. Greatly blessed."
Just like Jennifer, she likes nothing more than having her family all around her. She has recently moved to a village on the border of Suffolk and Essex, to a converted mill owner's house with sprawling grounds including the former mill itself. Now a very comfortable home, after extensive renovation and decoration, Angela tries to ensure there's always something cooking in the Aga (a round of shortbread on my visit – "I think if you are talking about a cookery book, you have to produce something that shows you can actually cook," she says). And there's always tea in the Emma Bridgewater teapot and, whenever possible, there are grandchildren running around the garden or leaving splodges of sticky jam on the pine kitchen table.
"We will have the family here at Christmas," she says. "Not my son and his family from America, they'll come later in the year. But the other two families will come. I think it's important when the children are little that they are at home for Christmas Day, so they'll arrive on Boxing Day. But I'll do lots of baking and we'll play a few games. One year, my son made us all individual Christmas cards which each contained a conundrum. When we worked it out, this was our present. And he'll create a little cinema for the children to watch a film, each with their own bag of sweeties. Simple things, but very special."
Having left her home of 20 years for this new property, Angela and husband Peter are not yet entrenched in village life and she confesses they have dropped off going to church on Sunday too. "It used to be so much a part of our lives," she says. Both her sons were choristers, one at Winchester and the other at Ely. And at Christmas, Easter and every other Sunday throughout the year, the whole family would be ensconced in a cathedral somewhere.
"I am very fond of the atmosphere within a church. I love that feeling of the ancient, and the smell of a lovely, old building. I do find it helps to pray; it helps to put everything in perspective and I think that is incredibly important."
Angela spends six days a month in Birmingham, recording the next six to eight weeks of episodes. She receives the scripts four days beforehand and this is when she finds out how much she features in the forthcoming storyline. When she joined the programme in 1963, there were 21 members of the cast. Astonishingly, today she says they are getting on for a hundred – "new people are brought in to furnish new storylines or flesh out storylines so that they are no longer relying on those who were the main characters."
Jennifer has always been central to the story of Ambridge. She has given birth to an illegitimate son: "that was a huge story in those days: a child born out of wedlock and there was a big sign over the Thames at Waterloo Bridge saying 'Doris Archer', who was the grandmother, 'is a prude'." Jennifer has married and divorced, had three more children, and has coped with her husband's various affairs, latterly taking in his child when his mistress died.
"Jennifer has quite a wayward family and quite a complex family," says Angela. "She is very forgiving and very caring, but I don't think many of these things would go down well with her if she was totally honest. I think Jennifer is incredible to have taken in her husband's love child. She must be a saint. But there were lovely scenes when she first saw the little boy, Ruari. She had been so full of hatred and disappointment. It was incredibly well written. I always say she has a heart of gold beating under the cashmere."
All of life is here, then, in this corner of rural England, and Angela feels it is a fair reflection despite recent reports that the programme has been given the 'EastEnders' treatment.
"The Archers has always had raunchy stories throughout its history," she says. "You have to because if it just jogged along with the mundane and the ordinary it would be awfully dull. Things happen that are more extreme. It is like a quilt. Some pieces are plain and other pieces are patterned, or embroidered and I think this is the woven picture of the programme.
"The reason it has lasted so long is because it is almost like a comfort blanket which listeners can come back to. They might want to put their feet up and listen, or peel the carrots and listen, but they want that same comfort whether or not they like the character, whether they sympathise with them, or they loathe them. It's still people putting so much of themselves into it."
Nevertheless Angela sometimes feels at odds with the role that has taken up so much of her life.
"A number of our friends are doctors and doing wonderful things. Our daughter is a doctor, in fact. Years ago I used to say to our friends, 'How ridiculous is this, I spend my life pretending to be someone else, how pathetic is that?' But they tell me the programme is giving so much pleasure to so many people. It's true that listeners say 'our friends are coming into our home'. And it is remarkably good that it does that."
The Archers' Cook Book Collection by Angela Piper is available for the special price of £10.99 (rrp £14.99) with free p&p (UK only). To order please visit www.thehobbywarehouse.co.uk/archers-cookbook-collection and quote promo code R3134 at the checkout. Or call The Hobby Warehouse on 0844 8805851.