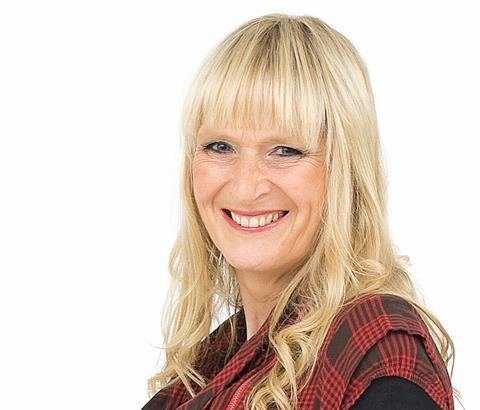 Our favourite Christmases
From the excitement of family get-togethers to midnight services, unwrapping parcels to seasonal mishaps, we all have our memories of this special time of year. We asked three well-known Christian women to share theirs
'I love our mass sleepover on Christmas Eve'
Christian worship leader, singer and songwriter Lou Fellingham remembers chaotic Christmases full of laughter and music
I am the eldest of five girls, so life was fairly noisy, chaotic and full of lots of laughter, tears and music when I was growing up.
Christmas has always been a fun time for me and in particular Christmas Eve, which was always the night to look forward to. All of us girls would camp out in the same room. It would take us ages to go to sleep. Downstairs, Mum would be frantically trying to wrap the stocking fillers and then the main presents – often into the wee small hours of the morning. At some point we would hear Santa (my dad), ho ho ho-ing up the stairs. We would all pretend to be asleep as he left our stockings (pillow cases) on the end of our beds and eventually we would drop off.
The morning came around quickly and bleary-eyed we'd wake each other up, desperate to open our presents. We weren't allowed into Mum and Dad's room until 7am, so we would open our stockings with excitement.
As you can imagine, trying to buy individual gifts and be creative for five girls is a little tricky (and expensive), so Mum began to buy us all different versions of the same thing: socks, pen and paper and so on. She numbered them all, so that we wouldn't discover what was in there by watching everyone else. We would call out the number, then we would all scramble in our stockings, pulling out the appropriate parcel and race to open them. Emma, the next sis down, was always the last to find the present and the last to open it. Mum and Dad would sit in bed, listening to our shouts, screams and roars of laughter, and soak in every minute of it.
After that, we would go downstairs, open up the rest of our presents, have breakfast, fight to get in the bathroom and head up to our village church … usually late!
Dad and Mum would sing with gusto, swaying enthusiastically and then we'd head home for Christmas lunch. We would often have people join us and I loved this about Mum and Dad. The house was always open and welcoming to people. They loved making people feel at home and embracing them into our family.
Now Mum is no longer with us, Christmas is tinged with an element of sorrow. But, we still choose a 'Christmas Eve', have a mass sleepover and wake up with not only five daughters, but husbands and 12 children. It's now even noisier, even more chaotic, with more laughter, more tears and slightly less presents for me!
*Listen to Lou on the new Phatfish album Higher, available from www.phatfish.net. Readers in York and Durham can see Lou and Phatfish in concert this month: 2nd Dec, The Duchess, York and 3rd Dec, The Durham Centre.
'So many of my memories are filled with joy and laughter'
Nancy Goudie is director of ngm, an author and motivational speaker. Her Christmas memories remind her that Christmas can be a time of both joy and pain
I have so many amazing memories of Christmas! From my own precious childhood memories of waking at some unearthly hour and discovering a pillow case filled with presents at the bottom of my bed, to seeing the same look of anticipation, amazement and joy on my boys' faces as they opened their presents. Many of our Christmas memories are filled with joy and laughter.
I remember my son, Daniel, once asking just before Christmas what we'd bought him. We told him a toothbrush! He looked at our faces and immediately knew that we were joking! "A toothbrush?" he exclaimed, "you would never buy me a toothbrush for Christmas!" We laughed as we jokingly insisted that it was true! The next day we laughed even more when he received, would you believe, a toothbrush from his auntie as part of his present! His face was a picture of complete bewilderment! As we dissolved in laughter, we explained that we had no idea she had planned to give him a toothbrush!
However, I also remember a Christmas when my husband, Ray, had severe toothache. He was on his second course of antibiotics as well as heavy duty painkillers when we travelled to Scotland to celebrate Christmas with our relatives. On Christmas Eve, after Ray fell asleep, I got up from bed to put the light off and somehow landed awkwardly on my foot. I immediately knew from the amount of pain I was experiencing that I had done something very bad to my foot.
I automatically screamed out in pain which woke Ray. He leaned over to help me and immediately the pain of his tooth hit him and he cried out too. There I was on the one side of the bed screaming in agony and he was on the other side moaning in agony! If it hadn't been so painful, we would have laughed! We did see the funny side to it at a later stage, but on Christmas morning my foot was badly swollen and I couldn't walk! An apt reminder that Christmas, with all its joys, can be a painful time for many people, whether through illness, loneliness or circumstances.
* Join Nancy for her unique Spiritual Health Weekends held in luxury 4 star Marriott Hotels in Preston (27th – 29th January 2012) and Bristol (3rd – 5th February 2012). These are women's weekends designed to offer an oasis of hope after a busy Christmas. Prices start from £70. Visit www.nancygoudie.com or phone 01454 414880 for leaflets or a free promo DVD.
'My childhood Christmases were magical'
Singer Anita Skorgan is a household name in her native Norway, but her latest album, which reflects her faith, has been winning rave reviews here after being played on Radio 2
I was blessed with a rather lovely childhood and when I think back, I can see a long row of wonderful Christmases, spent with my closest family in very happy and safe surroundings. Here in Oslo, we always have a white Christmas and to see the fields transformed into pure white is a sight dear to me.
We always go to church at midday on Christmas Eve and it is always packed with people who want to capture the mood of this wonderful festival and together we sing the old songs.
The tradition in our country is that Christmas dinner is in the afternoon. This is very hard when you are a child because the presents are not to be opened until after dinner and, in the worst case, even after the cleaning, washing up, having a nap and so on. I remember the waiting was almost unbearable and it seemed that the adults would never finish all these really important chores.
Finally, ding dong, someone's at the door! Always the adults would exclaim, "But who can that be? We are not expecting anyone!" Then Santa Claus himself was standing there in our doorway, almost as a god, with his very homemade disguise and a huge sack on his back. He was supposed to always say to us children in a very cosy way, through his stiff and rather terrifying mask: "Are there any good girls and boys here tonight? Hmmm?"
We had so much respect we could hardly utter a single word. But yeeess, shivering, we had been good, all year; well at least we had tried our best to be.
And then, by a miracle, he had one present for each one of us with our names on them! How could he remember the names of all the people on Earth? And how could he reach them all in time?
This was a huge question that puzzled me intensely when I was very young.
My clearest memory from my childhood comes from the year I suddenly realised that Santa appeared to be my uncle. The disappointment was total. I remember that I drew the conclusion that adults were some very strange beings and this conclusion has been rather strengthened over the years, including myself, of course!
* Anita's latest album Adventus includes some traditional hymns and carols including Silent Night (sung in German) and Be Thou My Vision.