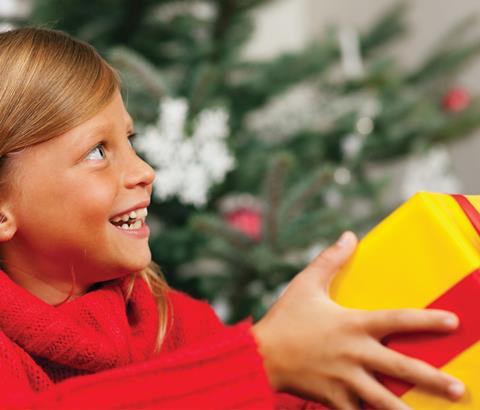 A gift from my daddy!

Caroline Masom talks to three women who deliver special hope at Christmas

Angel Tree, part of Prison Fellowship, is a scheme which buys and delivers presents to some of the 160,000 or so children in the UK whose mum or dad is in prison over Christmas. As far as the children are concerned, the present comes to them from their mum or dad. So it is a very special way of keeping the family bond alive in difficult circumstances and at a vulnerable time.

The scheme is the brain-child of prolific ex-offender Mary Kay Beard. Her many crimes meant that when she was finally caught, in 1972 in Alabama, she faced a potential jail term of 180 years. However, she became a Christian and was released after serving less than six years. On joining the staff of Prison Fellowship, she came up with the idea for Angel Tree, realising that the most important thing for the children of prisoners – the innocent victims of their parents' misdeeds - is that they feel that their parent still loves them.

More than 7 million children worldwide have been given gifts since the scheme started. In the UK, 40 gifts were delivered from one prison in 1994. By 2009 the number had risen to more than 4,000 gifts from 65 prisons.

Jean Watson has been volunteering with Angel Tree for 10 years and helps in two prisons, Highdown and Downview. Highdown is a Category B men's prison with about 1,200 inmates and Downview is a women's prison with 350 inmates.

"The work starts in September/October", Jean explains. "We provide forms for the inmates to fill in if they have children and want to participate in Angel Tree. The scheme is restricted to biological and step children, not nephews and nieces or cousins. The form tells us how many children each mum or dad has, how old they are, where they live and with whom, and what their interests are. It includes a box to tick if they would like us to include an age-appropriate book telling the Christmas story. These books are provided by Prison Fellowship.
"The vast majority of participants are happy for their child to receive a Christian book. There is also a gift tag for each parent to fill in, in their own writing, with a personal message. These are often very touching, with the mums and dads expressing huge outpourings of love to their children.

"The forms are then security checked – there can be child protection issues and some prisoners aren't allowed any contact with their children – and sorted into age bands, the address labels are collated and the presents are bought, wrapped and posted. Our work is completely invisible: as far as the child is concerned, the present has come directly from their mum or dad.

"We handle the scheme a bit differently in each prison. As Highdown is so big, we can only offer it to men who are registered to attend the chaplaincy services, but in Downview it's available to all the women. We have a special Angel Tree service every year at Highdown, when the men come forward with their childrens' names written on an angel which they put into a basket so that we can pray for them.

"Each Angel Tree group is responsible for their own fundraising. The group I belong to has about 20 extremely committed members and we meet once a month to pray. We all donate personally to the scheme as well as running coffee mornings, advertising, giving talks in our churches and doing all we can to raise money."

Janet Wood is responsible for buying, wrapping and sending all the presents – about 200 a year at the moment.

"My living room looks like a toy shop for about six weeks", she says. "I spend at least five whole days shopping – not all in one go! It does mean that I don't really want to do my own Christmas shopping . . . We buy gifts for all ages from newborn babies up to about 14 years. Children from 11 upwards usually get HMV or WH Smith vouchers, and we spend about £10 per child. If a family has some children outside the upper age limit, we'll still get them a gift, we don't exclude the older ones. Sometimes we don't have all the money before I buy the presents, but it always comes in eventually and we've never ended the year in debt. It's a real step of faith.

"The nicest part is wrapping everything up. Then I take my 10 or so sacks of toys to the local post office – fortunately the postmaster is very understanding – and arrange for them to be posted. Most are sent within the UK, but we do have some overseas deliveries.

"It's a joy to help with Angel Tree. It makes such a difference to the children."

Diana Buteux got involved with Angel Tree because her brother spent some time in prison and she saw at first hand the effect his incarceration had on his family – particularly his young children.

"Keeping family bonds alive when a parent is in prison is very difficult. Sometimes the children can visit, but sometimes that's not possible – and if the child is young they may not really understand why their mum or dad can't come home. Christmas can be a particularly vulnerable time. But if a child gets a gift from a parent who is in prison, it makes them feel that their mum or dad still loves them and is thinking about them.

"I visit once a month in Woodhill, which is a Category A prison with 800-900 male inmates. We leaflet all the prisoners so that they all know about Angel Tree and we usually get about 50-70 completed forms per year. Everyone who has participated in the scheme gets a Christmas card from us, telling them what gift has been sent to their child. Feedback is always incredibly positive from the dads."

A father writes . . .
One inmate wrote to Angel Tree, "For my eldest son I asked for the Guinness Book of Records, as it's something I get him every year . . . I was on the telephone with my sons as they opened the gifts. It brought a tear of happiness to my eyes when I heard how happy they were when they saw the tags and realised I'd sent them the presents.

"My eldest son knows I'm in prison and told me he thought mum had forgotten about his favourite book, so he was over the moon with it. He tells me different things he's read whenever we speak on the phone. My youngest son thinks I'm working away from home and tells everyone that I've sent him from the work the best present he ever got.

"So again I'd like to thank you all for the gifts. They brought both me and my children a bit of happiness in this hard time."