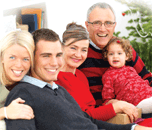 In-laws or out-laws?

If relationships with your in-laws are difficult, the Christmas holidays present a very real challenge. Tracy Spiers looks at the issues and what we can do to make things better

'Tis the season to be jolly. But for many families this can be a lot harder than it sounds, especially when relationships with in-laws are not always comfortable at the best of times. The additional stress, expectations associated with Christmas, and the obligation to spend lots of time with relatives who are hard to tolerate can all become too much. Relationships already stretched taut can finally snap and frayed tempers boil faster than a saucepan of sprouts.

Sadly, divorce lawyers claim January is their busiest time. Many individuals, suffering a miserable festive season, make the New Year a time to dismantle their marriage along with their Christmas tree.

Even if a marriage is secure, the ideal romantic Christmas picture of togetherness, peace and joviality can be anything but. As a woman, it is often far from being a holiday. There are cards to write, presents to buy for relatives you hardly know, menus to plan, heaving supermarkets to face to buy the extra food no one really needs, endless cooking; and that's before any of the diplomacy skills are put into practise to appease potential difficult relations.

Christmas has a tendency to accentuate what is already there and if there are strained in-law relationships anyway, it can highlight it even further.

Marriage counsellor Cherry White believes most relational conflicts between in-laws have one of the following causes at their roots.

"Sometimes parents are not able to let go. Their son or daughter might be their only child, which makes it hard for the daughter or son-in-law. Parents who help out financially can sometimes have an unconscious hold over their married children. Partners may be very dependent on their mother or father and, even though they are married, tend to turn to their parents for advice or help rather than their partner. Parents can sometimes put on their daughter or son what they want to see in their marriage, how many children they should have and so on; instead of letting them lead their own lives.

"And there can also be unresolved childhood pain or traumas which can have a big influence. If there are undercurrents going on, they can sometimes come to a head at Christmas when everyone is thrown together and there are extra pressures," she says.

For many years, mother-of-four Jennie Sanders (60) from Stroud in Gloucestershire dreaded Christmas Day, and for her family's sake endured it rather than enjoyed it. She admits her relationship with her ex-husband's mother was not the best.

"She was a widow and John was her only child. She was a very old-fashioned lady and I never really knew whether she liked me or not. I don't think anyone would have been good enough for her son and I think she would have liked to keep him at home.

"When we were first going out, she sent me a stinking letter because I had washed one of his jumpers. She told me it was her job to do that and didn't I think she was capable of washing her own son's clothes?" recalls Jennie.

It was this possessiveness over her son which caused the most grief at Christmas – and ultimately in Jennie's marriage.

"I think the thing which affected mine and John's relationship the most was that he never stood up for me if his mother said anything negative. At Christmas time, we had to go to her house every year. We had no choice, which meant we always had to go to my parents on Boxing Day.

"I did resent it and did invite her to spend Christmas at our house, but this was never allowed. At the start of our marriage, it was quite nice not having to cook on Christmas Day, but when the children got older, they didn't want to go to other people's houses. They wanted to stay and play with their toys at home. At Granny's house they were expected to have lunch, watch the Queen's speech and be very quiet.

"When we were there, John was not allowed to do a thing. She used to spoil him rotten and wait on him hand and foot, and she expected me to do the same.

"It wasn't the Christmas I would have wanted and it really was not a very enjoyable day."
Now a mother-in-law herself with four grandchildren, she jokingly admits she hopes she makes Christmas a pleasant experience for everyone.

"I am the mother-in-law now and I would never expect any of my children to come to me. They all know that," she says. Looking back she admits she would have said or done things differently.

"I was not strong enough to stand up to my mother-in-law. She had a heart of gold, but she upset people a lot. However, if someone did stand up to her, she did back down. I probably should have talked to John about it and explained how I was feeling to see if he would perhaps stand up for himself a bit more. But I am not sure he would have listened.

"I would advise anyone in a similar situation to accept the person and love her anyway, yet at the same time be firm and not allow yourself be walked all over."

Carol Bassett (63) from Basingstoke committed the ultimate sin as far as mother-in-law Margaret was concerned by marrying her son Alan, 15 years her junior. He was 21 and Carol, a divorced single mother-of-three, was 36 when they got married. That was 27 years ago, but it's been a tough ride for Carol, who has constantly experienced her mother-in-law's disapproval for not being able to bear Alan's children.

"I guess we tolerated each other, but I couldn't have a conversation with her because she wouldn't listen. If Alan was at work and I could see her coming up the path, I used to hide by crouching under the letterbox or under the stairs.

I didn't and still don't like the way she puts Alan down all the time. She never gives him a birthday card or present, and I guess that is what upsets me the most, the way she treats Alan," admits Carol.

It's this underlying issue which has had a toll on Christmas. Understandably as Carol and Margaret's relationship wasn't entirely amicable, it didn't help festive spirits.

"Margaret always spent Christmas Day with Alan's dad, but we made the obligatory visit to her on Boxing Day. I did it more for Alan's sake really. The house wasn't the most hygienic, it was smelly and you had to move piles of things in order to sit down on the sofa, which was covered in itchy blankets. My children hated going and, on one occasion, one of them refused to come, so we tended to restrict the visit to three hours," recalls Carol.

Nowadays, although not perfect, Christmas and relationships are better. Since becoming a Christian eight years ago, Carol and Alan take turns with Alan's younger brother to have Margaret, now a widow, for Christmas.

"I still struggle with her rudeness and the way she talks to Alan, but I don't hide anymore! I always pray before she comes at Christmas and we do try and include her in what we do. It's helped me become more tolerant. I respect the fact she is Alan's mum and I know we really should do a lot more than we do for her. My own daughters keep me going on Christmas Day and when it gets a bit much, they take me into the kitchen and help me see the funny side of the situation," she adds.

Being realistic about the conflicts which can arise at Christmas is one of the survival tools, according to marriage counsellor Cherry White.

"It's a case of trying to see the problems before they arise and discussing with your partner what you are going to do. It also helps if you try and work out what everyone's needs are and look at how you can meet them. It's a balancing act and it's not easy. But at the heart of it, I guess it helps to hold on to two scriptures: 'honour your father and mother'; and 'speak the truth in love'."

Your Christmas toolkit
* Managing expectations. Try and make sure plans are communicated in advance, that way there are less likely to be misunderstandings or hurt feelings.
* If relationships are really strained, why not arrange for time out within the visit such as going for a walk, or taking children to a pantomime, as it might help take some of the pressure off.
* Plan a Christmas meeting with your partner over an informal meal, each taking a sealed envelope containing details of what you really want to do at Christmas and who, if anyone, you want to invite. Open one another's and start discussing what arrangements to make. That way you're both involved in decisions taken.
* Pray things through and ask for creative ways on making Christmas fun.

* Involve the children in the planning process, asking them to come up with ideas to relieve tension or games everyone can join in with. Concentrate on making it a family time in the true sense of the word.
* Hard as it is embrace your in-laws' lifestyle, it is only a day or two.
* Bring a bit of your Christmas to them. If the children love your honey-roasted parsnips or cheesy sprouts, then suggest you take it along if visiting mother-in-law, or if you are hosting and your partner has a nostalgic craving for his mum's red cabbage, ask her to bring some along. It helps everyone feel special.
* Be adaptable. Everyone has their own Christmas traditions so it helps to know what the day is going to have in store. It's all an experience.
* Maintain a sense of humour.