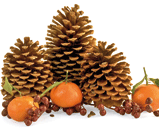 It doesn't have to be perfect!

A little creativity and flexibility is all it takes to make your Christmas special, says Deborah Jenkins

We had just moved to a Muslim country and it was nearing Christmas. We didn't know many people, had little language and the supermarkets did not sell decorations or traditional Christmas food. I was miserable and suddenly found myself longing for Post Office queues, blow-up Santas and even sprouts. I remember standing at the window one evening as the valley filled with snow and saying to God, "I don't want to be here. There's no Christmas here." The hardest thing, I told myself, was that nobody else was celebrating.

This is now our second Christmas back in the UK and, strangely, at times I find myself feeling the same way. In John Lewis there are clusters of spiral stars the size of lemons that can be suspended above your tree from the ceiling. I wonder if there is a finite number of ways to hang a star on a tree, and if this one really counts.

A woman next to me pulls her daughter away from a jointed wooden fairy with gauzy wings and a vibrating wand. "If you touch one more thing," she hisses, "You can say goodbye to the Barbie Princess Rapunzel Wedding Doll!" The girl turns her face upwards and begins to scream.

Next to the stars, a sign proclaims in gold and green that Clarins are giving away free lipsticks (Warm Cranberry) with every purchase, for the perfect look this Christmas (while stocks last).

And then it hits me, right in the middle of cards and wrappings.

"She gave birth to her firstborn, a son. She wrapped him in cloths and placed him in a manger because there was no room for them in the inn" Luke 2:7. I had never really thought about it before, but it does seem a slight oversight on God's part that there is a lack of space at the inn. As does the absence of a moses basket, a shawl and shepherds with matching cranberry coloured leggings.

Why do we have this insatiable need to make Christmas perfect? The 25th December, sparkling at the edge of the old year's gloom, carries the weight of our impossible hopes for perfection in the imperfect world of our jobs, homes and friendships. No wonder it rarely makes the grade.

"Mary treasured up all these things and pondered them in her heart" Luke 2:19.
But what did she ponder exactly? Why it was that God assigned her a pre-wedding pregnancy, a painstaking trip while in labour and a makeshift delivery in a dark and smelly outhouse? This is what I would have been pondering, big-time!
Yet, starting with the shepherds, it seems to have been people's response to the baby King which provokes her reflection. And once those shepherds have seen, they cannot keep this momentous news to themselves and can't stop praising God because they found everything "just as they had been told" verse 20.

When I think about it, the most meaningful Christmases I have experienced were nearly all while we were living in Central Asia. The fact that we were a small group of internationals in a Muslim country celebrating a Christian festival meant we had to be creative, flexible and willing to learn from each other.

Christmas should be something we do as part of our faith journey, not something we buy, so we try to spend time together, making things as part of our celebration and focusing on simple, shared activities. I hope some of the following ideas will inspire you.

Decorating your home

· Put creamy candles in stone flowerpots filled with earth or moss and tied with ribbon to represent Jesus as light of the world.
· Pick some evergreen branches and display them draped on mirrors, twisted around lamps or arranged in vases with red and white ribbon.
· Fill baskets with pine and fir cones mixed with satsumas and a few sprigs of holly.
· Make simple flower arrangements with red or white roses, carnations or tulips.
· Decorate the tree with ribbon, dried flowers, fir cones, nuts (glued together) and small wooden toys. Favourite cards from past years can be put under the tree among wrapped gifts and candles.
· Cut Christmas shapes out of home made cinnamon biscuits or play dough, make holes and thread them with ribbon to hang on the tree.
· Make long paper chains out of scraps or themed colours. We would hang these in the hall and the family room, but never kept them for another year.


Doing things together

· Make your own Christmas crackers out of toilet rolls, pretty paper and ribbon. Homemade gifts or 'promises' can be put inside (eg. " I will make your bed for you tomorrow" or "I will take you out for coffee")
· Take it in turns to choose and read aloud from anthologies of Christmas stories, both adult and children's ones.
· Make up one minute stories from the pictures on the front of Christmas cards. Older children can be challenged to do this without "hesitation, deviation or repetition" (or they are 'out'). Younger ones love it when you record their efforts for them to listen to afterwards.
· We always bought or borrowed a challenging jigsaw puzzle at Christmas and had it set out on a piece of board during the festive season for people to put a piece in, if they felt like it.
· If you have friends or family abroad, it's fun to make a video or DVD of Christmas greetings to send to them.

Learning form others

We learnt many new Christmas customs from our foreign friends, some of which we loved and incorporated into our own family traditions. These all had strong biblical themes of light, sharing and giving.

· Make a gingerbread house and placed candles inside (you smash and eat the house on Christmas Day) - Norwegian.
· Make cookies and give them to your neighbours in baskets as gifts (American)
· Leave chocolate treats in shoes outside the door during advent (from St Nicholas, German/Dutch)
· Light little candles to put along the window sill as dusk falls (based on an Indian custom which uses little clay lamps)
· Invite friends over and arrange that each family acts, sings or reads something on the theme of Christmas. (American). These were often hilarious and moving times which make lasting memories for all involved.

Giving gifts

· We set a reasonable budget for each child's presents and tell them what it will be in advance. If they want things that cost more, then they need to save the difference from their pocket money or Saturday job.
· We want our children to value experiences above things, so we try to give some presents that reflect this, for example, cinema tickets, IOU's (I owe you a visit to Laserquest/London Zoo/friend for McDonalds and sleepover/ day out of their choice etc.)
· Last year, my brother-in-law's family decided to buy each other one small Christmas gift so they could save for a trip to Florida the following summer.
· 'The present game' is fun to play in a large group of family and friends at Christmas parties. Everyone buys a present according to an agreed budget. It can be tasteful or tasteless! All the wrapped presents are put in the centre of the circle and each guest draws a folded number from a hat (from 1- 15 if there are 15 people). Number One chooses a present to unwrap. Number Two chooses another present to unwrap and then they can decide whether to keep their present or exchange it for Number One's. Number Three unwraps a new present, can keep it or exchange it for one belonging to Numbers One and Two. And so on. In each round there can only be three exchanges. (Tip: this doesn't really work with children under the age of 11 or so! They could buy their own gifts for each other.)

But perhaps the best way to celebrate is to remember.

Last Christmas, I was recovering from a serious illness. It was our first celebration in England for ten years and I was overwhelmed. I didn't have the creative energy to prepare the way I usually do, but I put out an old basket of fir cones, lit some candles and dragged pieces of greenery in from the garden. A friend found me a Christmas tree in her Aunt's loft and we made paper chains.

On Christmas Day, I was making bread sauce and watching my family opening presents together with my mother and parents-in-law. I loved watching their faces, not just as they opened presents, but also as they gave them, and as they laughed and teased each other.

The previous year, I literally did not know whether I would see this time again. And as I watched them, I was filled with gratitude for my health, for my family, for God's faithfulness to us through difficult days. Then it struck me. It was already one o'clock and I hadn't even thought about the table decoration. It just didn't seem to matter that much compared with the smile in my daughter's eyes.

Perhaps this was Mary's secret "treasuring", learning to embrace the imperfect and celebrate anyway. And if we, with radiant faces, want to enter the court of the King this Christmas, we may need to do the same.

"And they found it just as they'd been told."