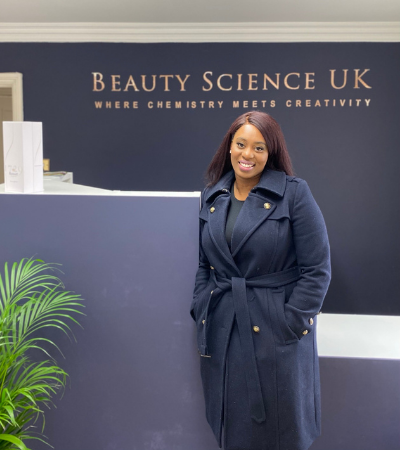 What made you decide to become a cosmetic scientist?
I planned to become a doctor until witnessing a gory jaw operation which totally put me off. Searching for an alternative, I stumbled across the cosmetic science BSc at London College of Fashion, which combined my two passions of science and makeup. I didn't really understand how transformative cosmetics can be until I did a consultation for a lady who was getting married and had never worn makeup before. When she picked up the mirror, she burst into tears – she couldn't believe how beautiful she looked.
How did your career develop?
My first job was at a cosmetics company but I quickly got bored as it was essentially the same product – the only thing changing was the colour. I then moved to a factory in Devon manufacturing a diverse range of products, which was much more stimulating, then went to Bath in 2016 to work on household names like The Body Shop and Dr Organic. In February 2021 I took a leap of faith to launch my own company: Beauty Science Labs UK, a research and development laboratory specialising in indie brands.
What was it like starting a business in the pandemic?
It was the scariest thing I've ever done. I'd been dragging my feet and when the pandemic hit I was like: "Oh gosh, I can't move now" but the Holy Spirit kept prodding me with people I didn't even know saying things like: "Have you thought about starting your own consultancy?" and "Can you advise me about this product idea?" In September 2020, I found the most amazing office premises, which gave me the nudge I needed to launch the business in February 2021. I'd worried about finance, but my salary over the first two months was more than in my previous well-paid job.
What is the mission of Beauty Science Labs UK?
We're living in a time where sustainability is huge and many people now prefer independent brands because they can know the story behind the products. Indie brands are exciting because of the passion their creators invest in them, but they often lack the practical knowledge to develop their product and get it on the shelf. I support them in creating scientifically sound product formulations and guide them through the process to manufacture and market.
What excites you most about your work?
Nothing beats the thrill of fusing creativity and science to get a formula just right, which is why I chose the strapline 'Chemistry meets creativity' for my business. The first time I saw one of my products in Superdrug I wanted to shout: "I made that!" A career highlight was receiving prestigious Pure Beauty awards for Manuka Doctor ApiClear and ApiRefine products I worked on. Producing them had involved some late nights working out why one of the SPF formulas kept splitting in production, but this just made receiving the awards all the sweeter. I also love working with indies, as I'm supporting innovators who may evolve into the big names of tomorrow. I've got my fingers crossed for a potentially ground-breaking product for the Asian/Indian market that we hope to patent – I've certainly never seen anything like it before.
What are your feelings about makeup as a Christian and a Black woman?
When I was finally allowed to wear makeup, aged 17, I fell in love with it and even dreamed of becoming a makeup artist. As a Christian I feel that, historically, using makeup has been somewhat controversial. There seems to be a hidden message that Christian women should steer clear of looking too attractive! I'm glad attitudes are more relaxed now.
Back then, cosmetics for Black and Asian women were very limited, but today's brands are inclusive and proactive with many more skin tones available. It excites me that I can play a small part in that change through my business.
What is sustainable beauty and how can we encourage it?
At the simplest level, sustainable beauty is about not exploiting other human beings and the environment, so no deforestation for palm oil, no microplastics harming the ocean and no inhumane labour conditions. As consumers, we need to be more mindful about beauty products and ask the bigger questions. Where does this come from? Who made it? What's the process behind it? If we become more conscious, there's a ripple effect as brands will become more conscious too.
Natural versus synthetic?
There's a myth going around that natural is always good and synthetic are always bad, but this is far from the case. Natural products can be toxic while synthetic ingredients are often created by scientists for our safety. One example is rose essential oil, which can cause cancer at strengths over 0.2 per cent.
To combat this, scientists have created a synthetic rose oil that smells exactly the same, but without the carcinogenic effect. Another caveat is that brands like to use buzzwords like 'natural' and 'organic' to sell their products, but such claims can be exaggerated with no real scientific evidence to back them up.
How does your faith impact what you do?
I couldn't do this if I didn't have unshakeable faith that this is God's calling for me and that he goes before me. As a Christian I also feel it's really important to do business fairly and that's why I'm a founding member of NICOS (Society of Cosmetic Scientists, Nigeria). Many of the raw materials we use – such as shea butter, cocoa butter and coconut oil – come from Africa, and NICOS aims to educate producers to improve working conditions and pay their workers properly.
What lessons have you learned?
When I first started out, I was quite arrogant – like Joseph in the Old Testament (Genesis 37-50). Joseph ended up in a pit and I ended up in Devon for seven years where God really humbled me and refined my character, especially through a business start-up that failed miserably. At the time it was devastating, but everything I do now has sprung from what I learned during those seven years. Sometimes we go through a season and think: "What was that?" but later it turns into something amazing and you see God was actually in control all the time.
************
6 STEPS TOWARDS SUSTAINABLE BEAUTY
Here are some practical ways that you can be more conscious about the products you buy.
1. Do your homework Check out product provenance. Earth-friendly brands may cost more, but you're investing in the future.
2. Support indie brands Made with loving care, small brands punch above their weight in sustainability.
3. Look for eco-friendly packaging Go for recyclable materials or no packaging at all. Refillables are another great solution.
4. Look for products that give back Some beauty brands, such as Lush and Neal's Yard, devote a percentage of profits to conservation and community initiatives.
5. Look for the logo Seek out eco-friendly symbols like the Leaping Bunny (no new animal testing), Fair trade (ethical labour) and Rainforest Alliance (protecting unique habitats).
6. Use your consumer power Always remember that your beauty choices can drive change.
************
HELPFUL INFORMATION
Beauty Science UK
Find out more about Tumi's company at beautyscienceuk.com
Follow on Instagram: @BeautyScienceLabs
Curate Beauty
This is an amazing marketplace for independent brands with a conscience: curate-beauty.com
The Beauty Brains podcast
Real cosmetic scientists answer your beauty questions: thebeautybrains.com