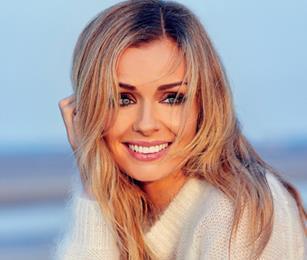 Katherine Jenkins sang at Westminster Cathedral in honour of Pope John Paul II's Silver Jubilee in 2003, and from that moment, the 22-year-old Welsh woman was a hit.
The following year, her debut album, Premiere, sold over four million copies, making her the fastest-selling mezzo-soprano to date.
Katherine's ability to perform across a spectrum of operatic arias, pop songs, musical theatre and hymns has won her an accolade of awards and established her reputation as the world's most prolific artist in UK Classical Chart history. Indeed, at one stage in her career, she outsold both the Spice Girls and Girls Aloud.
Now, Katherine has a new album. Entitled Guiding Light, the collection is a true feast for the soul and offers classics such as Nearer My God to Thee and the beautiful, Make Me a Channel of Your Peace. Taking time from a busy schedule, Katherine told me about the events that have influenced her work as well as her faith.

"I was brought up in the Christian faith," she says, in an accent that, although soft, is unmistakably Welsh. "When we were growing up, my mum was a Sunday school teacher so we were taught about God and the Bible. Back then, church was a huge focal point in our home life and the local community. My sister and I were choristers from the age of seven and I have some lovely memories of singing at St David's in Neath.
"But after my dad died and I moved to London to study, I sort of lost my faith for a while. I think I was so hurt and angry that God had taken my dad away."

Grief-stricken and hurting, a call from her mum helped ease the pain and restore Katherine's faith.

"I was in Australia and my mum rang to tell me of an unusual experience she'd had while at church. She told me that she'd been feeling very low and upset when, suddenly, she felt a great sense of comfort enfold her. That story stuck with me and it prompted me to go into a church in Sydney where I prayed and asked God to help me. From that moment it brought me back.

"I've recently been filming Songs of Praise and I've met so many people who worship in different ways. Although I was brought up in a very traditional faith, I see now that it can be much more complex. I find it so refreshing to talk to people who have found ways that work best for them. We are all different and there is no right or wrong way to worship."

Katherine's career has taken her around the world and her concerts are sold out within days. She also performs at a variety of charity events and is much sought after by television producers. But since becoming a mum, Katherine's favourite place is home.

"I really love being a mum!" she tells me. "You know, it's funny how my attitudes have changed. Maybe it's because I had my daughter first but, when she arrived, I wanted to set her a good example. My dad was in early retirement, so mum was the main breadwinner and, for us, she became an amazing role model in terms of work ethic. When I knew I was having a daughter, I wanted her to see that her mummy went to work and was passionate about what she did. I want to be a good role model, like my mum was to me."

The downside of a career in the music industry is the separation from her children. I asked Katherine how she balances life at home with the demands of her job.

"I make sure I'm with the kids as much as possible. Whenever I can, I opt to work from home and, when I do go away, I keep my trips as short as possible. Before I got married in 2014, I was away all the time. Now, when I'm in the UK, I'll drive home just to be there and have breakfast with them. It means a bit of running around for me, but it's important to me that they're settled and I don't want to drag them with me on tour and disrupt their routine.

"You know, in many ways, motherhood has surprised me. Before they arrived, I thought I'd want to take a few years off and stay home. But having them made me want to continue so I could share it with them. I like to think that someday they will come to my shows and see me working and singing for them."

The joy of motherhood has flooded her life, spilling over into her work and even changing her voice.

"It's true you know, pregnancy does alter your voice," she laughingly insists. "My friends from the Royal Academy of Music told me it would, but it wasn't until it happened to me that I actually believed them. I think it has something to do with the hormones released during pregnancy. I can't remember the name of the hormone involved, but it's meant to relax muscles and somehow it has the same effect on the vocal cords. It really does make a huge difference, but in a good way. I loved singing when I was pregnant and luckily, with both pregnancies, I was on tour. It was such a joy."

Whatever the hormonal influence, Katherine's vocals on her latest album, Guiding Light, are undeniably beautiful. And there are other features that make this album unique.

"With Guiding Light, I knew right from the beginning what I wanted to do. I felt quite strongly that I didn't want to make an album that was, you know, 'hit all the high notes and do all the loud singing!' It was more about finding the emotional music that touched my heart.

"It's also special because it includes the song I wrote for my son – Xander's Song – which is lovely for me, but I know in 10 years' time he'll probably be mortified by it! My daughter, Aaliyah, also features on it, as she speaks one little line in Blinded by Your Grace. It's a lovely album and very special."

Does Katherine have a personal favourite in the collection?

"In terms of music, I'd have to say Never Enough from The Greatest Showman. It's such an amazing, powerful song. It's also the one my daughter asks me to sing at bedtime, although I sing a much quieter version for her!"

There's no doubt that Katherine's ability to sing is a God-given gift and she takes the responsibility of looking after her voice seriously.

"I take a lot of manuka honey and drink loads of water. But I make sure I rest my voice. Basically this means there are times I don't speak – at all. For example, after I've performed onstage, I won't speak again until rehearsals for the next venue. Everyone around me has to play charades! But it's really necessary to give my vocal cords a rest."

Almost two decades after Katherine shot to fame, success shows no sign of slowing down. I wondered whether she has any advice for other young hopefuls.

"A lot of young singers ask me how I got my big break. But the truth is, I have always worked very hard and I really believe that you only get out what you're willing to put in. Certainly, when it comes to classical music, it takes hours of practice. You really can't bypass that. You have to commit to it, so I think it's good to join something like a choir. Singing in our church choir when I was growing up really helped me get to know my own voice.
"You could also try things like amateur dramatics or some other activity that enables you to explore your talent. You have to experiment and find, mostly through trial and error, what suits your voice. It's these experiences that allow you to hone your skill as well as make your mistakes. Then when the opportunity does come, you'll be ready!"