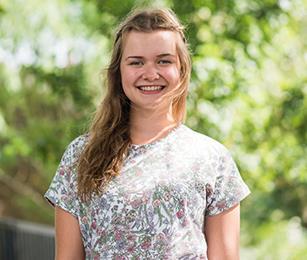 Martha Collison, at just 17, was the youngest ever contestant on The Great British Bake Off last year and coped brilliantly on national TV with the experience of being thrust into the spotlight. She spoke with Ali Herbert about how her faith helped her through and her subsequent work supporting Tearfund ...
Can you tell us a bit about your background and family?
I grew up in a Christian home with my parents and sister, going to church regularly and living your average family life! My dad is a leader at our church so we're quite heavily involved.
Did you have a 'journey' to your own faith – or is it something that's always been there?
I think growing up in a Christian family has meant I've always known about Jesus, the Christian faith and what it stands for, but my parents were great about giving my sister and me the room to work it out for ourselves and make our own decisions. I came to a decision about my own faith at a children's church event when I was nine.
Has your faith been helpful as you have gone through this last year with GBBO and all the ups and downs it must have entailed?
Yes! Being a Christian through the Bake Off was certainly something that helped me out. It was a really brilliant experience, but so different to what I'm used to in day-to-day life. Knowing I've got God with me in everything through the preparation, in the tent, in the hotel and in the judging – it gave me a real strength, but also the perspective that it wasn't the most important thing. Having God as my constant through it all made the whole experience a lot easier and less stressful.
What, and who have most helped you while you have been in the limelight?
The obvious answer there would be my faith! But otherwise, it would be my family. They've been really supportive, especially during recipe development. They have had to eat lots of different things and have often cleaned up the kitchen after me. They've been such a great help when things have been so busy.
How are you involved with your local church in Ascot?
I love my church in Ascot; it's really lively and fun, and I look forward to going each week. They're like family to me. I know everyone and I've grown up there, so there are people who've really seen me grow up. I love singing in the worship band, and sometimes I can be found helping out with the kids' club.
How did you get involved with Tearfund?
I have been aware of Tearfund for a long time because some of my friends have been on trips, and I've seen various campaigns of theirs. But last year, when I was at Big Church Day Out, I heard a lot about their No Child Taken campaign against child-trafficking. It's an issue I'm really passionate about, so it struck a chord. But it was also in the middle of filming for The Great British Bake Off. Whilst I wasn't allowed to tell anyone about the show and what I was doing, I'd been praying at BCDO about how I could use my baking for God. So it was amazing to then see one of the Fabulous Baker Brothers, Tom Herbert, do a baking demonstration, and talk about how he'd been in Laos to see Tearfund's work to prevent child trafficking. He spoke about how skills like baking can actually be life-changing for vulnerable children. As soon as GBBO aired and I was allowed to talk about it, I called Tearfund and asked how I could get involved. God answered my prayers in an incredible way.
Can you tell us about some of the things you've been doing with them?
I was involved in Tearfund's Big Bake last year, encouraging people to get baking and raising money to help prevent child trafficking. In February of this year I then had the opportunity to travel to Cambodia and see first-hand the issues that young people are facing and the work Tearfund is doing to prevent child-trafficking.
Is there something you have seen when you have been working abroad with Tearfund that has particularly moved you?
When we arrived in Bangkok, we went to the red light district where a lot of girls who are trafficked end up working. I found it quite shocking because some of the girls looked younger than me and I noticed they had Disney characters on their clothes. That really stuck with me. They are like any young girls who enjoy cartoon characters and yet they were standing outside bars, putting on make-up and getting ready for an evening of 'work'. It felt so wrong that they were in that situation. It was distressing to see the end point for many girls who are trafficked, but that's why it's so important to prevent it happening in the first place. When I saw the skills workshops and training from Tearfund's partner in Cambodia, I wasn't only seeing girls learning sewing skills or motorbike repair skills, I was seeing a generation of girls who could now earn their own living and be a strong part of their families and their communities.
You have A levels coming up – are you feeling ready for those?!
I am doing my A levels over two years as a part-time student, so I've got less work than other people my age which has been helpful when trying to fit in all the extra work and opportunities that have come my way in the last year! My school has been great at accommodating my rather busy schedule and being flexible when they can. I've got exams for two subjects this year, and I'll hopefully be ready when they come around!
What's coming up in this next year for you? Any more TV shows or writing?
I've recently started writing a monthly column for Waitrose in the Waitrose Weekend paper, which I'm really excited about. I'm making the most of opportunities that come my way as well as supporting causes I care about, and for the future I'm trusting God to show me the right path and where he wants me.
What will you be doing next with Tearfund?
I've got a busy summer ahead with lots of festivals, starting at Big Church Day Out in May. It's been an amazing year since I was last there, and I can't wait to see what the next year will bring.

I'm excited to be working with Tearfund on their No Child Taken fundraising challenges (tearfund.org/challenge). Early one morning in Cambodia, I visited a small village where hundreds of people are trafficked across the border to Thailand each day. They are often exploited, indebted to traffickers, trapped and don't even speak the language to ask for help. In solidarity with those people and many others who are trafficked across borders each day, I'm asking people to join me in walking a border. It could be a border of your local town, parish or county, and through doing it you can help raise money to protect vulnerable children around the world. And if you're itching to get your spatula out for a good cause, remember to look out for some more Big Bakes with Tearfund later in the year!
What's your absolute favourite recipe to cook at the moment?
This changes daily depending on what I'm craving! Over Easter I loved making hot cross buns, but my mum's favourite is lemon drizzle cake, so that's a regular feature in my house too.

+ Follow Martha on her blog at bakingmartha.co.uk
+ Find out more about Tearfund's No Child Taken campaign at www.tearfund.org/trafficking