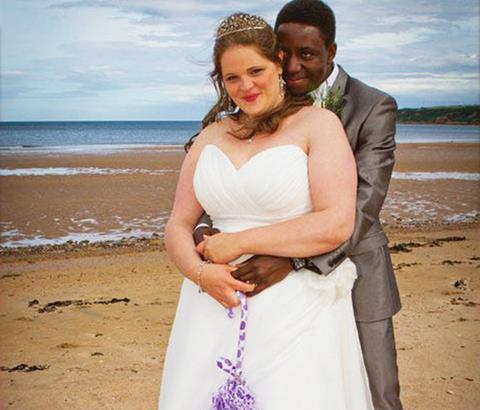 Love story
He was one of the first children rescued from poverty during Uganda's civil war in 1984 to join the Music for Life Literacy School. She was a young Scots lass who volunteered as a chaperone for the African Children's Choir. Lorraine Wylie tells their story
Godfrey
At just eight years of age, Godfrey Lwanyaga had completed his first year of primary education. But with ?a family of five and limited income, his father, like many in the town of Kampala, knew it was impossible to give his son the education he deserved. Yet, like all parents who crave the best for their kids, Godfrey's father left no stone unturned. His discovery of the Music for Life Literacy School, two miles from their town, beckoned with promise. To the family's delight, Godfrey was accepted for the programme and, as part of the project, immediately began training for his first tour as a member of the African Children's Choir.
"I was chosen to be part of one of the very earliest choirs and, although exciting, my first time in the West was quite scary! I had never been away from home and everything seemed strange and alien. Initially I didn't like Western food and was shy about practising my English language skills. I recall a time when one of our host families asked if I wanted some ice-cream and, as I wasn't sure what it was, I said 'no'. However, my friend said 'yes' and when I saw his lovely dessert, I decided that from then on I wouldn't be so quick to refuse again!"
However, reading, writing and rhythm weren't the only subjects on the Music For Life curriculum. The children were also taught about God's love for them. For eight-year-old Godfrey, the Bible stories were full of adventure, catching his attention and opening his imagination. But the news that God loved him opened his young heart.
"I loved hearing about Jesus and how much he cared for me, and although still a child, I asked him into my heart. I have never looked back and he has never let me down."
When the tour ended, Godfrey and the other young singers returned to Africa and settled down to study. "The Music For Life programme provided me with more than an education. It was an opportunity to build a future," says Godfrey. "Travelling with the choir had shown me a different way of life and helped broaden my horizons. Many of my peers rarely continued past elementary school and I really valued the chance I had been given.
"After completing my education, I decided that I wanted to give something back to the charity that had made such a difference to my life. It's always difficult to find volunteers who are willing to give up their time, but I knew that with my technical skills I'd be able to help out with the sound systems and make a major contribution to the tour."
Lynsay
While Godfrey and his friends were busy with exams, the next generation of the African Children's Choir embarked on a tour of the UK, singing and dancing their way into people's hearts. Among their venues was a Billy Graham rally where 14-year-old Lynsay McGregor, a young Christian from Scotland, happened to be in the audience.
"It was the first time I'd seen the choir in action and they really bowled me over. The kids were amazing and I was so touched by their energy and sheer love of life. It was humbling to see kids who had so little materially, sing with such enthusiasm and joy. I wanted to play my role in helping these children toward a better future and decided to apply to be considered as a chaperone for a future tour."
Still a college student, Lynsay knew it would be a long wait before her application would be considered. In fact, it was nine years before she was eventually selected and invited to visit one of the Music For Life Centres in South Africa.
"I was 23 when I flew to Africa to meet the organisers, as well as the children and other members of the team. I was ecstatic!
"Getting to know the children who would be taking part in the UK tour was an incredible experience. I also got to know the young men and women who, like me, had volunteered to look after the kids for the duration of the trip and, for the next two years would be my family. Among them was a shy Ugandan lad called Godfrey Lwanyaga. I liked him immediately but the fact that, as a child, he had been one of the original choir members and then had decided to donate his time and expertise to help the next generation, was inspirational. He was also very handsome!"
Their romance
Looking back, Lynsay doesn't recall any immediate attraction between herself and Godfrey, but she was ?impressed by his quiet strength of character and his willingness to share a problem.
"I thought Godfrey was a lovely guy. I found him really easy to talk to and he was always ready with a word of encouragement or a cheerful smile. Being so far from home, I really appreciated his willingness to make time for a chat or a quiet prayer. I liked him a lot and it was obvious the kids adored him."
Nevertheless, regardless of the initial lack of spark, love eventually blossomed!
"After touring together for almost two years, Godfrey and I knew each other pretty well. We'd seen each other looking our best at the performances, but we'd also witnessed the bad hair days and, with 20 kids to look after, there were plenty of those! But, living in such close proximity had allowed us an opportunity to see beyond physical superficialities. Watching Godfrey interact with the kids really touched me. He was so patient and kind. He also had a mischievous streak of fun that, even on the most mundane days, could raise the team spirit. I began to realise that my feelings for Godfrey had deepened. Suddenly, as well as liking him, I was in love with him."
Unknown to Lynsay, Godfrey's emotions were undergoing the same transformation.
"I'd always liked Lynsay. She has a lovely personality and is great fun. Her passion for the children and her enthusiasm is contagious. Our Christian faith was another bond that drew us together. Our origins and cultures may have been poles apart, but spiritually we were travelling in the same direction. Gradually I began to think of Lynsay as more than a friend, but wasn't sure how to broach the subject."
In the end Godfrey opted for a modern approach and confessed his love on MSN emoticons.
"At the end of the tour, Godfrey and I returned to our respective homes. The separation emphasised how much I'd come to care for him and, even though we tried to keep in touch with texts and e-mails, I missed him enormously. When Godfrey announced his feelings for me on MSN, I was over the moon and immediately admitted that I too had been smitten!" says Lynsay.
While a declaration of love via MSN may seem a little short on romance, when it came to asking Lynsay to marry him, Godfrey pulled out all the stops and totally redeemed himself.
The knowledge that Godfrey felt the same about me was fantastic and I couldn't wait for him to visit Edinburgh. As the day grew closer, I arranged to take time off from my job as a care worker to spend it with him. We had so much to say, although I'd no idea it would be Godfrey doing all the talking!"
"I'd already made up my mind to ask Lynsay to marry me, but I was still a little nervous about proposing!" says Godfrey. "We went for a walk in Princes St Gardens in Edinburgh and, as we sat on a bench, I thought it was the perfect opportunity to pop the question."
Lynsay adds: "I couldn't believe my eyes when Godfrey got down on one knee and asked me to marry him! I was delighted and immediately accepted his proposal. He presented me with an engagement ring of white gold with a diamond – it was beautiful."
Lynsay's mum, also a Christian, had already met Godfrey and was delighted with the news. Last September, the couple married in St Andrews surrounded by friends and family. While not all of Godfrey's relatives could make the wedding, he and Lynsay were especially happy to see the Music For Life team, without whom, they might never have met.
Godfrey has since received his residence permit and the couple plan to build a new life in Scotland.
• The African Children's Choir and the Music for Life Literacy Programme were started by Irish minister Ray Barnett and his American colleague Suzanne Nelson. Find out more at http://www.africanchildrenschoir.com