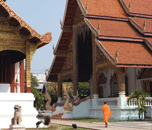 My search for truth drew me to Buddhism

As a student, Esther was a promiscuous party-goer, drinking heavily at times and into the occult. By the age of 27, however, she was living the spartan life of a Buddhist nun. But the search for truth which had led her into Buddhism remained unfulfilled – until she encountered God. She tells her story to Caroline Masom

One warm, sunny morning a shaven-headed, brown-robed figure sped out of a hill-top Buddhist temple north of London and arrived at the door of the Anglican church below, just as the surprised members of the congregation were emerging from early Communion.

Esther had been a Buddhist nun for seven and a half years, but she was having serious doubts about her faith. In her desperate confusion and inner turmoil she felt deep down that someone in the church would have the answers she sought.

She identified the vicar, a kindly-looking elderly man, and asked him, "Could you pray for me, please?" He guided her to the communion rail, asked her to kneel, then laid his hands on her shoulders and prayed. Esther broke down and sobbed uncontrollably. "There was a great release of emotions and conflict," she says. "I didn't understand what had happened, but I left the church with great hope."

This was one of several turning points in the story of Esther's quest for truth. Brought up an atheist, she found herself drawn to consider spiritual questions and discovered much that appealed to her in Buddhism. "As Buddha did not acknowledge God, I found it really easy to accept his teachings," she explains. And she could relate to the idea that human beings have no soul and no permanent self. "Being nothing, having nothing and no one was more familiar and appealing to me at the time than the ability to rejoice and embrace life," she says.

She began to live as a lay Buddhist, trying to follow Buddha's teachings, reading lots of books, going on courses and meditation retreats, until "I started to feel more at home within a Buddhist temple than outside."

Eventually, Esther decided to join a three-month-long 'rains retreat' at an international forest monastery in Thailand. "We lived very simply, in little wooden huts on stilts scattered around the forest. After getting up at 3am, we spent our time meditating, chanting, doing chores and listening to talks given by the senior monks. There was no electricity, no telephone and no television and we only had one meal a day."

She found herself being drawn deeper and deeper into Buddhism, giving away her possessions, shaving her head, dressing simply and spending more and more time in meditation. Her three month stay became six months and, at last, she realised that she wanted to ordain and become a nun.

Returning to England, Esther was ordained at an international temple and given a new Buddhist name. At first, all went well and she found she had much in common with the other members of the community, who, like her, were sincere seekers of truth.

But, quite unexpectedly, God was starting to break through into Esther's life.

"One Easter, I caught myself really wanting to know what had happened to Jesus on Good Friday and Easter Sunday. Later, I was sitting alone in my bedroom in front of a little table on which I'd made a shrine containing an image of the Buddha. When I turned round, there on the white wall behind me was a shadow of a cross. I stared at it, transfixed for a while, absorbed by the cross and its mystery."

Soon, however, her "usual disinterest in and dislike for Christianity" returned. Interfaith meetings she attended did little to change her mind, and visiting Christians trying to tell her about Jesus were "like water off a duck's back". Esther took higher ordination and vowed to live as a nun for a minimum of five years. She was rising in the Buddhist hierarchy, giving talks about Buddhism and teaching meditation.

Remarkably, during one of the monastery's fortnightly all-night meditations, a Jackie Pullinger video was shown in which drug addicts were seen being set free by prayer. Its effect on Esther was dramatic. "The people in the film had the spiritual certainty I'd been seeking. They had such freedom and life. It made me feel spiritually destitute in comparison. For the first time I understood that there is a living God who is real, powerful, true and personal."

Next morning, Esther felt weak and confused. "Something deep inside me had been 'undone'. I didn't want to doubt Buddhism but I couldn't help it.

"During our next winter retreat, I often felt fearful. In the end I just said, 'God, if you are real, please come.' And he did. I was flooded with a feeling of peace and well-being. I knew that God was real, that he had answered my prayer and had reached out and touched me personally."

Esther lived through a period of deep turmoil. "I wanted to worship God," she says, "but I was so well-trained in Buddhist meditation techniques that every time these thoughts came to me, I tried to detach myself from them. Thankfully, they persisted! The abbot's talks, which I used to enjoy, became so hard for me to listen to that I stuffed earplugs in my ears."

She kept a journal, recording her doubts and thoughts, and trying to weigh up the advantages and disadvantages of Buddhism and Christianity. She began to realise that God was calling her and that the only way forward, the only way to find peace and truth, was to surrender to him.

In some trepidation, she arranged a meeting with the abbot and asked his permission to disrobe and leave the temple. She had just completed her five-year vow. The abbot released her immediately.

All the years of sensory deprivation, one meal a day and little sleep had left Esther in a physically poor condition from which she needed to recover. She also had a lot to learn about Christianity. "One night I woke up at 3am and sat bolt upright in bed. I was acutely aware of all the wrong things I'd done in my life." She experienced the wonderful liberation of knowing that God could free her from sin.

As Esther began to heal, physically and spiritually, she began to sense that God might have a special calling for her. Three years after leaving the temple, she went to work with Jackie Pullinger in Hong Kong. Although she loved the work there, she felt increasingly drawn to Thailand, which had been an important place in her Buddhist journey and where 93% of the population are Buddhist.

"Suddenly it all made sense," she says. "God had been preparing me for this. I felt like a secret agent – I had a deep understanding of Buddhism that no one could possibly guess just by looking at me. Since I was a young woman, I'd sought truth. I'd found it wonderfully in Jesus, who loves all those trapped in Buddhism, like I had been."

Esther now works full time as a missionary in Thailand, working with Thai churches to help Thai church leaders mature and to disciple new Christians.