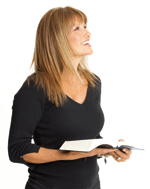 Love life and colour your world!

A co founder and senior pastor with her husband Brian of Hillsong Church in Sydney, Australia, Bobbie Houston is seeing women's lives changed across the world through their women's conferences. Jenny Baxter went to meet her

Bright and bouncy, Bobbie Houston steps onto the stage and waits. As the music fades, she begins to pray - heart-warming prayers of faith - drawing those gathered into the Colour Your World experience. Jesus is very real to Bobbie, who loves to tell women God delights in them and sees them as altogether lovely.

Endearing her audience with her chatty, conversational and 'girlie' manner, she drops pearls of wisdom and grace with her kiwi twang. Born in New Zealand, she and her husband Brian arrived in Australia as wide-eyed newlyweds in 1978. Little did she know they would eventually take the Christian world by storm.

God has drawn thousands into the kingdom both directly and indirectly as a consequence of the Colour Your World conferences (affectionally known as Colour). In addition, Christian women the world over have been released, empowered and given confidence to step beyond their comfort zones, and to make an impact in their own spheres of influence.

A number of women from across America, Europe, South Africa and other places have ventured Down Under and then gone back to their own cities to start similar conferences with the intent of raising the value of women. Many of these women are carrying the message and heart of Colour to places Bobbie could never go herself, and have become great friends and advocates to Australia.

It was back in September 1994 that Bobbie heard what she now describes as a "God-whisper: 'Create a conference for women ... tell them there is a God in heaven, and a company of people on earth who believe in them'." From that faint but very real whisper, the Colour experience has emerged from humble beginnings and grown in both stature and influence.

For example, in addition to the Sydney conference, Colour has now become an annual event in both London and Kiev. "My initial thinking was not to necessarily take Colour everywhere," says Bobbie, "but rather inspire women to go and colour their own world, community, city and nation with God's goodness.

"Then it dawned on me one day that 'my personal world' is bigger than only Sydney. In many ways, God has given Brian and me and our Hillsong church global influence, so it just made sense to host the conference from our London and Kiev Hillsong churches.

"Over the past decade, Colour has gathered some amazing women from all across the globe. I believe that part of the mandate is to encourage and inspire women in nations other than only Australia."

As an international conference, drawing delegates from places as diverse as Ukraine, China and Samoa, Colour has crossed many cultural barriers. Women inherently love to gather, to share experiences and to belong to a common cause. "Our magnificent heavenly Father is seeking to inspire, equip and mobilise his daughters, so that together with the men, we can effectively execute his will on the earth," remarks Bobbie.

However, Colour has always aimed to do far more than stroke women's egos and make them feel good about themselves. "If all Colour did was gather women together and simply give them a good time, then we would be sadly missing our purpose.

"The whole heart of the message is 'to place value and worth upon women, so they in turn can rise up strong and confident, and make the world a better place. I'm thrilled that in recent years we've been able to make a difference. For example, Mercy Ministries, a Christian organisation bringing hope to young women in crisis, was launched in Australia at Colour."

Blessing the disadvantaged locally is close to Bobbie's heart, but she also focuses beyond Australian shores. In fact, thousands of children have been sponsored through Compassion at the conferences. Says Bobbie, "One opportunity that consumes my heart is the plight of the orphan child and over the last two years an amazing network of 'Colour girls' have raised well over $800,000 (£315,000) towards homes for orphans and widows in Uganda. I believe we are only scratching the surface of what can be accomplished as we see the 'sisters' unite."

Hillsong has seen substantial growth over the past few years. Not only are there churches in London and Kiev, but also Paris, Stockholm and Tokyo. Bobbie reflects, "My husband has always said, 'you don't fluke a great church, in the same way that you don't fluke a great marriage or great kids'. We all know life is full of challenges. Sometimes things happen beyond our control. But I think some of the reasons Hillsong is blessed, is that we labour to keep our church real and relevant. I think we teach a Gospel that relates to people's everyday life."

It is this single-mindedness which has seen Colour continue to grow. "We want to build big-hearted, generous people who love God, love life and love those they are doing life alongside. We're passionate about living lives that reach beyond ourselves."



Bobbie: Up Close and Personal

When did you become a Christian?

At 15 at a Christian convention in New Zealand

Where did you meet Brian?

On the beach at that same convention a year later. I was 16 and he was 19—and I bought him an ice cream!

What are the names and ages of your children?

Joel 27, Ben 25, Lucille 22 (she's my divine daughter in law) and Laura (20)

When did you first get a glimpse that God was taking you both into global ministry?

I can't really pin point that. Maybe for Brian when he started our international resources, and it was a cupboard under the stairs at the office. People laughed at him because at the time it was called Power Ministries International. (Lesson to be learnt: "Don't despise the day of small beginnings")

You are so busy—do you have help at home to keep things in order?

Yes, these days I'm blessed to have some home help but I wish I'd had that luxury when the kids (and all their friends) were still at home.

What do you do to unwind?

I love a good romantic comedy movie. I love Bible historical novels. And anything involving my kids is replenishing.

What is your biggest achievement so far?

With regards to what is eternal and really important then I'd have to say seeing my children all grown up and loving Jesus and his house as much as I do. Crossing certain 'confidence barriers' would be up there as well.

Take it further

Colour Your World Women's Conferences 2007
* London: 20th – 21st April Royal Albert Hall
* Kiev: 28th –30th May Palace Ukraine
* See www.colourconference.com

Encouragement to you from Bobbie

* Be true to yourself, be true to his Word, be true when lovingly corrected
* Honour God with your life, time, energy and love ... and eternity will judge and reward accordingly
* I often tell our girls, "His mercies are new every morning". Every morning. Every week. Every year ... and as my husband of 30 years is famous for saying, "The best is yet to come . . . if you are willing".