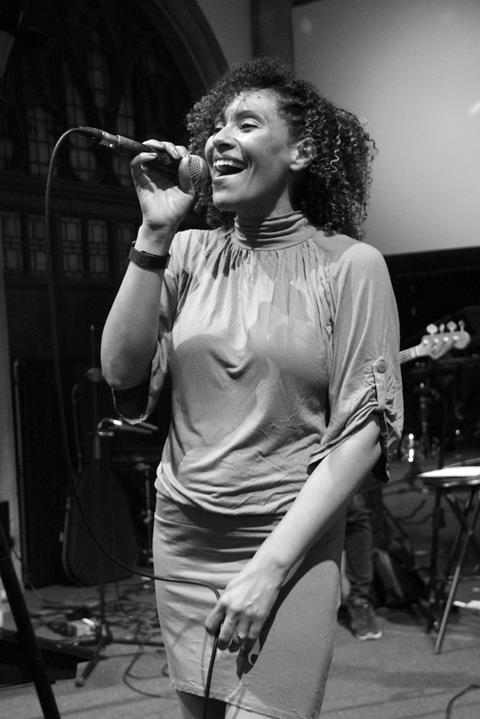 Don't you just love it when professional entertainers, dancers, actors, comedians or even singers, use their talent not only for their own benefit, but also for the benefit of others? Professional singer Natasha Hendry is one who uses her passion for performance for the benefit of others.
As a singer, Natasha is right up there with the best of them; over the course of a long career she has backed the likes of Sting and M People. She also had a long stint as part of the Christian girl band Shine.
Natasha still performs professionally, but these days much of her time is taken up in the promotion of singing as a wellbeing benefit, an aid to counter loneliness, isolation, post-natal depression and even mental illness. Indeed, she is currently studying for an MA in Music Psychology: education, performance and wellbeing.
A change of direction
Natasha's recollects the time when she discovered a need in others that she had identified in herself. And she knew that, even then, back in 2014, she was destined for a re-alignment in her life:
"I did see a need, initially in myself, for something more in my life. I'd just given birth to my first child and, from being a touring musician travelling around the world and singing, I was suddenly having a bit of an identity crisis. I was thinking: 'I don't want to travel the world and actually, with a young child, I can't.' I was suffering from mild post-natal depression. I wanted to feel useful again and just get out of the house. I thought to myself: 'Maybe there are others like me who feel this way too.'"
The question for Natasha was what to do about it. After some thought, she concluded that she would combine her new life as a young mother with her talent as a singer. Having been a vocal coach since 2002 she decided to set up a choir, the aptly named Me-Time Pop Choir, in west London.
"Mums would come along with their babies and sing…and it was mayhem. I would bring along bag of my son's toys: there was noise everywhere, meltdowns, nappies…it was full on."
Six years on, the Me-Time Pop Choir continues to meet, on a weekly basis, in a local church hall to practise. It has become an established outlet for young mothers and others in the community.
To understand how it all got to this point, you have to follow the chronology of Natasha's journey of family and faith.
Music and faith
Natasha was brought up in a musical family – her dad was a professional musician, the bass player for Mac and Katie Kissoon, who had the massive hit 'Don't do it baby'.
"Music was a big part of my growing up," Natasha recalls. "I listened to a lot of music my dad was into, mainly soul and Motown. Everyone else was into Duran Duran. I knew I loved music from an early age, but there were no music lessons at school. It wasn't encouraged. You had to go private if you wanted to do music, but we couldn't afford lessons. So originally I was set to do a journalism degree because I realised that I needed to get a proper job."
And then, just as Natasha seemed to be heading for a career in the media, she got what she considers to be a God-given break: "I found something called the School of Creative Ministries, which was run out of Kensington Temple church in London. It was perfect for me. I loved singing, I loved dancing and I loved God, so I joined up and was nurtured in both my music and my faith. I got my first audition as a result from some of the sounders on that course, David and Carrie Grant. They gave me my first ever job."
This was her defining moment for Natasha; the catalyst for all that was to come.
Her experiences, her passions, her brush with depression, her faith and her desire to help others were the perfect ingredients for a new direction of travel in her life.
Starting a choir
Natasha has realised that being a voice coach and leading a choir has become integral to her desire to support women who are experiencing similar challenges to those that she herself has experienced.
"I discovered that women prioritised their singing lessons with me because they needed that outlet in their lives. So the idea came to me to create an environment whereby they could all come together to sing. And the choir was born. Meeting once a week became their time, 'Me Time', if you like."
The choir is not about performance necessarily – although it does perform. It's about building confidence and allowing women the space to be themselves and enjoy each other's company; things Natasha is keen to advocate.
"Music, and singing in particular, can restore confidence. It's not just my gut instinct that it's good for us, but it's coming through in research. When I was doing singing coaching, we often ended up discussing real issues. We had a counselling room and tissues and tears. I thought that psychology was a separate thing, but I have found that music can merely be a door to finding out about a far greater need."
Sharing God's love
Underpinning all Natasha's work is her faith: "My faith is very important to me. You only have to look at the life of Jesus. There was no judgment, no separation and he was not interested in the rules. He just wanted to love people. I try to base my life on the two commandments, to love God and to love others. We can get caught up in things less important.
"As a creative I've never really been accepted or fitted in. When something happened in my life, the rules didn't help me out – the only thing was God's grace. I am not about trying to convert people. I am much more about setting people free from the things that bind them. My motivation is the love of God within them. I just want to bring people to life because I see God and the love of God in all sorts of people, even if they don't know him yet."
Natasha is proud of the fact that her choir now attracts women of all ages, although she admits that she did not set out for it to be exclusively for women. The youngest in her current choir is in her late twenties, and the oldest 80 years old. Each one is committed because of what the choir means to them.
"The feedback has been amazing. I did some research for a psychology degree I have just graduated from this summer, and I discovered how coming together to sing can help them through the week, having something for themselves that they can look forward to. One [woman] has told us that she arranges her week around her choir time, and another told my friend, Nikki Rogers, who also runs a choir in Northampton, that she cancelled her move to Cornwall because she would miss her choir!"
In 2019, Natasha and Nikki put on 'The Big Sing', a choir residential conference for women in Northampton: "It was a chance for women to escape, make new friends, attend workshops, clinics, do some technical voice techniques and learn the benefits of singing. We didn't know what to expect but it turned out to be an emotional weekend for all. Clearly things were going on at a deeper level. There is power in the arts to unlock things in our lives."
To find out more about the choir, visit iwant2sing.co.uk/choir

Alastair McIver is former editor of Tennis World, former features editor for Tennis Life magazine and regularly published in Tennis Threads magazine. He is currently writing a novel based on his missionary visits to central Asia. Alastair and his wife Sally have two married daughters.