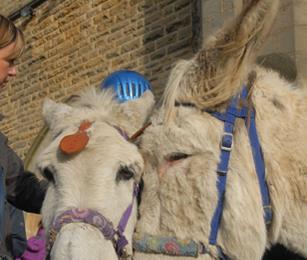 Create a Stable Trail

Hannah Bunting from Aberystwyth describes how all the church family are involved in turning the inside and outside of St Michael's Church into an 'interactive nativity' to help local children and their families engage with the Christmas story …

"In a society where church seems so alien to many, Stable Trail aims to help families have a positive experience of church and grasp that God is living and loving today. Lasting around 15 minutes, the trail takes children on a journey around the church to meet different nativity characters, hear their story and interact with them.

"The trail ends with two important encounters – meeting Mary, Joseph and baby Jesus (a real baby if we're fortunate to have one) and sitting around a Christmas tree where the children have the opportunity to reflect on the reality of the story and pray if they want to. They are then given a decoration for their Christmas tree at home. We also give the children a donkey ride after they've been on the trail around the outside of the church.

"This event demands such a lot from the church family to get it going – people willing to help set up, build the set, scoop up donkey poo, serve coffee, act, welcome, provide mince pies and clear up. It's a real picture of church working well together across all the ages and walks of life. There is a real excitement in church in the run-up to the event.
"There is also a great expectation in the community for Stable Trail, with locals often planning their Christmas activities around it so they don't miss out!

"When I started my involvement with the event in 2004 we were getting around 90 children coming along, and in 2016 we had just over 300. It's a credit to the church for their hard work and an incredible blessing from God to be entrusted to tell so many children about Jesus.

"Parents used to sit at the back and wait for the children to finish, but what we have found over the years is that they want to know what is going on and come on the trail too. Families now stay for much longer, enjoying refreshments and talking to people from church. We have also seen more people coming to our Carols by Candlelight service.

"God has been very good to us, giving us inspiration, providing for us and allowing us the privilege to share who he is with so many."

+ This year's Stable Trail takes place on Saturday 9 December at St Michael's Church, Aberystwyth SY23 2AU.
Make a gingerbread house

In the run-up to Christmas, women from Fowey Parish Church in Cornwall are encouraged to invite their friends to the popular gingerbread house-making evening. This low-key evangelistic event is a great opportunity to introduce people to the good news, says vicar's wife Naomi de Grey-Warter.

"We buy in gingerbread house kits (costs are covered by the entry fee) and then the women each construct a house and decorate it with sweets and icing etc, which we provide on the night. The houses are then wrapped in cellophane for people to take home.

"What has worked best at our gingerbread events is either an interview with a Christian whom people know within the community or a 15-minute talk on looking forward to Christmas. We aim to offer a personal testimony about why Jesus is central to their celebrations and explain what Christmas is really all about.

"There is always an opportunity for guests to follow up with Christians on what they have heard either one-to-one or in a group. We also hand out flyers with details of all the Christmas events due to take place over the coming weeks.

"We have room for 40 people in our venue and have filled it most years. It's become a highlight in our church calendar because it's an ideal event for women of all ages."
Organise free gift-wrapping

A team from HUB Church in South Woodford, London are gearing up for their third Christmas Wrap outside their local Boots store. The church's community worker Tracy Bishop explains why they started it …

"We wanted to bless the community and to meet people going about their day. The first year was also about introducing ourselves, as we were a new church plant sent from Skylark Church in Chelmsford. We have built a good relationship with the manager at Boots and the local shops, and they are very supportive of us being there.

"We give out some little bags containing a few Christmas chocolates and a Christmas story booklet from Bible Society, which are always well received.

"It's a great opportunity for all ages to come together. We have people preparing the bags, some wrapping presents and others (especially the children) handing them out. We also have a couple of people prayer walking up and down the street.

"Some people stop and ask what we're doing and are surprised that we would wrap presents for free. We have found that if you take time to start a conversation with someone they often open up about something significant. Christmas is one of those times when memories can come to the surface; sometimes all you need is a listening ear."

Bake and pray

It was a previous vicar from St John's Church, Harborne in Birmingham who came up with the idea of saying thank you to the local high street shops and businesses at Christmas. Church members were asked to make a cake for a shop, pray for them while they baked it and then deliver the festive treat to their chosen retailer. Some 15 years later Bake and Pray is still going strong, says organiser Jude Smith …

"Our sign-up for Bake and Pray starts on the second Sunday in November. We deliver the cakes during the first and second week in December, along with a card from St John's containing a message from the vicar and an invitation to the carol service.

"We encourage our different groups to get involved, particularly as we have some large shops on the High Street and it can be a lot of baking for just one person. It can be cake, a traybake, cookies or any edible Christmas treat, home-made or bought.

"Our vicar, Rev Leonard Browne, says he's received lots of comments from people about how much they appreciate the church saying thank you in this way."
Knit a Christmas tree

When Tilehurst Methodist Church (TMC) near Reading decided to construct and host a community knitted Christmas tree last year, green wool was suddenly in great demand as local people began knitting their squares. The 16ft finished tree, adorned with knitted decorations, attracted lots of visitors and helped to bring the community together, say the organisers Don and Joan Moffatt …

"Everyone who had helped to knit and build the tree was invited to an 'unveiling and switch on' on Friday 25 November, and the tree was there ready for the beginning of Advent as planned.
"It was mentioned on BBC Radio Berkshire, Meridian TV, as well as the local paper and the Methodist Recorder. Many people came to open afternoons to see it and we are delighted that TMC has been brought to the attention of the wider community.

"Afterwards the 1,700 or so green squares were turned into blankets for distribution to various charities.

"We have had the fellowship of working towards a common goal and the joy of seeing a beautiful creation for Christmas. It has been great to see so many people working happily together."

Why not let us know creative ways your church reaches out at Christmas?