Rev Kaye Gardiner spoke with Becky Hunter-Kelm about her journey from beauty therapist to vicar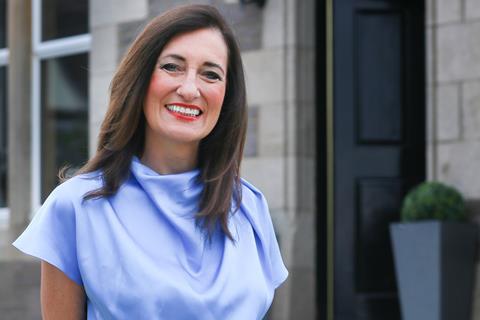 From the outside, Kaye Gardiner's life looked perfect. Born and brought up in South Lanarkshire, Scotland, she met her husband at a Young Farmers event when she was 21. They married soon after and had two children in 1998 and 2000.
Kaye's husband was a farrier with a successful business, and she worked as a beauty therapist in her mum's salon. "My dad gave us land after we married, and we designed and built this big beautiful house. We wanted for nothing. We had ponies for our kids; we could get the new Audi or BMW car when we wanted to. We had a touring van, and we would go to horse-jumping shows every weekend. Everyone would drive past our immaculate house and think our lives were perfect. But I always felt this emptiness; I never had any peace or contentment. I felt lonely despite my husband and lovely kids."
Kaye's husband was diagnosed with depression during their first year of marriage. They tried everything to help him get better, from the best private hospitals to hypnotism and reiki healing. Even though he was on medication nothing helped, and he started drinking to numb the pain. Over the years, his drinking got worse.
We had an 'our life is perfect' veneer
"There's a huge drinking culture at horse shows; he was always the last one standing. I would return home with the kids in the evening, and I wouldn't see him again until 6am the next day. I never told anyone what was going on. We had an 'our life is perfect' veneer. I worked hard to make our marriage work."
Finding Jesus
When Kaye was 31, she went on holiday with her family to Jamaica, and was struck by the poverty in contrast with their luxurious holiday resort. "I asked a waitress about life on the island. She told me that Jesus was the most important thing in her life. She said she worked six days a week but needed Sundays off to worship God. Jesus was literally shining out of her eyes. I knew instantly that the peace that she had was what I needed!"
God used that lunchtime encounter to change Kaye's life. "Up till then, materialism had been my god in life, and at that moment, I knew none of it mattered."
When Kaye returned to Scotland, she was desperate and wanted a new start, so one day she got up and went to church.
I wanted to see people not just healed in a physical sense but to be fully healed through Jesus
At church, Kaye hid herself upstairs on the balcony. "When the minister preached, it was the first time I heard the full gospel, which went straight to my heart." After that service, Kaye had an insatiable hunger for God's word. She joined a discipleship group, and quickly grew in her new faith. A few years later, the minister from Kaye's church moved on, and a woman minister served temporarily. It was the first time Kaye heard a woman preach, and she felt her heart burn in a way she had never felt before.
Painful divorce and healing prayer
Around the same time, in 2015, Kaye's marriage finally broke down. "Many people were shocked when our marriage ended because everything looked so perfect on the outside. The divorce was hugely painful."
Kaye's minister invited her to a healing service at Braehead House Healing Centre, where she was a chaplain. "The presence of God was so tangible in the room. When there was an invitation for healing prayer, two women laid hands on me and prayed. I told them that I didn't want to go through the rest of my life affected by my past or become bitter. I wanted to be set free for whatever God has got for me."
On the way home, Kaye had to pull the car over because she was weeping tears of deliverance and healing. "The next day, I got up filled with the joy of the Lord. I couldn't stop smiling; my jaw was aching!"
Kaye started attending morning prayer at 9am every weekday at Braehead House and also spent her days off there. Most of the time, it was just her and the chaplain, and she would receive prayer ministry for everything she had been through. "God showed me a picture of a room full of boxes of junk. Each time I handed over a 'box' of something that needed healing, the room would fill with light."
Called into leadership
Six months later, Kaye was back in her home church (part of the Church of Scotland), where she witnessed conflict among the members about women in leadership for the first time. It broke her heart; she bowed her head on the pew in front and wept.
"The next night, God woke me up to research the subject of women in church leadership. I found the 'Tomorrow's Calling' section of the Church of Scotland website, where I watched the testimonies of people called to ministry. I couldn't stop weeping as I listened to their stories." That same year also marked 50 years since women were allowed to be elders in the Church of Scotland, and Kaye knew God was calling her to be a minister. But she still had concerns: "Could God use me, a divorced woman, in leadership in his Church? I had to wrestle this question theologically, because I must be answerable to God at the end of the day. But I knew God was leading me. It was terrifying – I didn't want to go to university after all I had been through. If anything, I wanted to slow down!
"I loved my job as a beauty therapist and I would have done it forever if I hadn't been called into full-time ministry. I would pray every day that God would give me opportunities to tell people about him. My beauty room was a safe place; as soon as people laid down on my couch they shared their lives with me and I was able to speak into their situations and share how it was only my faith that got me through trials. I did a lot of massage and people would say I had healing hands, but I wanted to see people not just healed in a physical sense but to be fully healed through Jesus."
God did many miracles to equip Kaye to do what felt like the impossible – such as completing a one-year access course, during which she found out she had dyslexia. "My exam was a shambles. I prayed: 'God, you want me to do this.
You'll have to change my result!' I got the four Bs I needed to enter university."
During her second year in training, Kaye went to Zambia. When she preached, there were so many people hungry for the word of God, they couldn't all fit into the church. "I had only encountered the Holy Spirit for the first time a year before. In Zambia, the churches were flourishing after they had repented from a spirit of control and invited the Holy Spirit to have his way. I experienced a new level of expectation of the gifts of the Spirit while I was there. I saw people set free from demons and many people healed. I thought: 'This is what I want to see in Scotland; people need deliverance and healing.' I prayed: 'Come and have your way, Holy Spirit.' I long to see the churches throughout our land activated in the gifts of the Spirit and prayer ministry taking place regularly."
Kaye wrote her dissertation on how the Church needs to be healed, filled and sent. "There's no point doing anything if the love of Jesus isn't shining out of our eyes like that lady in Jamaica! We have to be filled by him so when we lay hands on people, they feel Jesus – we need a supernatural recognition that we are Jesus in the world."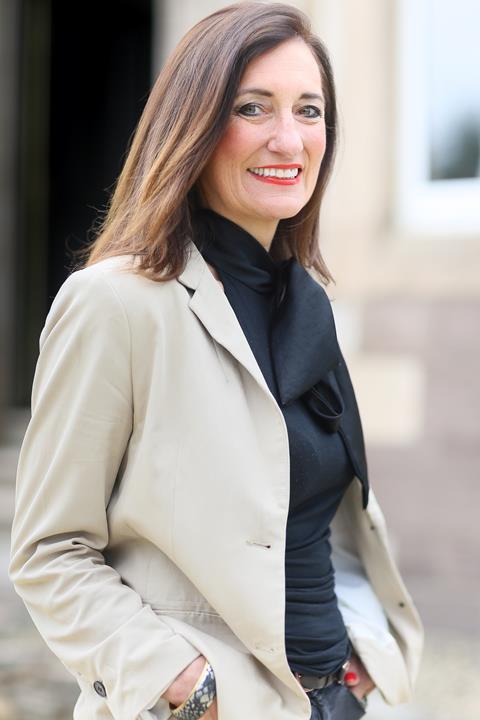 Equipped to serve
After nearly seven years of studying, Kaye graduated with first class honours and was ready to start her ministry, but God had one more bit of equipping for her. Kaye joined 'Forge', a pioneering course, and spent nine months taking 'breakthrough' teams into churches and onto the streets. They would share prophetic words for people: "The focus was all about meeting people where they were. My passion for making people look good on the outside has now become a passion to see inward transformation."
Kaye once met a lady at a bus stop and gave her a card with a word of knowledge. "It was Psalm 56:8, reminding her God had collected all her tears in a bottle, and she was never alone. The woman started crying and told me she had been feeling suicidal. The bus had stopped unexpectedly at that particular bus stop that day because God wanted to meet with her.
Kaye's home church affirmed her call into ministry, and attended her ordination on 6 June 2023. Rev Kaye Gardiner now serves two churches: Kenmure Parish Church in Bishopbriggs and Wallacewell Church. "My hope for the future is to see the Church so passionately in love with Jesus that every member can't help but shine wherever they go so that others long for what they have. Let's not get bogged down in the institution of the Church; let's get out into the world."
For more information on Braehead House Healing Centre, go to divinehealingfellowshipbraeheadhousescotland.co.uk