This month Amy Boucher Pye is reading…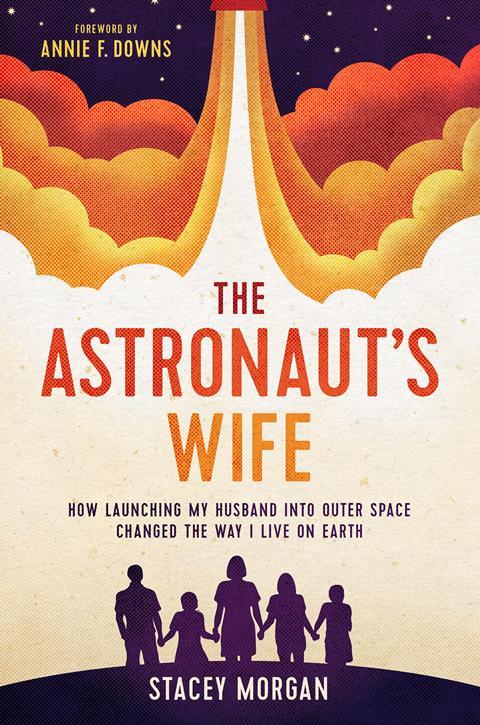 The Astronaut's Wife
Stacey Morgan (Tyndale, ISBN 978-1496454621)
Growing up in America in the 1970s and 80s, I was aware of the space race with Russia but didn't pay it much attention. Yet I remember vividly being in my dorm room in Minnesota in my first year at university, watching with my roommates the devastating images as the Challenger space shuttle exploded. Our American can-do spirit and optimism suffered a blow that day as we mourned the lives of the astronauts, and especially the beloved teacher aboard. So I was intrigued by The Astronaut's Wife, the account by Stacey Morgan of life when her husband Drew spent nine months on the International Space Station. She gives us not only a behind-the-scenes look of life in space but offers valuable insights into topics in the Christian life.
Stacey and Drew met at West Point, the US military academy where they both did their undergraduate studies. Their commitment to serving their country has meant a life of relocations, time spent apart from each other and a strong bent towards duty, faithfulness and honour. All values that helped them when Drew was blasted into space.
I appreciated Stacey's insights into how space flights work in the modern era, with the partnership with Russia meaning that the antagonism of the Cold War era has been put to the side – at least in this area. Stacey describes travelling to Kazakhstan for the pre-pandemic launch surrounded by family and friends, and then the April 2020 landing in starkly different circumstances with just her and their four kids attending. After nine months in an enclosed space, her husband returned to life on earth only to continue a life of isolation – this time with his family rather than fellow astronauts.
I found Stacey's descriptions of life as an astronaut's wife intriguing, but I especially valued some of her other thoughts, such as those on friendship. As one who has relocated regularly with her husband in the military, she's had to leave friends and make new ones on a regular basis. Finding our 'people' is a key component to a fulfilled life, one in which we can give and receive God's love.
Another topic she writes on is the conundrum of fear versus hope. With God's help, we can choose hope; Stacey observes that unless we "make an active decision to choose hope, our default will always be fear". In choosing hope, she concludes that she and her husband have been able to "thrive and not just survive".
This is a book to read on your own or in a book group, using the discussion questions at the end to start off the conversation.
You can also join our discussions on Facebook. Simply look for the Woman Alive Book Club and join in. See you there!

Amy Boucher Pye is a writer, speaker and spiritual director, and Transforming Love: How Friendship with Jesus Changes Us is her fifth book. She joyfully founded the Woman Alive Book Club 17 years ago, which is now facilitated by the amazing Claire Musters. Find her at amyboucherpye.com and sign up for her monthly newsletter, which includes a prayer exercise.
View full Profile