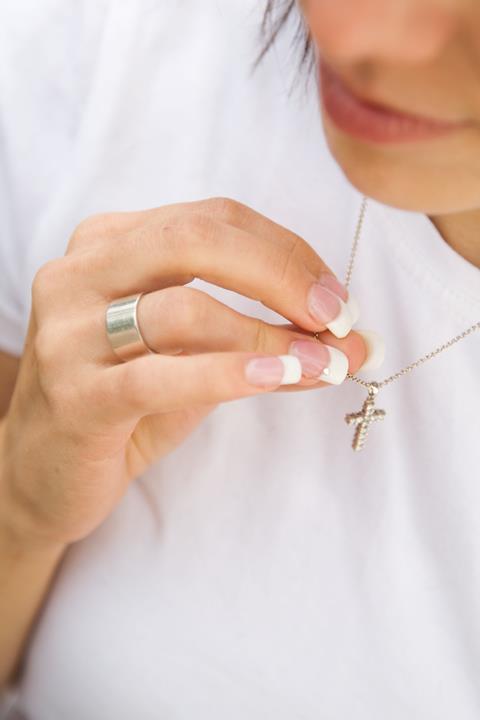 I wear a cross around my neck and often find myself touching it gently throughout the day, as a thought pops into my mind that I want to share with God. Other times I reach for the cross just to catch my breath, pausing in the middle of a busy day, breathing in his magnificence, as I realign my scattered thoughts upon his presence.
What does the cross mean to you? Jesus' sacrifice on the cross was the finished work of grace, so that we could be forgiven for our sins. Do you feel you are able to comprehend the magnitude of what he did for us…for you? Have you been able to forget the life you left behind when you took up the cross and followed Jesus? I know I haven't fully done so.
Often when we take up our cross and follow Jesus it can be really uncomfortable and we may face unforeseen challenges. We need to remember that we are being formed into a new creation, in his image. We must learn to trust God, honour his name and walk with Jesus into each new chapter of our lives.
1 Peter 5:10 (NIV) says: "And the God of all grace, who called you to his eternal glory in Christ, after you have suffered a little while, will himself restore you and make you strong, firm and steadfast."
Thank you, Lord, for saving us unworthy sinners by your grace. Thank you for granting us a new life, a new beginning, as, in your name, we have been forgiven and our slates are wiped clean. We know we are unworthy of your love and yet your grace wraps around us and carries us when we can no longer carry ourselves. Your grace frees us from sin and shame and enables us to be the people you intended us to be. Let each one of us carry our own crosses and put our trust in the Lord. Help us to be more like Jesus in all that we do, help us to forgive those that cause us pain and let us pray for those around us so that they can learn the true message of what being a child of God means. Amen.