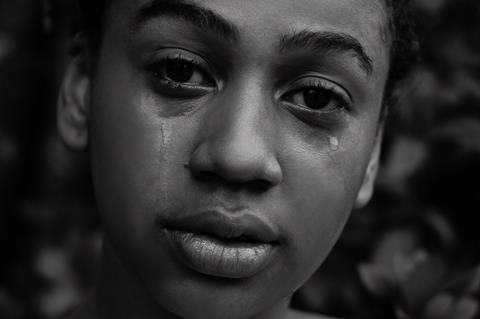 Words are visceral and help explain the often unfathomable, because what is left unsaid and unnamed becomes corrosive and toxic. Ignoring uncomfortable truths breathes life into polarisation and discord, fuelling persecution, intimidation, racism and sexual violence. These razor-sharp, brutal realities damage society and tragically destroy countless lives.
The charity Rape Crisis has reported that one in four women has been sexually assaulted or raped as an adult. Disturbingly, statistics in England and Wales reveal that 85,000 women experience rape, attempted rape or sexual assault every year. This is a crisis that impacts thousands of women, where systemic abuse has created a cyclical toxic void that spreads violence like shrapnel. It has to stop.
I've thought at length about this. Why are women subject to so much violence and persecution – and men don't escape it either? I'm sure at the root of all violence is pain, shadowed closely by shame. By ignoring rather than addressing problems, we are indirectly allowing cruelty and unfair treatment to thrive.
Several cases in recent times highlighting the appalling treatment of women have sent shockwaves and propelled us globally into action. The #MeToo Movement powerfully focused on empowering survivors through solidarity and bringing about healing, awareness and action. It engaged survivors of sexual abuse to campaign for change in the workplace and society.
The opposite of persecution is love, comfort and kindness. Jesus said in Matthew 7:12: "So whatever you wish that others would do to you, do also to them, for this is the Law and the Prophets" (ESV). This message is at the heart of the Bible: to treat others as you would like to be treated. In essence, we need to care for each other, showing kindness and compassion – especially to victims of persecution. It is important to stand up for the vulnerable and not to look the other way. Instead, by bringing our awareness and taking positive action, we may each live by Christ's example and mandate: "Love your neighbour as yourself" (Mark 12:31).
Merciful Father, creator and
bringer of life,
Let your healing light radiate warmth where there is suffering.
May your eternal flame free us from false promises and silence.
Merciful Father, grant us strength,
That we may walk in your
light and grace.
May your peace unfold where
trouble and hurt harbour.
Mighty Father, settle unsteady hearts,
Bring rest to weary souls and burdened minds.
May gentleness be as mighty as dawn.
Mighty Father protect all who
suffer persecution,
Guide them towards safety and
self-respect.
May they find the courage to stand tall and walk forward with strength.
In everything we do,
May you be at the centre,
So we may love one another
as you love us all.
Amen.

Sinead McLeod is an actress, writer and artist and a practicing Roman Catholic. She lives in South East England with her husband and four sons
View full Profile