Writer Tibz Adeniyi explains the she thinks we don't talk enough about why some 'compliments' hurt instead of flatter. And says it's time we stopped laughing it off and silently carring the hurt deep down.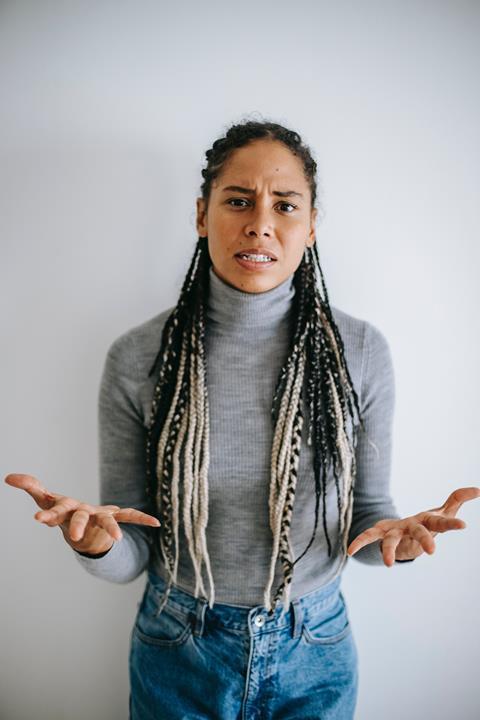 "Don't you just love his accent?" I said, putting my phone back in my pocket. I'd just played my friend a voice-note left for me by a guy I'd connected with online. His deep, articulate, Australian accent had me giggling like a teenage schoolgirl every time I listened to it, and I couldn't wait to show his voice off to my girlfriends.
"It's a nice accent, for sure," my friend replied, frowning. "But Tibz, isn't just gushing about a guy's accent kinda reductive, maybe even a bit fetish-izing?"
I wanted to say: "Yeesh, it's just an accent!" as I rolled my eyes. But alas, my friend had a point. It's true, there is a difference between a) appreciating someone's accent as a singular attractive element of their entire personality, and b) allowing our desire for the strange and exotic to end up valuing one's "foreign-ness" more highly than we value the actual person behind the accent. Of course, my friend didn't know that I knew this guy to be a funny, kind and smart law student that spoke six languages, volunteered with his church youth group and was on a placement year with the UN to improve human rights laws for orphaned refugee children in Eastern Africa (100% true story – I know!!). But nevertheless, without that context, "I love his accent" could be taken as a compliment or an insult, or at least an anti-compliment, and in all honesty it takes a fair bit of nuance, social context and plain old self-awareness to decide which it is.
"You're so ladylike", "you're an oreo, really", "you're so well-spoken", "you're so skinny", "your hair is so professional", "you're not like other girls."
Imagine then, if you will, the minefield compliments can become when we swap out something so tame as accents and replace it with remarks about gender or skin-colour! "You're so ladylike", "you're an oreo, really", "you're so well-spoken", "you're so skinny", "your hair is so professional", "you're not like other girls" - the list could go on. I'm sure all of us have at some point heard someone say something to us that, whilst meant as a compliment, came across as far more demeaning or narrow-minded than it did pleasant.
You see, there is often a fine line between a true compliment and a comment that could actually be inherently insulting, or at least sink the intended compliment into a complex mire of societal expectations, negative stereotypes and historical contexts. I don't think we talk enough about why certain things people say hurt us, especially when the very reason it was said was to flatter. So instead, we laugh it off, or carry the hurt deep down, until one day it explodes out into someone's face and the person back-pedals, bewildered and exclaiming, "But I meant it as a compliment!"
I believe women tend to feel it the most potently and detrimentally, as these back-handed compliments can often end up pigeonhole-ing us.
I believe women tend to feel it the most potently and detrimentally, as these back-handed compliments can often end up pigeonhole-ing us, limiting what other people perceive us as capable of and perpetuating negative stereotypes that ultimately cost us jobs, promotions, even our safety. Ethnic minorities will also face the brunt of these pseudo-compliments, feeling their harmful effects more keenly, and I think it's high time we were able to have a meaningful conversation about these damaging anti-compliments that, let's face it, we've all been guilty of giving at some point in our lives.
Now, I know what you're thinking. Tibz, if this keeps up then soon enough it's going to be impossible to ever compliment someone, for fear of inadvertently insulting them! Well then, fortunately for you I have listed below three sure-fire ways of becoming an exemplary compliment-giver – remember these tips when you go to compliment someone, and you'll be sure to leave them with a smile on their face and a lasting, positive impression:
Compliment people for the choices they make, not the things that they ultimately have no control over
A good compliment focuses on an individual's decisions and choices, as opposed to the generic or genetic things people have no real choice about. You could compliment the outfit they've chosen to wear that day, parts of their personality that you admire, things like their discipline, their humour, their loyalty, their taste, their faith. As Hallie Gould (Editorial Director of Byrdie Magazine) puts it, "I'd rather someone think I'm funny—that's kind of my thing… I'd rather be recognized for what comes from my mouth than what genetics happen to inform my face. I have no control over that".
Don't fall into the comparison trap
When the yet-to-be-king David returned from having slain the giant Goliath, the people of the city began to sing his praises, saying "Saul has killed his thousands, David his tens of thousands!" Whilst I'm sure the accolades felt good at the time, the comparison sowed the first seeds of jealousy into the heart of King Saul and ultimately caused David years of grief and pain whilst on the run. Comparison ultimately benefits no one, and complimenting someone by comparing them to someone else, whilst seemingly kind, does not value the individual as the unique and rare creation that God has made them to be. Instead, it perpetuates this prevailing idea in our society that our lives, or some arbitrary aspect therein, must measure up to or beyond a standard set by someone else. In the words of acclaimed singer-songwriter Jonathan McReynolds, "Comparison Kills" (great song, just fyi).
See others (and yourself!) through God's eyes
Following on from the above, it is vital that we understand just how exquisite every individual we encounter truly is in God's sight. Each and every one of us has inherent worth and value. We are each precious, priceless treasures in His eyes (1 Cor 6:20, Zech 2:8). We are each eternally, unfailingly loved (Ps 54:10, Jer 31:3). We are each steadfastly protected and surrounded with joyful songs (Ps 121, Zeph 3:17). We are each fully known, fully loved, and crowned with glory and honour (Ps 8:5, 45:11, 139:1-16).
Making these Biblical standpoints a deeply-internalised truth in our lives will not only improve the way we see and admire those around us, but it will also open our eyes to our own intrinsic self-worth – because a truly great compliment-giver is often someone who knows their own inherent value, and chooses not to see the inherent value in others as a threat, but rather something to be extolled and celebrated.

Tibz is a part-time Worship and Creative Ministry apprentice at Woodlands Church in Bristol, a part-time dessert-lover and a full-time extrovert. Tibz likes k-pop, loves people, and lives for God.
View full Profile