Scottish singer Lewis Capaldi went viral at Glastonbury this weekend when he had to ask the audience to help him sing, but the moment was reminiscent of an important moment for Moses.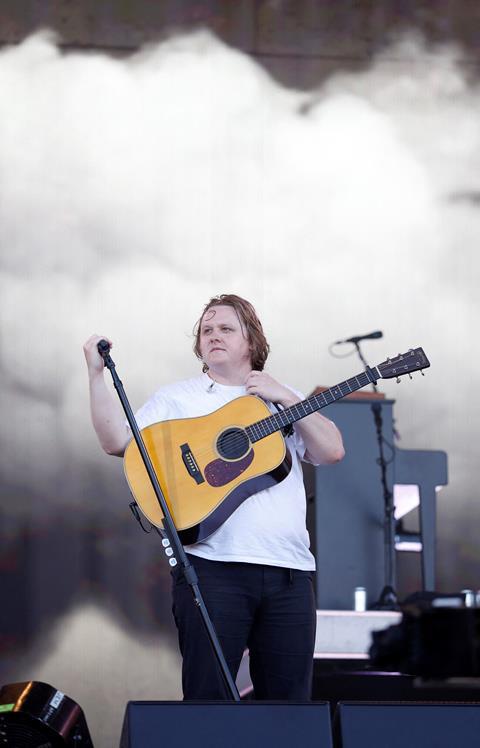 Taking to the Pyramid stage at Glastonbury would arguably be the biggest performance of an artist's career. The famous slot has been previously been filled by the likes of The Rolling Stones, Dolly Parton, Oasis, Paul McCartney, Beyoncé, Adele, Kayne West, Coldplay and many more. This year Lewis Capaldi was offered a spot on the prestigious stage. In preparation Lewis, who has been vocal about his battle with his mental health, stepped back from all performances in the run up to the show to "rest and recover".
On Saturday, the day of his performance, the 26-year-old had to stop singing halfway through the set. Lewis became emotional and started to struggle with Tourette's, something he's previously spoken about in his top ranking Netflix documentary. The singer lost his voice and started twitching, something that can happen when a person with the condition is under stress. He stopped singing and apologised to the crowd. And then something really special happened.
It's courageous to stay on stage when you're not sure if you can sing anymore.
If you haven't seen the viral videos - watch them now. As he stumbled over the words, the crowd took over. The collective singing of the audience overtook and the show carried on as the overwhelmed singer looked on. There's not a hint of anger from the crowd, no one demanding he sing or they want their money back. They saw that he couldn't do it alone - so they did it together. And it was beautiful.
It reminded me of the story of Moses. More specifically when the Amalekites came and attacked the Israelites at Rephidim (Exodus 17). A quick reminder for those who haven't hit up Exodus for a while - this is when Moses told Joshua to lead an army to fight and Moses would be watching from the top of a hill with Aaron and Hur.
Then in verses 11 and 12 we read: "As long as Moses held up his hands, the Israelites were winning, but whenever he lowered his hands, the Amalekites were winning. When Moses' hands grew tired, they took a stone and put it under him and he sat on it. Aaron and Hur held his hands up–one on one side, one on the other–so that his hands remained steady till sunset." They won that battle because of the obedience, friendship and teamwork or each person involved.
I couldn't help but think of this story when I watch the footage of Lewis Capaldi needing the voice of the crowd to get him through his set. You see, what we often forget is that people don't begrudge vulnerability. They don't begrudge weakness. They do begrudge laziness, or excuses, or selfishness. But rarely does anyone kick up a fuss about vulnerability. Because, even though it doesn't feel like it to the person experiencing it, it's just an important component of courage.
Success can't be found in isolation. Just like Moses, we don't win battles as individuals.
It's courageous to go on stage when you know your mental health isn't at its best. It's courageous to stay on stage when you're not sure if you can sing anymore. It's courageous to let others help you. It's also a gift to others when they get the chance to help and feel apart of something.
God didn't build us to do life on our own. Success can't be found in isolation. Just like Moses, we don't win battles as individuals. I loved this reminder that there's magic in asking for help. I would be proud to hold up my friends' arms when they get tired and I will always sing along for Lewis Capaldi.

Lauren Windle is a journalist, author and presenter who focuses on faith, recovery and love. Her debut non-fiction book Notes On Love: Being Single and Dating in a Marriage Obsessed Church (SPCK) is out now.
View full Profile