Kate Nicholas on dealing with cancer returning and a near-death experience following her mastectomy
One of the greatest challenges of receiving a cancer diagnosis is learning how to live with the awareness of your own mortality. I was first diagnosed with advanced and inoperable breast cancer in 2014. The cancer had spread into the lymph nodes, around my heart and mediastinal area, and the prognosis was not good. However at the beginning of this journey I was given Psalm 118:17 (KJV): "I will not die, but live, and declare the works of the Lord." Against all the odds, I survived.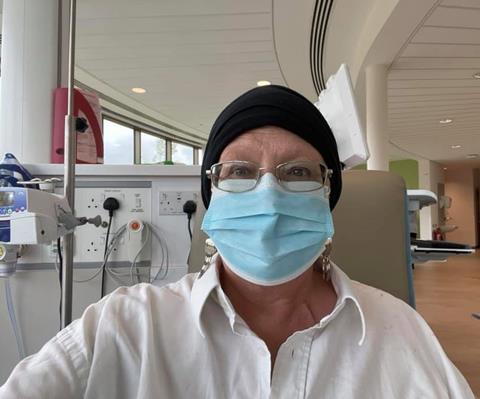 Facing cancer's return
For six glorious, God-given years I went into remission and refocused my life on declaring the works of the Lord as a preacher, author and TV presenter on Christian channel TBN. At first I was only able to plan a week or two ahead (any longer-term thinking seemed presumptuous), but as time wore on I became bolder. I knew that I was sailing through uncharted waters, but by the turn of 2021 I had grown accustomed to the idea that I was going to survive…until nine months ago, when my worst fears were realised and the cancer returned.
Once again, I went into battle mode, strapping on the full armour of God (Ephesians 6:10-17), immersing myself in healing scriptures, seeking healing prayer and committing to an exhaustive prayer schedule. But as I began chemotherapy, I became desperately ill with sepsis and, as I sank deeper beneath the waves, all I could do was surrender to his will. And there…in the silent depths, I found a different kind of strength.
Knowing God's presence
Over the next few months I became so ill that I was hardly able to read or formulate prayer. As words failed me, I was overwhelmed with guilt at failing to maintain my spiritual disciplines. But as chemotherapy dragged me down, I sensed God's presence.
Then last month, after an apparently simple mastectomy, I was rushed into hospital, where I suffered a pericardiac arrest, had multiple blood transfusions and was taken for emergency surgery for a massive internal haemorrhage. As the pre-med entered my system and the room receded, I realised with appalling clarity that I might not wake again. And as I slipped towards oblivion, the faces most beloved to me passed before my mind's eye, and I sent them my everlasting love. Then finally, from somewhere deep within me, a presence and a single word rose up: Jesus.
I didn't consciously call on him, but I didn't need to. Rather, he rose up unbidden from somewhere deep within me – an unconscious connection to the divine healer nurtured in the silent depths, which rose to consciousness in my hour of greatest need.
The cancer has now been cut from my body, the wounds are healing and I no longer have flashbacks to the resuscitation room, but the knowledge that Jesus is such an integral part of who I am will stay with me for the rest of my days – however many they may be. And through him, I am once again learning to live.

Kate Nicholas is a Christian author, broadcaster and preacher. You can find out more about Kate's books, TV shows and online courses and subscribe to her blog to follow her current journey of faith through cancer.
View full Profile