Following the news that all 16- to 17-year-olds are to be offered a COVID vaccine, mother and daughter Kate and Emily urge them to grab the opportunity – and not just for their own benefit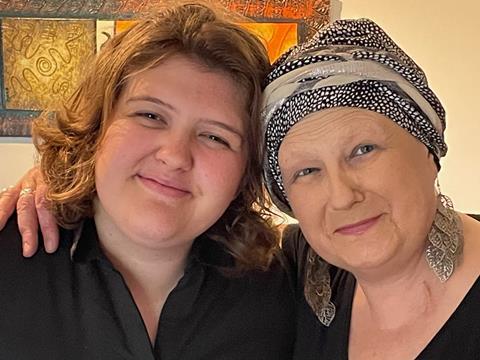 Kate Nicholas (Vilkaitis) was diagnosed with cancer for a second time in March 2021 and is currently going through chemotherapy. Her 17-year-old daughter Emily Vilkaitis, who is needle-phobic, took up the offer of the jab to protect her mother and other vulnerable people, and is urging her peers to do the same.
Kate writes: I managed to get both vaccines before starting chemotherapy in April, but it is still unclear how chemo affects the immunity conferred. Like many, I have been advised to shield, which makes the current relaxation of restrictions quite scary. One of my greatest fears has been that I would have to isolate myself from Emily as she went back to school.
The official line is that the clinically extremely vulnerable should have no contact with anyone who has not had the double vaccine, which currently includes a significant proportion of 18- to -34-year-olds; the demographic to have most eagerly embraced the lifting of restrictions.
The government is opening up vaccines to all 16- and 17-year-olds but, despite incentives ranging from cash to pizza, and horror stories about young people making up one in five hospital admissions, take-up among young people remains alarmingly low for the following reasons:
1. Invulnerability It may have helped young Stone Age hunters, but in the midst of a global pandemic, young people's belief in their own invulnerability is now working against the interests of society as a whole. Perhaps the time has come for young people to recognise that, in Christ, when we are weak, we are strong (2 Corinthians 12:10).
2. Fear Social media has fuelled irrational and even bizarre fears about the COVID vaccine, but some Christians have become anti-vaxers due to the erroneous belief that taking the vaccine implies a lack of faith. During my own journey through cancer, I have come to understand that medics are God's hands and feet, and that all the components of medicine and the scientific wisdom required – everything from chemo to vaccines – comes from God. To deny this is to infer that there are some aspects of God's creation that lie outside his purview. Don't rely on a diet of prayer and carrots; vaccines are a gift from God.
3. Individual freedoms Another argument is that the rest of the population cannot be held hostage by the 3.5 million clinically extremely vulnerable. We are the inconvenient truth that everyone who is eager to get back to normality would prefer to forget. But one of the most fundamental tenets of Christianity is the call to "love your neighbour as yourself" (Mark 12:31). If we desire that freedom for ourselves, we should also seek to protect those freedoms for others.
My plea to young people is to take up the vaccine and remember Jesus' words: "Whatever you did for one of the least of these brothers and sisters of mine you did for me" (Matthew 25:40).
Emily writes: As someone whose mother has cancer, I know how important it is to protect those around me. In spite of my great fear of needles, I have had to face them in order to help my mum face her anxieties and the genuine threat she may have to live with in the present and future.
In spite of everything having 'returned to normal', those shielding fear that they will never be able to experience something akin to normal again. And I feel as though, because of that right to normalcy, it is only fair that we give them something we now take for granted, especially with restrictions being lifted so quickly.
I personally feel that getting a vaccine is doing nothing other than helping ourselves and those around us. It is only a prick of pain but it could potentially save hundreds from suffering a horrible fate.

Kate Nicholas is a Christian author, broadcaster and preacher. You can find out more about Kate's books, TV shows and online courses and subscribe to her blog to follow her current journey of faith through cancer.
View full Profile