Gaynor Lochhead was drowning in debt and out of control, but she's back on her feet and determined to help others break free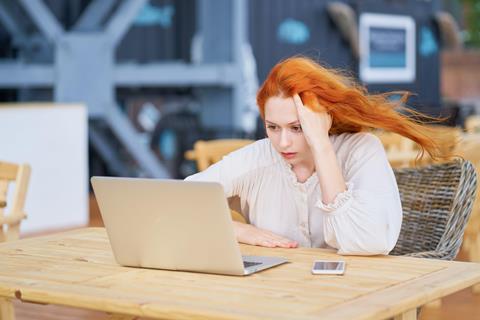 When her three businesses collapsed in 2013, Gaynor Lockhead found herself facing overwhelming debt. To compound her misery, Gaynor's partner left the day she shut them down. There were very few job opportunities in her area and the debt continued to rack up.
Constantly partying to escape her ever-worsening situation, she came across as a fun, carefree young woman while she was out, but behind closed doors she was experiencing agonising levels of anxiety and depression. "I was an absolute mess," she recalls. "I was the life and soul of every party, and everybody wanted me at theirs, but I would leave each one, go home and literally curl up in a ball on the floor and wail."
Finding peace
It was the end of a year-long abusive relationship that prompted a turning point in her journey: "I was done with the parties; they weren't helping any more. I was finished with that whole lifestyle. I remember my friend who came down that night handed me a can of cider. I took one look at it and thought, 'I don't even want that.' I was suicidal…I just didn't see the point in living any more."
The following day, Easter Sunday 2016, Gaynor attended a local church service, which gave her a sense of joy that she carried with her from that day onwards. Gaynor also met a Christians Against Poverty Scotland (CAP Scotland) representative called Alastair and signed up for the CAP Money Course.
She subsequently called the charity's debt helpline and became the first client of its debt centre in Inverclyde, where Alastair was centre manager. Although her debt had reached the £50,000 mark, the pressure on Gaynor began to ease as soon as CAP took on contact with her debtors, and she suddenly felt at peace. With her mental health in a more stable condition, she was able to hold down a regular job.
Finding her true calling
In 2019, Gaynor was diagnosed with stage 3 breast cancer. Temporarily unable to work as she underwent treatment, she became involved with a local charity through a connection she had made on the money course. She felt compelled to help meet the needs in her local community and also began training to become a CAP money coach.
Gaynor subsequently established a new career as a community connector, which she believes is her true calling. During the 2020 lockdowns, she helped facilitate three online money courses and set up a food-share programme with a zero-waste ethos. Securing a premises, drivers and volunteers, she arranged to pick up food from local supermarkets at night and then prepare it to be given away the following morning.
"I am passionate about helping others out of financial crisis…As I draw alongside people, I begin to see the truth of their individual struggles. I have made many referrals to the local CAP Debt Centre for these people to receive the help I did and, in turn, set them on a more hopeful path, free of money worries and anxiety."
CAP Scotland recently launched its new #BreakFree campaign to encourage those with problem debt to engage with its free debt help services. If you're struggling with debt and need some advice, visit CAP.
Premier Lifeline is a national, confidential helpline offering a listening ear, emotional and spiritual support from a Christian perspective. Premier Lfieline is open from 9am to midnight all year. If you would like someone to talk to and pray for you, call Premier Lifeline on 0300 111 0101.