Julie McAddock is the co-founder of Street Connect, a charity that offers hope to those battling addiction. Here she shares her personal story of transformation from being trapped in the depths of addiction with her children in foster care, to complete freedom through Christ.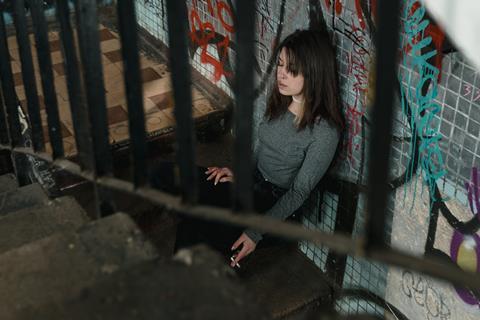 My early life was happy. One thing I liked about primary school was the assemblies where we would sing songs about God. I believed that Jesus died on a cross and came back to life, but I was never sure why or how that affected me.
I started getting in trouble and as I headed into high school my taste for trouble grew. I started smoking, stealing and drinking. I didn't like who I was and struggled to see where I was going in life. Eventually I got expelled. At age 15 I found out I was pregnant. I was so scared. Zoe was born six days before my 16th birthday. I loved her and wanted to be a good mum, but it didn't take long for me to start drinking again.
Life continued in a downward spiral. I ended up in homeless accommodation. People would come over, and we would drink and smoke weed. At 17 I had my son Marc. I loved my son but felt incapable of doing the right things. I had post-natal depression, though only now can I look back and recognise it for what it was. I tried to stop drinking and taking drugs but when I was sober all I ever thought about was getting drunk or taking some tablets.
I was in a relationship with a guy 12 years older than me. I remember trying to act hard. We got on to the topic of heroin. I said that the only thing stopping me was my two kids. After a party; he produced heroin from his pocket, and I tried it that night. From that moment I was hooked. My drug use increased, my children ended up in foster care and my life spiralled out of control.
After a party; he produced heroin from his pocket, and I tried it that night. From that moment I was hooked.
At one point I got clean to get my children back. I had fallen deep into darkness, but I missed my kids so much. I remember crying at nights wanting to be with Zoe and Marc. Wanting to be a good mum. I promised them that one day we would be together, and we would go to Disneyland. The social workers said not to say things like that; not to give them false hope. I was not allowed to hope either. I felt chained and trapped. I was stuck in a place of brokenness and cried out to God.
I started going along to an outreach café, where people were singing songs about the lamb that was slain. The thing that really spoke into my heart was when a man shared how he was bound by chains of sin. At that exact point I understood what was wrong with me. I had a sin problem. I went for prayer that night. From there I made my way to a Teen Challenge Centre in Wales. I remember being so afraid. I didn't have much but giving up what I had was hard. I would not see my kids at all. I'd be somewhere that I didn't know. But I knew if I did not go I would die.
I arrived at the centre in June 2009. A sense of peace came over me. I had to detox from the drugs, but for some reason it didn't seem as bad as previous times. I was given the opportunity to breathe; to figure out who I was and what Christ had done for me - that he had died on that cross for my sins; that I no longer had to carry them; that I could exchange all my guilt and shame for his love. I experienced being born again. I was baptised and my whole outlook on life changed. God placed new desires in my heart. I wanted to get married. I wanted to work. Not only did I want to do new and good things, but I now had the power to do them. I was forgiven and free through what Christ had done for me.
I was given the opportunity to breathe; to figure out who I was and what Christ had done for me.
The Bible says: "Therefore|, if anyone is in Christ, he is a new creation; old things have passed away; behold, all things have become new." 2 Corinthians 5:17. Street Connect started in 2013, the year that I got married. Ricky and I had a burden to reach out to people trapped in addiction. We wanted to share that there was hope and that they could get free from the life they were in. The Lord has really blessed the work, growing it from strength to strength. When we started as a drop in café doing outreach in the City Centre of Glasgow, we never thought Street Connect would grow to the size it is now.
God has not only saved my life but completely transformed it, showing me that anything is possible when you have hope. I was saved from my old life to help and encourage others. And I hope my story can encourage you.

Julie McAddock is the co-founder and Operations Manager at Street Connect and has a heart for people and seeing them set free from addiction and related issues. Julie is currently working on the development of our new women's retreat, which will be a place where women affected by addiction can be supported in a secure and safe environment. Julie lives in Scotland with her husband, Ricky, and children.