Dame Deborah James has died of bowel cancer at the age of 40. Here writer Lauren Windle, pays tribute to the tireless campaigner and recalls the one eventful evening that they worked together.
When it was announced that Bowel Babe Deborah James was going into hospice care I thought about writing a piece on my experience of working with her. I decided against it. No one likes that person. The one who jumps in to claim proximity to someone who's getting a lot of attention. The one who claims a famous footballer is "their mate" because they were four years below them in the same school.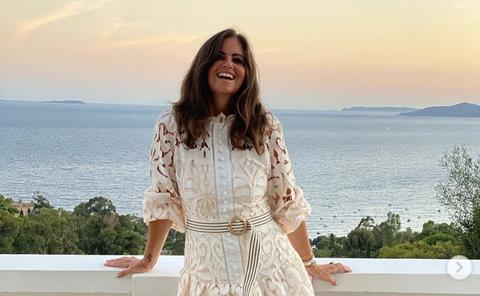 For the record, and so no one who knew and loved her reads this and thinks I'm an idiot, I didn't really know her. We weren't friends. We spent the evening working on some video content for a tabloid newspaper. Afterwards I followed her on Twitter, and she didn't follow me back.
But even after the Twitter snub - to be honest I don't tweet anything noteworthy anyway - I just loved her. I first heard of Deborah in 2016 in a meeting with my then editor-in-chief at The Sun. He told me his friend, an incredible woman, had found out she had bowel cancer. He said he'd offered her a column writing about the #ThingsCancerMadeMeSay. Her column flew. People loved it and loved her. She was honest, brutally so, and she wasn't embarrassed to address taboos and traditionally embarrassing topics. She spoke about her poo and her bowels and the treatment she underwent to try and beat the deadly disease. Every step forward was celebrated, and every set back was collectively mourned. She spoke about death, she spoke about her family and her children, she spoke about never knowing which would be her last Christmas.
My editor-in-chief told me his friend, an incredible woman, had found out she had bowel cancer.
A year or so after she started the column, I was casting for a video. I needed four women to answer questions about their dating lives twice, once before and once after having drunk wine. I honestly wish it was something more appropriate for a tribute in a Christian magazine, but sadly, that was the subject matter. I had recruited three people but needed one more. On finding out that I was short a woman (goodness knows who grassed me up) the editor-in-chief came over and said: "I want you to get Deborah in for that. She'll be brilliant."
I booked Deborah although I slightly resented having to work with the bosses' mate's beady eye on me. But she was incredible. She burst into our studio in a flurry of smiles and laughs. She joked with our crew and immediately befriended the other women. She turned the green room into a party, insisting on music and dancing round the room. She laughed so loudly and wanted to know all about the others on the shoot. Her footage was both uplifting and hilarious. We had to censor some of her more outrageous comments - rare for a tabloid. She was just fun and kind and bursting full of life. I remember when she told the other women about her diagnosis. It didn't come up till hours into the night. But she spoke about it with hope and defiance. Nothing was going to stop her wringing every ounce of enjoyment from life. She was desperate to go on Strictly Come Dancing.
She laughed so loudly and turned the green room into a party, insisting on music and dancing round the room.
Since then, every time I saw her on Lorraine or any other TV show, I thought about that night. When I saw she'd started receiving palliative care I Googled to find out if she was a Christian. I really wanted her to know Jesus. Every time someone I like, or thought I would have liked if we'd met, passes away, I scour the internet for any trace of faith left behind in their digital footprint. I find it too hard to think that someone with such kindness and compassion and zest for life, wouldn't be in heaven.
I felt reassured when I found this. In one interview Deborah had said: "I was very much a practising Catholic. I still have faith, but since I got cancer, I find it very difficult to go inside churches. I'm in awe of beautiful cathedrals but I'm also really unnerved by them. Since I got cancer, I've felt really angry towards faith. I'm so angry about… the heartbreak it will bring to my family [and I think]: 'If there was a God why would they do that to them?' I have faith, but I just can't see it day-to-day at the minute."
I'm encouraged because these aren't the words of indifference but of wrestling and seeking and hurting. They're natural and relatable and modelled in the Bible. We will never know what happens to people at the very end of their life, what's in their heart or what God says to them in their final hours. But my prayer is that Deborah knew his peace and comfort and that she wasn't scared at all. I pray that she's with him now and that her suffering is over. And I pray that we all get to dance with Deborah, only this time it'll be in God's green room.

Lauren Windle is a journalist, author and presenter who focuses on faith, recovery and love. Her debut non-fiction book Notes On Love: Being Single and Dating in a Marriage Obsessed Church (SPCK) is out now.
View full Profile