Karen Young shares candidly about the excruciatingly difficult journey her family is currently on, and reflects on what she has learned about those moments when God says: "Not yet."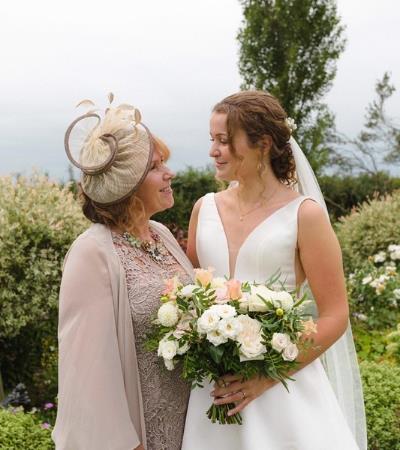 Hannah graduated from Bath University last year with a first-class Master's degree in Chemical Engineering. She met Rob in the first week of university and they quickly became best friends. They married in August as soon as possible after finishing their studies, despite the COVID-19 restrictions. They both secured graduate jobs that started after their honeymoon in September and had a promising future ahead.
Life looked perfect.
Then, on the morning of Sunday 10 January, Hannah suffered a catastrophic bleed to her brain. Her chances of surviving the initial surgery were negligible and, if she did, we were told that she would be brain damaged and profoundly disabled. Experts reiterated to us that the Hannah we know and love will not be returning.
We were utterly devastated and shocked to the core. We sent prayer requests through our church family and on social media. A zoom prayer meeting was set up for the next evening, which was attended by over 800 people. Zoom calls are still running on a daily basis and we have followers across the world joining us.
Sustained in the painful waiting
Days turned into weeks then months. I have to ask God to give me strength on a daily basis, taking one day at a time. Sleep can be fitful and often disturbed and I find myself waking and crying out to God. It can feel like living in torment. Yet I can say that this journey has been a life-changer too. The Bible is no longer just words to read – the words mean so much more in my suffering and pain. I relate to the psalmists in their cry of "How long O God?". But I also know that he is a healing God, he is willing and able and believe that Hannah will be restored to our family and Rob.
I do not understand why it is taking a long time when it could be instantaneous, but there is joy in seeing the family seek God like never before. Our eldest daughter would not be comfortable saying grace at mealtimes six months ago. Now she is leading the zoom calls often and is a constant encouragement to me.
Some days are harder than others. The times I hold Rob or our other daughters in my arms as they sob their hearts out – we all miss her so much. Yet God has sustained me through it. I feel such a deep, inner peace. It is like an ocean, with huge tumultuous waves crashing on the surface, but many layers deeper down those waves turn into calm and serenity on the seabed.
Waiting patiently for the Lord
God said to me in a dream: "It is done" and I have to hold onto this regularly and remind myself of who he is and his promises to me. I have determined that I will continue to praise
him in the waiting. I can feel let down and sometimes abandoned by God, but I know it is OK to rant and get angry with him. When I don't know what to pray I turn to the Lord 's Prayer. He will not fail me. Hannah is safe and loved even more by God than me.
God's mercies are new every morning. This truth has been a lifeline and I make a conscious effort to find a new mercy each day on my morning dog walk. I have been blessed often by seeing different things in creation as an indication of the love of God for me and Hannah. It is as though my eyes have been opened.
I have not seen the miraculous healing in Hannah…yet! We are seeing small improvements since she has been in the rehabilitation hospital. She is a fighter and has defied the odds already, but we have a long way to go – unless God decides otherwise.
It is so comforting to know that I can surrender and yield to his ways, which are far greater than mine. So if you are in a 'not yet' situation you are not alone. God cares – deeply – about your pain and he is at work. His promises are true.
Image of Karen with her daughter Hannah on her wedding day