Maxine Hallett reflects on her journey towards God, and the sanctuary she now calls home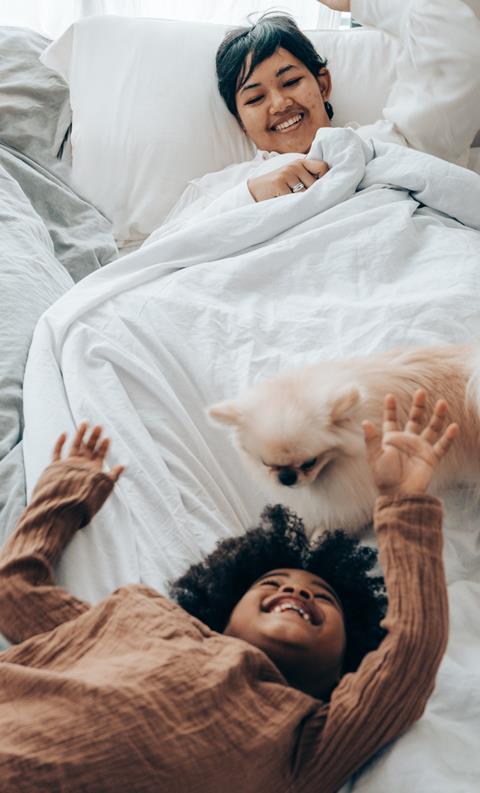 Home to me means feeling comfort, being welcomed – a safe place. Home is somewhere that my heart yearns for when I am away, a place that has rooms full of laughing children and the snores of a dog. It provides warmth on my face as I open the front door on a chilly night. At home, I can enjoy being in my pyjamas and having a hot chocolate on a lazy Sunday afternoon. I can truly say that I am blessed to have a place to call home. I thank the Lord every night when I lay my head down to sleep for the safety that I feel within my four walls. But, like Solomon's wise words in Proverbs 14:1 (NLT): "A wise woman builds her home, but a foolish woman tears it down with her own hands." I was that foolish woman for many years.
On the rebound from my parents' divorce, I became a delinquent teenager, reckless in my actions and determined to create havoc and destroy the new family home I felt was forced upon me. I lashed out and hurt both my mother and brother emotionally and sometimes physically. My behaviour spiralled out of control; I was pushing all the boundaries, staying out late, taking drugs and constantly running away. My abusive behaviour was soul destroying for my family. In my last year at school, I truanted regularly, failed most of my exams and in the summer before turning 16 I left school and moved into a squat.
Moving around from Cornwall to London and then on to Kent, I lived in 16 different places. I moved because of broken relationships, trouble catching up with me or because I was evicted. I kept telling myself that a fresh start and new beginning was all that I needed. However, I never had the foundations of a happy childhood home to work from because I had been so busy destroying it. I learned how to escape, as well as to run from problems, from myself and from anyone that got too close. I would plan my getaway without much thought and run straight into the arms of more danger, difficulties and uncertainties. These very poor survival techniques carried me through adulthood, motherhood and being a wife. In the house that I lived the longest, memories filled the walls in every room of losing my children, my two failed marriages and the destruction caused by my drug addiction. Everything that I had hung onto I had manage to demolish. It was an empty shell in which I lived in constant fear of my past catching up with me again. I needed a new life and a new beginning, which, through prayer and walking with God, I could finally see a way forward for.
Eventually I found a place that I tentatively felt I could just maybe call home. A home that was close to our local church. This was God's plan, as it was clearly the next step in my journey of faith and in my recovery. However, everything that could go wrong did on the day of the move. Even so, I felt calm and at peace and was thankful for my new friends at church who rallied around to help me. Psalm 5:7 (TPT) says: "But I know that you will welcome me into your house, for I am covered by your covenant of mercy and love. So I come to your sanctuary with deepest awe to bow in worship and adore you." I asked one of our ministers to bless my home and knew, as soon as I began walking round with her, that I would never be scared and alone again. A positive energy filled the house as she blessed each room. God was already working on how I could serve him and minister in my local community. I started a home group. I invited groups from church round to share meals. I spent time getting to know the neighbours and really felt part of the community that is on my doorstep. No longer am I hiding away in the hope that I am not recognised. I have a firm foundation in God and a home that I can't wait to get back to each day.
Dear Lord, our Father, we run into the safety of your arms without a second thought because you are our home, our comfort, shelter and security. We can wear your love like a snug jumper and breathe your presence deep into our lungs. I pray that your presence is felt as a tangible feeling of peace by those people that are not feeling safe and secure in their homes. I pray that you watch over them and keep them safe Lord. Let them find their sanctuary deep within the safety of your heart. Amen.