Hope Virgo has some advice on reaching out to people in practical ways so that we fulfil God's commandment to love everyone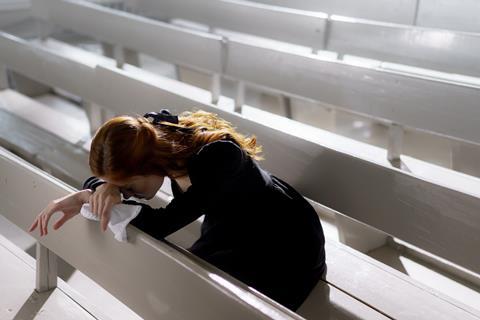 We all have those people we'd rather avoid, don't we? The ones that are slightly irritating, maybe a bit too broken, a bit too hard to love. Those people that when we walk into church, we would rather be five minutes late than get stuck wedged into a pew with…or maybe we are that person? That person who feels too broken and, however hard we try, we can feel stuck. I know I felt like that for many years, and still do sometimes, attending a church – afraid of people talking about me, or afraid they would see how 'wrong' I was in myself. And yes, before you ask, I was that person who enjoyed wearing a mask to church because it helped me feel safe; I could protect myself from others.
So, when the Bible tells us we should love everyone no matter what, what does this really mean when we are supporting those with mental illness?
Everyone should be able to go to a place of worship exactly as they are – happy, sad, broken or struggling
Firstly, mental health is such a buzz phrase currently, and yet it is still only talked about in certain ways. We are happy to talk about depression, anxiety, maybe occasionally addictions. But we don't talk about the harrowing reality: people's teeth decaying from purging, those people who can't get out of bed, people who don't wash, clean or tidy, people who live with so much shame around their behaviours that they slowly disappear…I could go on. But if Jesus tells us to love everyone (John 13:34-35, 15:12), surely we need to be creating a space where people affected by any mental illness can thrive – no matter what?
Every individual has a unique experience
A 2007 survey found that mental illness affects one in four people a year and, while anyone can be affected by mental illness, there are some people who have a higher chance of being affected. These include young women, black people and those who identify as LGBTQ. Of course, since 2007 we have seen a huge increase in those struggling – particularly during the last few years with contributing factors such as COVID-19, the cost of living and the impact of social media. The NHS 2019 Health Survey showed that 16 per cent of adults screen positive for an eating disorder, and 16 per cent of adults have depression.
What we often fail to remember when we are thinking about mental illness, is that it affects people in very different ways. Even when someone is being what we view as 'difficult', we must also remind ourselves that it isn't a choice.
Feeling unwelcome
I sat down with Christiana Taylor, a gay Christian who has struggled with her faith and sexuality for many years. She is in recovery from bulimia and working as a nurse in London.
Christina told me: "I grew up going to a Church of England school and church. I was told that for church we always wore our Sunday best, which now I think is such a shame as I really feel everyone should be able to go to a place of worship exactly as they are – happy, sad, broken or struggling. I knew from a young age that I am gay. I was petrified because I had grown up in a society and church that only welcomed you if you looked and behaved a certain way. Cue massive shame; I wondered how I could change myself and even considered conversion therapy in my early 20s.
No one had time for me, and they didn't realise how bad things were so dismissed my needs
"As I became more confident in my sexuality, I found it impossible to find a church that truly welcomed those living a full life as a gay woman. Single people with same-sex attraction were often 'welcomed' in a cloak of shame and you knew they [those in the church] had the eventual aim of 'healing' you."
Christina felt unable to share her bulimia with her church as she felt too ashamed to access support: "The church never spoke about or acknowledged big issues like mental illness so it felt like something that didn't happen to Christians."
Christiana walked away from church for many years and still carries some of the shame from her early church experiences. She is still on the lookout for a church that will really welcome her with her mental-health issues and exactly as she is. A place that will encourage her, help her rebuild her faith and enable her to build a community around herself that is rooted in faith, love and acceptance.
Christina's experience sadly isn't a unique one. Dr Chukwuemeka 'Chuks' Nwuba works as an eating disorders doctor in London, and commented: "You don't need to work in healthcare, like I do, to help those in mental need. In fact, if there was only one place that I would expect those undergoing mental-health challenges to feel welcomed and supported, it's the Church. Unfortunately, often it's the worst example of such."
The need for basic training
Annika got in touch with me through my mental health campaigning. She has a real interest in the Church and mental health, having had to navigate some difficult times herself. She told me: "I have encountered mixed experiences related to my mental health in church. There have been some incredibly compassionate and supportive priests, who sometimes went above and beyond to check in and reach out. Unfortunately, this isn't always the case across a church family. Particularly, if you're a 'doing' person and a church is small, people don't have time to check in or time to listen if you need to talk.
"I am still healing from when I tried to reach out several times for a listening ear last year when really struggling; I eventually ended up in a mental-health crisis. No one had time for me, and they didn't realise how bad things were so dismissed my needs. I highly recommend key pastoral teams in churches at least get mental-health first-aid training and listening training.
"As I've also had both good and bad experiences related to prayer around mental health, I suggest caution, sensitivity and appropriate training in this area, as those struggling with their mental health can be in a vulnerable position and also susceptible to further damage through misuse of prayer. When asking 'How are you?', be sure you're ready for a response that isn't 'I'm fine.' Some people go to church for a quiet space to be, so read the signs and respect people's boundaries and personal space, while always being friendly. If people say 'No' to doing something, there's usually a reason!"
Showing love in practical ways
So to make people feel included in our churches, is it as simple as just following Jesus' commandment to love? And when I mean love, I mean the type that stays strong through the storms of life.
I believe that for those who have felt judgement from the Church, we must do more to proactively show love. This might mean changing up how we offer pastoral support or having a no alcohol policy, for example.
Dr Chuks summed it up well when I asked what churches should do: "It sounds harsh, but the Church can read its Bible a little more. There are umpteen descriptions of people in the Bible toying with mental challenges. By keying into these examples, we may have more grace for those in need. We can learn more about what it means to truly love. Jesus is our ultimate reference point on this one. Everywhere Jesus saw someone struggling, he was moved deeply. Can we say we respond in a similar way when we see someone in mental distress?"
We need to be much more aware of mental illness – and not just the parts that are easier to talk about. We need to be welcoming to everyone, no matter their background, gender, race, sexuality or age. We need to notice when people stop turning up to church and reach out to them. We need to step into the uncomfortable topics and identify where we can offer support.

Hope Virgo is an author and multi-award-winning mental health campaigner for people with eating disorders. Through her talks, Hope helps young people and employers (including schools, hospitals and businesses) deal with the rising tide of mental health issues. She has published three books including bestseller Stand Tall, Little Girl: Facing up to anorexia (Trigger Publishing), documenting her own eating disorder journey. Hope's third book, You Are Free (Even if you don't feel like it) (SPCK) tackles issues around mental health and faith. In 2018, Hope launched #DumpTheScales, calling on the government to stop using BMI as the primary measure to determine whether someone with an eating disorder qualifies for NHS support.
View full Profile