Jackie Michel spoke to Rachel Pearce about her vision to clothe the female form beautifully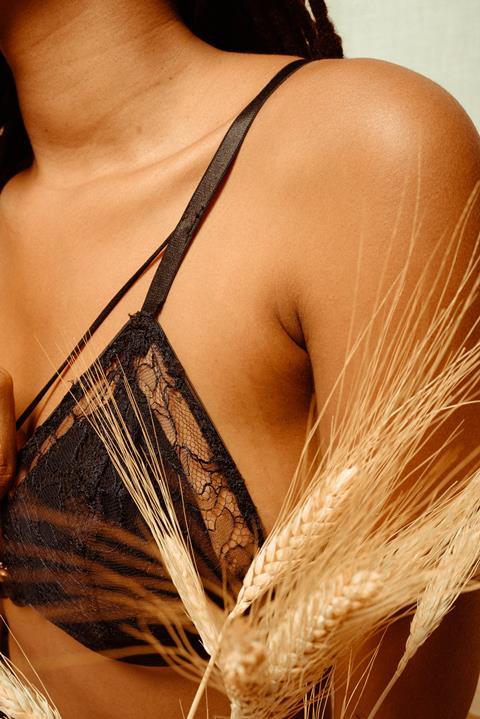 Where did the inspiration for Bare Reverie come from?
I started working on my plans for Bare Reverie in 2015, after a year of marriage and not seeing lingerie on the market that fit my aesthetic. I wanted pieces that were feminine, comfortable and airy, but most of what I saw wasn't my style. I had also been working in the clothing industry as a technical designer and wanted to put my knowledge and efforts into designs I truly believed in; not just supporting someone else's vision.
Why do you feel it is so important to use organic fabrics in your collections?
In my corporate experience, I saw how much waste was produced by the clothes we were making. I was also aware of how fast-fashion and consumer madness has resulted in piles of clothing made of synthetic fabrics around the globe that will not break down easily. I didn't want to leave my love and skills in fashion behind. Instead, I wanted to be the change and create a brand that would operate differently. I noticed a shift in how people were more aware of what they consumed and how they prioritised self-care and their bodies. Lingerie is the closest piece of clothing we wear next to our skin, and we should strive to keep the items as pure as we try to keep our bodies. If our bodies were created from this earth, why shouldn't our clothes be?
How do you want your customers to feel when they wear your lingerie and loungewear?
My hope is that all the Bare Beauties (my name for our customers!) feel comfortable in the pieces. Lingerie sometimes feels stuffy, with boning and wires poking us in various places. When garments are difficult, they are not as much fun to wear. I want women to be at ease and their bodies to be free of those sorts of constraints. Life is already complicated enough.
What are your bestselling items and why?
Starting out, robes were doing the best. At that time, it was popular to buy matching robes, take photos in them with your girls, especially bridesmaids, and post them on Instagram. Now I'm seeing that the loungewear sets have done well since women can transition those pieces from lounging at home to wearing them out with jeans to dress them up. We're introducing a basics line and the high-waist panty in bamboo cotton has been a comfy favourite.
Why is body image so important to you and how do you think it influences our sense of identity?
The way we see ourselves pours out to how we view the world and others. It's important to me, especially in this industry. The combination of brands marketing sex rather than the garments, and lack of representation in the fashion industry, has left many of us questioning our image and identities. I am making it my business to choose models who represent my customers and strive to add more sizes and pieces that will help us embrace our natural selves.
What would you say to those who are constantly trying to lose weight or comparing themselves to celebrities, always feeling they are not beautiful enough?
I would advise people to take care of themselves, whether that's enjoying a pastry or lettuce wrap. We know when our bodies feel good, and that may not always translate to what scales or beauty standards have to say. Like fashion, those standards are always changing. It's important to remember that if we continue to chase what celebrities are doing, we won't catch up, since they are dealing with their own insecurities and pressures as well.
Why is it so important to have a Christian voice in this field?
It's not every day you find a Christian designer behind a lingerie brand. I think it's important for us to shine a positive light on what can typically be seen as raunchy or shameful. Our bodies have been created beautifully, and it's OK to celebrate that.
How do you think God wants us to see ourselves, and particularly our bodies?
I believe God loves us, and our bodies aren't excluded. So much so that God didn't even see the need to create our bodies and then send us off with underwear. He created us in our purest forms. When we look at our bodies and what they do for us each day, it's truly marvellous.
Have you always loved your own body?
I've always had my parents and loved ones affirm that I am a part of God's good creation, but it took some time for me to believe it myself.
What one piece of advice would you give your younger self if you could go back in time?
Oh wow…I'd tell the younger me that I'm on the right track, even though I have no idea what I'm doing, and that what I'm gifted with will serve others somehow. It's so important for younger people to know that there is space for them and all that God created them to be.
What do you enjoy doing in your spare time?
Surprisingly, I like to spend time away from most things fashion-related in my spare time. I love riding my bike and challenging myself to outdo my speed and mileage. I also find there is something grounding about gardening. So far I've grown carrots, beans, tomatoes, blueberries, aloe, pineapples, greens and various herbs. I cherish my devotional and journalling time as well as spending time with my husband, family and friends. The pandemic was confirmation of just how precious that time is.
Giveaway!
Bare Reverie is offering a Woman Alive reader the chance to win a Louise Ruffle Robe Images can be found at: barereverie.com/shop/louise-ruffle-robe To be in with a chance of winning, simply follow @barereverie on Instagram and let the company know you are a Woman Alive reader in the comments or via direct message.