Colourful, distinctive and bold, Lorinda Lloyd's earrings and pendants are a statement of unique beauty and a testament to God's transformational power for many women who wear them, including Lorinda herself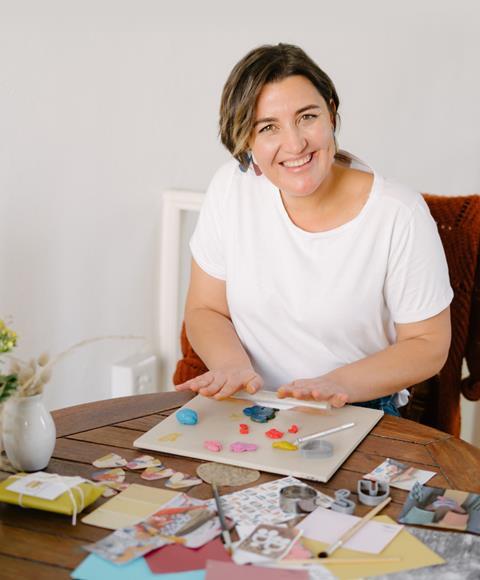 If you had met me when I was 20 and told me that 18 years from now I'd be running my own creative business, with my picture published in a magazine, I would have laughed! Back then, I would have deemed all this utterly impossible.
Paralysed by fear, I was unable to recognise and celebrate who God had made me to be. I believed lies about myself that were contrary to his truth. This was my reality for many years.
Even as a child I had a very fearful mindset. I'd weigh up the consequences of every action and decide it wasn't worth the cost. Some adults in my life were overly protective, which resulted in me becoming extremely shy and risk averse. By the time I was 20 I had retreated; building internal walls to hide from the world.
Twenty kilograms heavier than I am now, with acne and eczema, I had very low self-esteem. There are no pictures of me back then.
God intervened when I was 25, appearing in the midst of the solid walls I had built. "I like you", I heard him say to me. I knew I was loved by him, ever since I had come to faith at the age of twelve. But this was different. I knew he had to love me – as he cannot separate himself from love – but now I was hearing that he liked me, that he enjoyed me, exactly as I was. This truth brought a physical change to my body.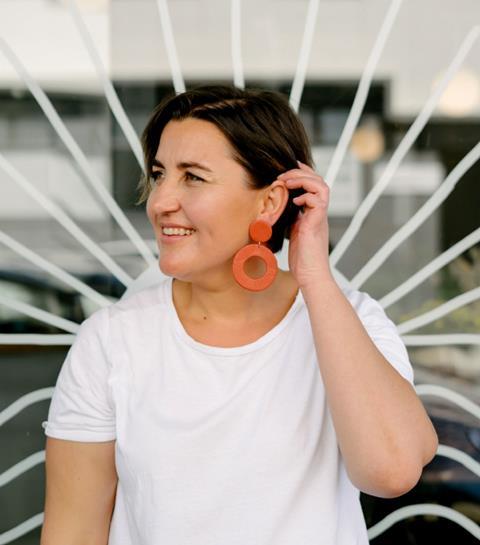 My eczema cleared up and I lost a lot of weight without trying. Internalising God's truth was so healing it had an external effect. I was living the reality of 2 Corinthians 3:18 – I stood before his glory, with my face unveiled, and I was transformed.
As I journeyed with God in accepting myself, he gently led me to confront a multitude of other fears. I moved to Cape Town in my 30s and began to face many situations I found scary. I felt the Lord say: "If you stand, I will run at fear." So I stood. I stood in the face of conflict.
I stood in new, unnerving situations. I also began to stand up for myself, creating healthy boundaries that placed value on my own needs as well as the needs of others – something I found so counterintuitive. And somehow, with every brave choice I made, it seemed that the Spirit unlocked creativity in me.
There were still so many lies I needed to let him rewrite. For decades I had believed that I wasn't creative, despite really loving art. I remember sitting in an art class aged eight. The teacher said to the boy next to me: "Donovan! You are going to be an artist one day!" I chimed in: "Me too!"
She made eye contact with me, and then walked away. I wasn't acknowledged in that moment. I subconsciously concluded that I must be wrong – I wasn't a creative. Art was not my 'thing'.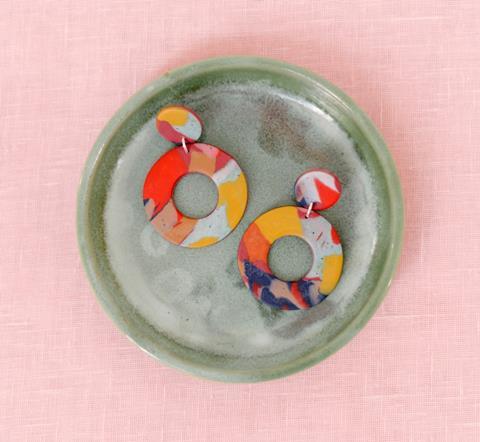 As a child I adopted this untruth, and it was through a child God revealed his truth. In 2018 I was working as a PA for a family in Cape Town. Their seven-year-old son approached me one day, asking if I could make a TV cartoon character out of clay. I hesitated. "I believe you can do it," he continued, "believe in yourself!" So, I held the clay in my hands and sculpted the figure. It was good, I had to admit it!
Days later, God nestled in the next piece of the puzzle. I passed an amputee woman selling jewellery at the traffic lights close to home. My heart broke for her and the hopelessness of her situation. I cried out to God. I wanted to help, but what could I do? Then I heard him ask – as he did to Moses in Exodus 4: "What is that in your hand?" Clay. I had clay in my hand.
I started making jewellery out of clay and within a month it was a hit. Bold, colourful earrings and pendants, each pattern and combination of colours unique. I loved making them, and it seemed that people loved wearing them! Four months later, I had a brand and a name – Oker (ochre in Afrikaans).
My business was reflecting all that God was doing in my heart. I was no longer afraid to be seen; finally, proud of who he had made me to be. I was yellow in a world of blue.
I started posing for brand photoshoots. It was utterly terrifying but I did it! I think one day my gravestone will read: "It scared her, so she said yes!" A fundamental aspect of my business right from the start has been forging honest connections with people, and true connection requires vulnerability. No filters. Just me; finally standing out from the crowd as the woman God has made me to be, and inviting others to join me.
Despite the many hurdles I encountered in those early years, the greatest challenge was submitting to a season of rest. It was 2021 and I was struggling. For me, there was more uncertainty and anxiety to contend with than in the initial lockdown of 2020 – the world repeatedly opening up, then shutting down again. I was deeply tired. The Spirit was confirming that I needed to stop, but it was a battle to let go and be still.
My business was a gift, and I took it so seriously. I was desperate to be a faithful steward yet, unbeknown to me at the time, stopping turned out to be the most productive thing I could have done.
During this slow season, my path crossed with a lady running an NGO for survivors of human trafficking. She taught them creative trades, empowering them to set up their own small businesses.
She had been praying about how to expand their repertoire of products, and simultaneously I'd been asking God how I could best use the clay and tools that currently lay dormant in my cupboard. Our encounter was God-ordained.
I started teaching the women how to make jewellery out of clay, and I was reminded of the woman I'd seen at the traffic lights three years before, and God's promise to me that my business would bring my heart alive while also helping others. Our collaboration has led to an unforeseen expansion of another brand: Not I But We.
"What do you think God dreamed about when he created you?" a friend asked me recently. I think his dream was simple – he saw me and dreamed that I'd love him, love others and love myself. This is my calling; to see, absorb and reflect his glory, in all things.
We cannot separate ourselves from him – he is no longer an add-on. He is in my conversations, my ocean swimming, my resting. We need to allow ourselves the space to find what makes us come alive, refusing to stay in the boxes that the world, and we ourselves, have drawn around us. It requires courage to break free and forge new paths for ourselves, but when we're found in him he makes a way.
I am a living testimony of his goodness.
Find Lorinda on Instagram @oker.art and discover more about her social enterprise collaboration at notibutwe.com