Veronica Zundel shares her memories of the slightly alternative and often criticised Christian festival, which turns 50 this year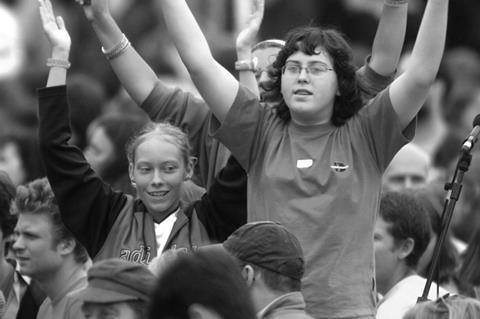 This month boasts the 50th anniversary of the Greenbelt festival of arts, theology and faith. I first went in 1976, as an interpreter for a German band with whom I was on tour for three weeks (never say I haven't lived). I loved it from the start, and though I stay offsite (I don't camp) and haven't been every year, I must have been to at least 40 of them. During its history, attendance has waxed and waned, there have been many moments when the whole thing almost closed down, and it's often got through by the skin of its teeth (no big rich churches helping to fund it – just donations alongside the entrance fee).
At the time of writing I'm not sure I will be there this year. Ageing, the after-effects of chemotherapy and side-effects of blood pressure medication, make the outdoor festival life a bit of a stretch for me. If we do go, it will be for just two of the festival's four days, and we'll stay in a fabulous little Art Deco hotel, which used to be a 1930s airfield, 16 miles away. Festival lite, you might say.
Surrounded by controversy
Greenbelt has come under fire many times in its 50-year history. There was the year when a practising witch was invited onto a panel discussion, perhaps in a spirit of debating with the world's spirituality. And the year when the notorious Nine O'Clock Service from Sheffield did a gig, with young women in black bikinis cavorting at the side of the stage on an exceptionally cold August evening. I felt particularly uncomfortable about that one and was justified in my fears by the ensuing sex scandal!
Every year you will hear some voices, who probably haven't attended for decades, asking: "Is Greenbelt still a Christian festival?" Well I can assure you it is. The fact that well-known atheists such as Brian Eno have been interviewed - he was very good, and he's coming back this year - does not for a moment invalidate its Christian ethos. After all, Paul went among polytheists in Athens and sought to debate with them (see Acts 17), and no one is suggesting Paul was not a 'proper Christian'.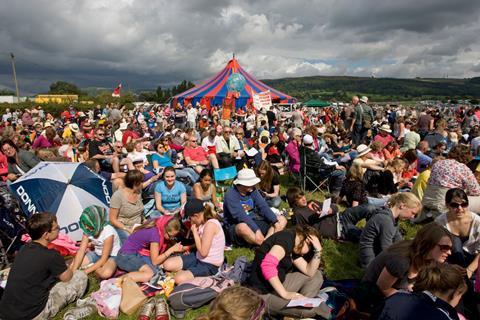 What's there – and what's not
At Greenbelt you will find worship in half a dozen different Christian traditions, from Franciscan to Goth, not to mention the ever-popular 'Beer and Hymns' session in the bar. You can experience Christian art and music from the predictable to the experimental. You will find safe spaces for LGBT+ Christians to share their struggle to live an honest and Christian life. There are speakers from all walks of life talking about ministry and politics and child-rearing, and public figures of interest to Christians setting out their political stall and facing challenging questions from a thoughtful Christian audience. There are also stalls promoting charities and campaigns, and others selling hippy-style clothes that nowadays only come out at festivals, and you will find teenagers of a type you thought they stopped making in 1977. As at many other festivals nowadays, there are also plenty of 'wrinklies' who have been attending for the whole 50 years, some of whom even still camp and brave the Portaloos.
"I'd rather be at Greenbelt, than be at any other big Christian event"
What you will not find: any speakers promoting a 'complementarian' view of gender in which women basically have only one role but men can have as many as they like. Nor will you find endless 'worship' sessions in which the same chorus is repeated over and over in the apparent fear that God may be a little deaf (a bit like the worship of the prophets of Baal, methinks…). You will not find judgement of people who happen to be born gay or lesbian, or speakers offering long lists of things Christians don't do. I'm sure other Christian festivals have evolved since I last went to one (and that was a very long time ago) and I might not feel so utterly out of place at them as I once did. But I'd rather be at Greenbelt, running into friends I don't otherwise see all year, than be at any other big Christian event.
There are always, of course, the same questions every year. Is Greenbelt ethnically diverse enough? (No, but it's improving.) Is it accessible enough? (Well they try very hard given the limitations of a greenfield site.) But as to the recurring question: "Is Greenbelt still Christian?" I'd reply again with a resounding "Yes, more Christian than ever." And I think I've just persuaded myself to go again.

Veronica Zundel is an author and regular contributor to Bible Reading Fellowship's New Daylight.
View full Profile