Lauren Windle caught up with Christianity's poster girl for single women, Carrie Lloyd, to ask how she feels about love, life and relationships ten years on from the start of her ministry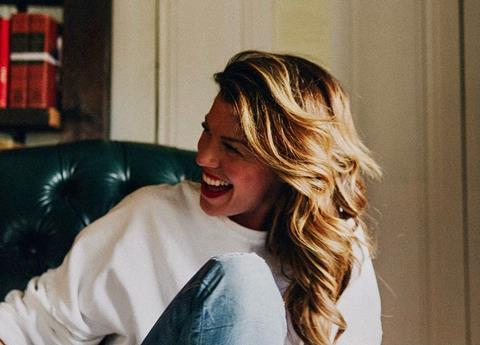 In a community where single women often feel inferior or undesirable, author and minister Carrie Lloyd has spent years pushing back.
Her unashamed message is that single people "are lovable, darling" and she welcomes discussion on tough topics like sex, emotional health and even masturbation. Unafraid to ruffle feathers, Carrie's book The Virgin Monologues (Authentic Media), became a bookshelf staple for Christian women who were relieved to finally read something frank, funny and faith-filled.
Since her first book, Carrie has released another two, presented a popular podcast and runs workshops to help single women thrive. It's clear her professional life is as busy as ever.
Seeking honesty
When Carrie began researching and writing about relationships her own five-year relationship had just ended. She said: "After that I went on this quest to find out what makes a healthy relationship and what makes a healthy, successful marriage.
"It became almost a fascination, an experimental subject. I was looking at the different cultures within Christian dating, and slowly I became a researcher and I fell into becoming the subject matter without realising."
Anyone who's engaged with her writing or speaking, will know that Carrie is – quite literally – an open book and shares candidly the intimate parts of her romantic life. She comments: "I was pretty cautious about what I was involving and I had a whole cabinet of trusted people who read the manuscript [Virgin Monologues] before it was published.
"I did cry the day that I handed it over because I did know that it was a vulnerable piece. And I knew that there would be a day potentially that I would be marrying into a family and there would be a book out there about my past and my porn addiction.
"But I knew that was going to have to be something to take on. I just desperately wanted honesty. I desperately wanted preachers to talk about their struggles. I wanted everyone to realise how human they were and how accessible their faith was."
Reframing herself
More recently Carrie came back from the US where she was a minister at American mega-church Bethel, and she openly admits that stepping back from the Church environment has made being single easier.
She says: "I think especially within the Church climate there was this intense pressure that we need to be married. And then I was becoming a leader and becoming a pastor, and my role was gaining more and more responsibility and with that required more and more trust on my part as a leader. I did feel at times I wasn't as trusted as much as I would be if I was married."
But with the alleviation of that pressure Carrie is now dating a man who she describes as "wonderful" and who she has known of, but not known, for the last 26 years: "I never really gave up dating. But I changed my perception. Before, I felt hopelessness when I wasn't with someone and then euphoria when I was with someone.
"But actually contemplative meditation helped break that. And also coming out of working in the Church environment helped me to be a bit more balanced in my lifestyle. The shame of being single lifted instantly. I was reminded about being single every day at church."
It's not just Carrie's relationship with her single and dating status that's reframed over these ten years, but with every aspect of relationships. She says: "I was pretty obsessed with trying to find the right one. Something changed in my late 30s, when I thought: 'Wow, I really hope that if I do marry I do it for the right reasons, not because I want it to fulfil me or complete me.'
"There have been times when I was very close to just buckling and choosing to settle because of what society must think of me now at 40. But I actually got to a point where, you know what, I feel I'm going to wait."
Finding clarity and purpose
After counselling plenty of couples and taking couples counselling training over in the States, Carrie learned the three core values that build to a successful marriage; mutual respect, the ability to laugh together and the ability to laugh at one another. Simple – but hard to find.
With this in mind, Carrie is clear on what she wants from a relationship and a partner: "I want to be with someone that I really enjoy being around. Quality conversation is my love language. I can have someone very beautiful in front of me at dinner. But if his mind is not playing with me in the playground of this dinner table, then I switch off. That's what works for me.
"I'm also looking for people who are carrying the fruits of the Spirit. Not people who talk about believing it – but people who are living it and carrying it." Regardless of whether or not she settles into that long-term relationship and marriage, the author is set on one thing – her intention to foster and adopt children.
Carrie explains that she's always known she wanted to look after children: "I love the concept of people opening their spare room door to children that never chose to be in foster care system or to be adopted.
"I wanted to wait until I was 40 and if I didn't have a secure partner at that point I was going to go ahead on my own. I remember the night I made the deal with God that if no one showed up by the time I was 40, I was going to start training for foster care."
But her decision to take in children is less rooted in a desire to mother and more in a desire to challenge injustice: "The statistics are ridiculous. I was working in anti-sex trafficking, and I saw that 80 per cent of those involved in trafficking in Los Angeles came from the foster care system. While 50 per cent of homeless people came from the foster care system. We're not doing anything to tackle it upstream."
Initially Carrie was uncertain about fostering as a single person and even asked the co-ordinators if she would actually be helpful without a partner. She was told that plenty of young people have been sexually abused so placing them in a safe place without a man for a while is really helpful.
But Carrie readily admits she wouldn't be able to foster in isolation. She explains that the key ingredient is community and 'wrap around support', something she says she will get more of in the States: "That's why I'm moving back to America to do this. I think the Church culture in America really does help me rise up and follow the things the Lord is calling me to do.
"I found community ready and easy to find in America. I've got friends with a lot of history in the UK, but I know it's not as easy for people in their 40s to have good community and lots of people got very insula with their families in the pandemic.
"I'm certainly terrified. This isn't something I'm ecstatic or really excited about. I'm worried I'm going to forget I've got children because it's just been me for so long!"
So what does Carrie's new beau think of her stepping out into parenthood? "Oh he loves it. He says he wishes he could come over to the States and do it with me. I tell him, he may just do that one day and he should be careful what he prays for!"
Carrie Lloyd is the host of 'The Carrie On… podcast', journalist, author of The Noble Renaissance (HarperCollins), Prude (Red Arrow Media) and The Virgin Monologues (Authentic Media), Patreon writer and life coach. She resides between her homes in California and Lincolnshire, England.