Jemimah Wright spoke to Sotonye Odugbemi about the origins of her business, Daughters of Botany, as well as her deep-rooted faith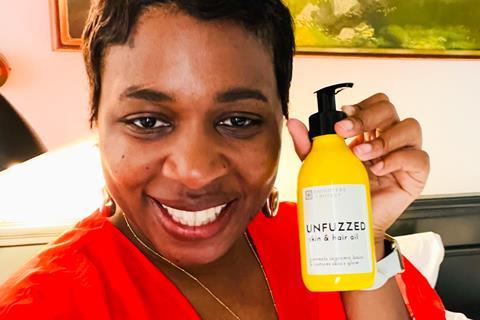 How and when did Daughters of Botany come about?
Daughters of Botany actually started off as The Floral Tea Co, creating herbal teas inspired by my Nigerian heritage. However, in lockdown my husband and I pivoted to skincare because we were desperate for a natural solution for my son's eczema. This led to a whole load of research and testing of botanical formulations until we developed our Rescue & Repair Balm. Since then we've served a growing community of people of all ages [and ethnicities] who need a natural solution to soothe and relieve eczema-prone skin.
Apart from my son's struggle with eczema, I have excessive facial and body hair and this often leads to pesky ingrown bumps. So we developed our Unfuzzed and Debumped products to support people like me who have thick curly hairs that often prefer to grow inwards after shaving, waxing, threading or even laser hair removal.
Where did the idea for the name come from?
I'm the daughter of a botanist, and I spent my childhood wandering in my mother's wild and wonderful garden on the southern coast of Nigeria. So it was only fitting to name our company Daughters of Botany in homage to my botanical heritage.
I love digging deep into memories of African traditions
What was your business / education background?
I like to describe myself as a recovering academic. I have a PhD in cultural memories of slavery in French West African society. In practical terms, this means that I love digging deep into memories of African traditions, and so this was the starting point for the products that we made. We listened to skincare stories across generations and sourced soothing ingredients from the African continent, which now feature in our product formulations.
What were you doing before?
Before Daughters of Botany, I was a teacher – and I still am. I have a portfolio career that involves teaching French part-time in a London secondary school, being a pastoral leader with responsibility for year 13 students, and training new teachers on racial diversity, equality and inclusion. And, of course, I run Daughters of Botany.
Was it a step of faith to start the business?
It was definitely a step of faith to start the skincare side of the business. We had tried so many different creams for my son's skin for nearly seven years, without much success. We had found a partial solution from a natural skincare brand but it still left his skin itchy and raw. When the store closed in lockdown, we were praying for a solution. As I started to research various ingredients and order them online (on our very limited budget), I had no idea whether we would come up with a solution. With each iteration of the product, we saw ourselves getting closer to our miracle as a family. Our faith grew, and when we had our perfect formula, we were blown away by the relief and healing it brought to my son's skin. So when my son suggested that we share the Rescue & Repair Balm with other people, we took another step of faith and did just that.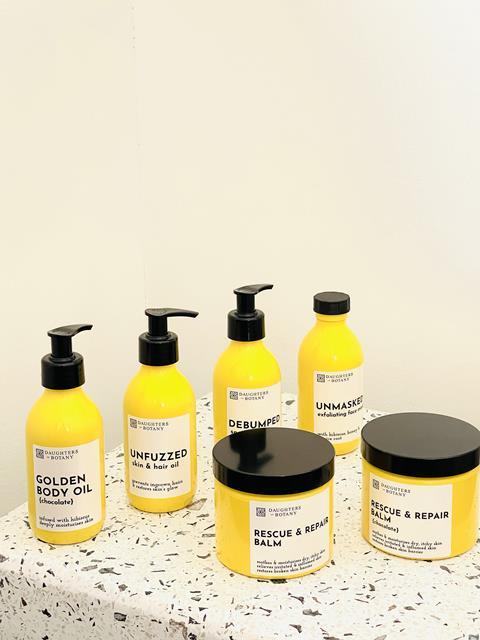 Can you share your faith journey – when did you become a Christian?
I grew up in a Christian home in Nigeria where we had family devotions every day. My siblings and I sang in the youth worship band at church, but I only took hold of my faith when I went away to boarding school and started to explore faith for myself. Since then, I've enjoyed spending time in intimate worship in awe of who God is. I love studying God's word and tracing the patterns of his love and his presence across both Old and New Testaments. That's my absolute happy place, and thankfully I get to share that at my local church. Shout out to St John's Hampton Wick!
What impact has your faith had on your business?
I have seen God work miracles through the natural ingredients – the oils and butters that he has given to us in nature. Also we've seen our 'little cruse of oil' multiply (see 2 Kings 4:1-7) and fill all these jars with botanical goodness that brings healing to the skin of the people that use it. I love to hold on to Revelation 22:2: "On each side of the river stood the tree of life, bearing twelve crops of fruit, yielding its fruit every month. And the leaves of the tree are for the healing of the nations", which echoes Ezekiel 47:12. That verse also talks about the new creation, a perfect world where the leaves of the trees are for healing.
Can you share any stories of how God has inspired you in your business?
God has brought so many fantastic opportunities our way, like launching our skincare at a pop up on Carnaby Street. However, I would say that the one story that sticks with me is receiving a message from the mum of a baby who had been born premature and whose skin was itchy and raw from eczema. Her mum had tried everything, and we were her last resort. We sent her some Rescue & Repair Balm, and, about a week later, she let us know that her baby girl's skin was healing, and the itching was gone. That was definitely God's hand bringing healing to that little girl, and we were thankful to be a part of her story.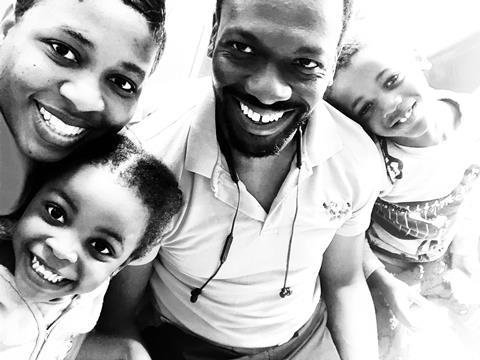 What kind of struggles have you faced?
Knowing when to let go and when to push through. For example, saying goodbye to the tea company was really difficult, but I had that sense that it was time to let go and focus solely on the skincare. On the other hand, there have been times when I wanted to let go, and God wanted me to push through. Running a small company can be tough, and once or twice I have asked God to show me if it was time to close Daughters of Botany. Then I've been startled out of my prayer by a ping on my phone saying we've got an order, and another one and then another one. So I know that I should trust him to grown our community, and like the widow with the cruse of oil I go ahead and fill the jars with our creams and oils.
What would you say to another Christian woman thinking of starting her own business?
In the words of Nike: "Just do it!" If God has called you to business and given you a desire to share your gift with your community, then don't hide your light under a bushel. Skill up. Create. Research. Speak up. Do what it takes for your God-given light to be seen. You never know – you might be the answer to someone's prayer.
We love helping people embrace their skin as wild and wonderful
What are your dreams for Daughters of Botany?
My dream is to see our company and our community grow over time so that it gets passed down to the next generation. We love helping people embrace their skin as wild and wonderful, flare-ups and ingrown bumps included. We want to counter the narrative of perfect skin and encourage people to give their skin and themselves time and space to heal through the wonders of the botanical world.
Find out more and buy products at daughtersofbotany.com
Follow daughtersofbotany
Sotonye has graciously provided a 10 per cent discount code for us – use WOMANALIVE10 at the Daughters of Botany checkout*

Jemimah Wright is Deputy Editor of Woman Alive. She has authored three biographies, and most recently is the author of the historical fiction novel Isabella's Voyage.
View full Profile