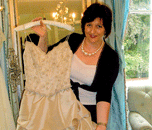 Planning for the perfect day

Gillian Jackson talks to the founder of a new Christian wedding service, where cheap really is cheerful!

Michelle Smith (41) looked comfortably at home in the bright room that is the launching pad for her new business venture in Darlington, Grace the weddings co. The pastel mint and sea-green décor is both soothing and refreshing for her clients. I was meeting a woman who is truly content with the way her life is shaping up.
"Above all, I want to honour God. This is who I am, what I'm about and I want Grace to reflect my ethos and values," Michelle explains. "I believe there is too much emphasis on the wedding and not enough on the marriage. People are persuaded that everything on offer in the wedding market place is essential. I'm going counter culture and hoping to prove otherwise."
Michelle is spreading the news that you can have a wonderful wedding without getting into debt and what better time to do it than in these times of recession?
Her bridal shop offers what Michelle calls "pre-loved dresses". These second-hand dresses are lovingly cleaned and displayed, then professionally altered to fit a bride to be. Included in the stock are several designer labels, such as Jenny Packham and Maggie Sotero. It's an impressive display and word about the shop is spreading.
But it isn't just about dresses. Michelle is full of ideas for original and cost-cutting weddings, and hopes to develop Grace into a one-stop wedding shop. Wedding planning doesn't quite fit the bill; it's a very personal service, tailored to the bride, her family and her budget.
Michelle, who has seven children in what she describes as her bonded family (children and step-children), talks about her prospective clients with affection. It's as if she already knows them and she is full of ideas. She is an advocate of themed weddings, but keen to cut out some of the horrendous price tags associated, in particular, with receptions.
"An afternoon wedding could be followed by a strawberry-and-cream tea, with a more traditional buffet in the evening," she suggests. She is also keen to explore community options: using a village hall that could be dressed as a marquee, or involving family or friends in the practicalities of the wedding.
It sounds idyllic, but Michelle and her husband, Nick, have worked hard to get this far. "I've pushed doors over the last few months and God has closed several of them, particularly with regard to premises. What has fallen into place now is perfect; I have enough space to begin, with the option of more rooms to expand. Even the name, 'Grace', took months to decide upon, but it came to me quite suddenly in the end – real inspiration. It's already a talking point and gives me a chance to witness without being pushy."
At the moment Michelle works alone, with the family supporting her behind the scenes. She is enjoying meeting the brides, who each have a story to tell, which gives the dresses a little bit of provenance.
"One dress is from a lady who married for the second time, but to the same husband. They had divorced and then fallen in love again, celebrating with a second wedding and a new dress!" she explains.
Michelle talks of developing the business to include flowers, cakes and favours. Her stock already includes accessories, such as headdresses, and bridal jewellery is another possibility. "I have been amazed at the contacts I've already made," she says. "There's potential for a kind of cottage industry for all the little extras that make a wedding special."
As another form of witnessing to her faith, Michelle has decided to make a personal gift to each bride using her service. She has chosen a promise box, filled with promises from Scripture, a memory of the couple's special day and a reminder that their marriage will be richer for having God alongside them.
* Michelle can be contacted at enquiries@gracedarlington.co.uk or by telephone 01325 351275.