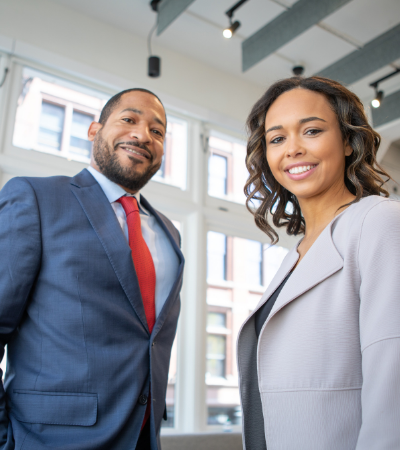 There are now 305 female directors flying the flag for females at the very top tier of business – an 18 per cent jump on the 259 seen in 2017. What's even more impressive, is the fact that some FTSE 100 females hold more than one directorship, meaning there has been a 21 per cent increase in the number of female-held directorships since 2017, a 24 per cent increase in the number of female executive directorships and a 20 per cent jump in the number of female non-executive directorships.
Women are also bringing younger blood to the boardroom compared to their male counterparts. The average age of a female director across the top FTSE companies is 58, two years younger than male directors. The biggest age gap is between chairs, with the average female chair aged 60 versus 66 for the average male chair.
However, there's still work to do in the UK, as women account for just 33.8 per cent of all board directors. The UK has some way to go to match the frontrunners of France and Norway, where women account for 44.6 per cent and 44.2 per cent of all board directors respectively.
At CEO level, there is even more work to be done. Sweden ranks top with women making up 20 per cent of all Swedish CEOs, with Norway (16 per cent) and Ireland (15 per cent) also ranking high. In the UK, however, this figure sits at just 5.3 per cent. Founder of Yoppie (the company who analysed the findings), Daniella Peri, commented: "It's great to see an increase in the number of women bossing it at the highest level of business and it's long overdue.
"Women in business want to be appointed on merit and so this slow but steady progress suggests we're on the right track, rather than implementing an immediate 50/50 split simply to tick the workplace gender balance box. At Yoppie, this approach has produced a natural board balance whereby two-thirds are female and so it's an issue that can be very much addressed if we wish to do so.
"However, we still have some work to do in the UK and as a Swedish national, I'm delighted to see my home nation leading the way with such a high percentage of women in business.
"This is something I hope we can emulate here in the UK and increasing the extremely low number of female CEOs would be a perfect place to start."
Director of PJs Community Service and chair of the Black Business Committee for Lloyds Banking Group, Claudine Reid MBE agrees there is still some way to go – but recognises how vital progress is for future generations: "As a leader within my organisation, I demonstrate the importance – through mentorship and supporting other women – of what breaking down systemic and structural barriers to progress looks like and the massive ripple effect this will have on our daughters, nieces and other little girls in our space."