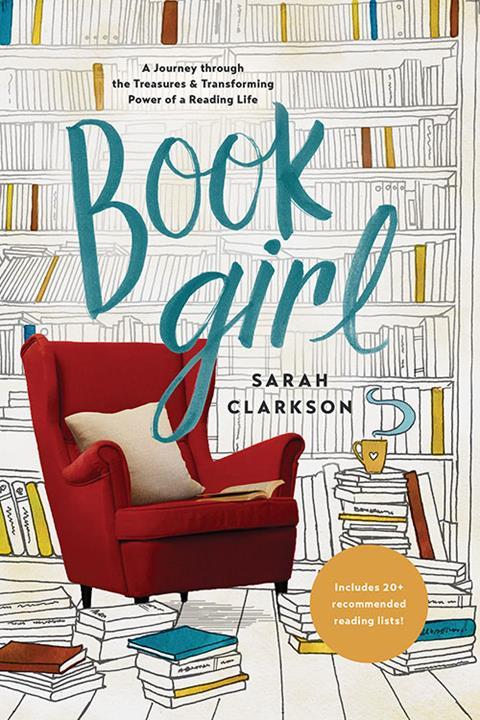 Book Girl grabbed my attention, writes Amy Boucher Pye. A book about books and the joys and wonders of reading – yes please!
I like that Sarah Clarkson has written it from the vantage of faith, and how reading can enrich our walk with God. And I appreciated the bits of her story that she shared, including (you won't be surprised) being an American living in the UK.

I'm guessing if you're a regular reader of the book club, you'll need no convincing as to the benefits of reading. It's good to be reminded, however, and Sarah's 20+ reading lists are worth pondering and discussing. She sought to write "about the dance and joy of women reading, an invitation to that wise laughter, to the grace known by all the book girls of the world who live by the delighted conviction that reading is a vital ingredient in a woman's full engagement with her faith, her creativity, and her capacity to grow in knowledge and love throughout each season of her life."

She explores such topics as how books can broaden our worlds, shape our stories, stir our imaginations, open us to wonder, give us hope, and strengthen our walk with God. In each of these areas, she lists books to fit the theme. I agreed with many of her selections – she names Elizabeth Goudge as one of her favourites, an author well-loved by many of us in the book club – and added some new selections to my wish list, but I disagreed with a few too. But that's the point about recommendations, for we're not always going to agree on what's a good read and what's not.

I particularly appreciated her discussion of reading so-called 'Christian' books. I tend to choose books for this column that are published by Christian publishers because I love to encourage people in their faith and I'm so keen to support this industry that has experienced many a hard knock over the year. But I don't read only these types of books, and agree with her that many mainstream novels can help us to think deeply about our faith.
Yet I also defend strongly those of us in the book club who don't want to read something that goes against pondering what is good and true and beautiful and holy (Philippians 4:8). That's the verse I tend to quote in their defence, and Sarah quotes it as well in her discussion of this issue.

Book Girl is one to page through when you're wondering what to read next. Two small quibbles – it could have been written for women and men, and there's a bit of repetition that could have been excised, for some authors are introduced more than once. But it's an interesting read and a good resource.